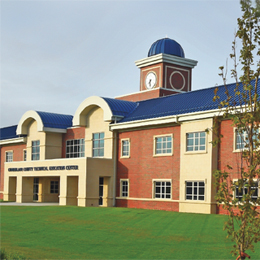 Moving Forward
For more than 200 years, Cumberland County was well-known for its glass making, as the county was replete with silica sand and once deemed the country's capital for glass manufacturing. However, today the county is seeing a resurgence of innovation and as a result, the county is so much more than its silica sand.
THE FOOD INDUSTRY, REDONE
Cumberland County is now leading the state's agricultural industry, giving way to a flurry of food manufacturing and processing companies, including the likes of Kraft Heinz, Campbell Soup and Progresso. Yet, despite the tentative news of Progresso, a division of General Mills, closing its Vineland plant, officials in Cumberland County are certain the county will bounce back given their latest developments in innovation—both economically and educationally—and state and federal incentives including the Grow New Jersey Assistance Program and more.
"In any large plant closing there's always a concern," says Lou Cooperhouse, director of Rutgers Food Innovation Center (RFIC). "The county does in fact have so much going for it. ... When there's one loss, there will be hopefully three to five gains. Because there is such a commitment to put this infra- structure to grow the food industry, this will definitely be the place for companies to locate into in the future."
?That's echoed by Cumberland County Board of Chosen Freeholders Director, Joseph Derella, who vouches for the county's progressive ideas, which are currently taking flight. "We do have a very successful agriculture and horticulture [sector], we are all No. 1 in the county with agricultural production and revenue sales. ... That does create a lot of employment and a lot of opportunity, which in turn has helped us move as a county toward a lot of food production."
One of the leading proponents behind that is the Rutgers Food Innovation Center in Bridgeton, a food business incubator and economic development accelerator program in connection with Rutgers University's New Jersey Agricultural Experiment Station. "The center started in 2001 with the mission to sup- port both the food and agriculture sector with their economic development goals. Our role is really to create new businesses and enable new employees to be hired, help them get access to funding and ultimately help them be successful, graduate and build their own facilities," explains Cooperhouse.
"We have a 23,000-square-foot FDA- and USDA-inspected facility, in which a company can not just commercialize and test a product, but actually manufacture for sales for the public."
While RFIC is a unique center, it's the first of its kind and stands as the only Soft Landing Food Incubation Program in the world. "We actually have a lot of relationships with companies in Italy, Greece, Israel, Spain, Colombia, Costa Rica and we're developing new partnerships in other countries," says Cooperhouse. "It's been a really successful program where international companies are looking to come to the U.S. and with our assistance, they can now also set up their operations through the Food Commercialization Center as well."
That center is currently in the works, with a completion date slated for 2017. The two operations will work in tandem as a means of providing flex-space and business support pro- grams to aid food industry leaders and entrepreneurs with a space to grow their business. "It's kind of the missing piece," says Cooper- house. "It will enable companies that start with us to continue with us. ... We realized this is a place where [companies] could go one step forward and still be independent [while keeping] them in Cumberland County.
"This is really a place to make a difference and it's actually where a lot of innovation in the food industry began," Cooperhouse adds. "Obviously today, it's been more hard hit economically, but there's still a tremendous presence of food companies and we're just trying to remodel our communities around the food sector."
THE ECONOMIC DEVELOPMENT TRIANGLE
As a means of spurring the county along economically, leaders have come together to curate a new model for economic development featuring the nationally ranked Cumber- land County College, the new Cumberland County Technical Education Center High School and Center for Workforce and Economic Development.
All three are located at the county college campus and will help educate a new workforce generation—especially at the state-of-the-art technical high school, which will welcome its first class of 241 students this fall. The school also offers a dual enrollment program, allowing students to collect college credit while in high school for the opportunity to earn a high school diploma and a two-year college degree simultaneously.
"Every student that will go through [the] technical high school will graduate with dual credits, they'll have anywhere from 10-12 college credits, whether they're pursuing the traditional vocation opportunities and go right to the workforce, or [are a] potential college applicant and they enroll in the County College," explains Derella. Those opportunities cover a wide array of programs ranging from allied health, construction trades, culinary arts, engineering, homeland security and information technology.
While growth is beginning at the high school, it continues at Cumberland County College. "The college has seen enrollment fluctuate over the past five years with the region's economy," says Executive Director of Communications and Marketing, Keith Wasserman. "But we have seen steady strengthening of our academic programs, our campus, facilities and athletic programs."
That strengthening can also be seen with the college's new Arts and Innovation Center opening this fall in downtown Millville. According to Wasserman, it's a 20,000-square- foot building set to become the home for all arts and communication instruction including the fine arts, ceramics, computer graphics, graphic design, communications, journalism, TV and digital media—not to mention offering retail and entrepreneur space.
As for the new Center for Workforce and Economic Development, it enables re-education and retraining for those residents who are seeking to refine their skills or even start a new career. "We are reviving our adult education and re-education programs [and] come January 2017, with the efforts of the college and the technical school, those classes will now be offered in the evening with a variety of opportunities," says Derella.
"We are highly focused on education," he adds. "Education also ties into a trained work- force. We do have the ability and the residents to teach the proper skills to meet the need of an employer coming in. We have residents that are highly skilled in the manufacturing aspect, and they're easily adaptable to today's manufacturing needs."
Inspira Health Network, the county's top employer, has also been growing their opportunity and work offerings by way of their multiple locations spread throughout the county. The Regional Medical Center in Vineland features a new senior ED, inpatient medical center, diagnostic and treatment center, an ambulatory care center, cancer center and medical infusion center, while the Inspira Health Center Bridgeton offers outpatient services, 24/7 emergency care as well as out- patient care including rehabilitation, mental and occupational health therapy and other services.
What's more, Inspira now features a residency program at the Vineland location, which currently has 135 residents with its first class having started in 2011. "We're now a community-based teaching hospital and we have a residency program that we never had before," says Clare Sapienza-Eck, Inspira vice president for business development, planning and physician recruitment. "It's an amazing change for us. ... It helps us recruit for physicians.
"It even helps raise the bar in terms of the quality of care because now you have some- body who wants to know and you have to really be able to communicate what it is you're doing and why. It really has had an effect on how we operate as an organization," Sapienza-Eck adds. "It's just great to walk about the hospital and see these young people now moving around in the organization."
A REVITALIZATION
Outside of the economic and educational growth, Cumberland County is also revitalizing the community and its main streets with entertainment and tourism. For one, wineries and microbreweries are now finding their way into the county—especially in downtown Vineland—catering to the likes of millennials and baby boomers.
"Our goal is to have two or three micro- breweries so that we become a destination for that," explains Vineland Downtown Improvement District Executive Director, Russell Swanson. "We have identified the kind of businesses and experiences we want in our downtown and we're looking for those kinds of business or offices—in some cases, non- profits—to entertain opening."
In addition to the bevy of new retailers and businesses opening in the heart of downtown, the Landis Theater will now act as the Bay Atlantic Symphony's new home for the next three years. Swanson who adds there's a new $18 million dollar redevelopment project, called the Landis Square, also in the works. "This is a residential retail complex and it's going to have 70-plus residential units for senior citizens and will bring an estimated 120 people to our downtown living," explains Swanson. "It's going to be a three-story building, it will have 8,000 square feet of retail space on the first floor."
As far as tourism goes, Dawn Hunter, executive director of the Greater Vineland Chamber of Commerce, credits both new and old attractions as benefactors in the uptick in tourism. That includes the Perfect Game Super25 Baseball—a national organization of highly competitive traveling baseball teams used for developing and scouting major league talent—which returns to Vineland every year from May to October to host tournaments, with hopes to build a permanent Northeast base in the county.
"This has huge potential to increase tourism and economic growth in the future," Hunter adds. "Our hotels, restaurants and recreational activities have all benefited from Perfect Game baseball coming to Cumber- land County."
Millville's New Jersey Motorsports Park, which opened in 2008, has also attracted fans to the region, accounting for 700,000 visitors last year according to Derella. Wheaton Arts and Cultural Center, the Vineland Historical and Antiquarian Society and Cumberland County Historical Society have also worked together to curate more events, festivals and more as a means of enhancing the county's tourism.
"We are a diverse county culturally, economically and commercially that offers great opportunities," Hunter says of the county's cohesive towns. "We believe [it] holds huge potential for the future."
WHAT BUSINESSES ARE SAYING
Local companies and officials tell us what they like about doing business in Cumberland County:
CENTURY SAVINGS BANK
David J. Hemple, President and CEO
"We were organized in 1865 in downtown Bridgeton, so we enjoy a very long history and depth of knowledge of Cumberland County. As a community bank we are able to be very involved with the organizations and businesses that operate in the area. We know our customers and have earned an excellent reputation because of the amount we 'give back to the local community. This gives our employees, a majority of which live in the county, a great deal of satisfaction."
PREMIER ORTHOPAEDIC ASSOCIATES
Thomas A. Dwyer, MD, FAAOS, President and CEO?
"Premier Orthopaedic Associates of Southern New Jersey continues to grow to meet the needs of our community. We are currently expanding our Vineland campus and continue to add physicians and physician assistants annually. Our support staff workforce has additionally expanded as we remain dedicated to providing state of the art specialized orthopaedic care to the residents of the counties we serve."
TOWER HOSPITALITY
Jayne Beers Kutsopias, Corporate Director of Sales and Marketing
"We are the only hospitality company in Cumberland County that is owned and operated by a local family. We have four hotels and two restaurants in Cumberland County at the present time and one restaurant in Atlantic County. I find the support you receive from other businesses for leads is phenomenal. We are very active in the Greater Vineland, Greater Millville and Bridgeton Chamber of Commerce, which provides exposure to many prospective clients and leads."
THRIVE SOUTH JERSEY
Laura Wallick, Program Manager
"The great thing about doing business in Cumberland County is working with the professionals within the County Improvement Authority, Economic Development office, the County College and Empowerment Zone, as well as local government leaders, nonprofit organizations, business owners and residents, who are very civically engaged to implement community and economic development activities to stimulate growth and strengthen their local communities particularly in Millville, Bridgeton and Vineland."
VINELAND CONSTRUCTION COMPANY
Robert Powell, Vice President of Business Development and Marketing
"Cumberland County has a friendly business climate where people take pride in their communities. Being a real estate company, we are always trying to attract new companies to this area, as well as help local companies expand and grow their businesses. Over the past two years we've seen positive absorption of vacant space and new development projects initiated."
HEALTHSOUTH REHABILITATION HOSPITAL OF VINELAND
Tammy Feuer, CEO
"Each year we are treating more patients than we did the year prior and we continue to develop our level of clinical expertise. As Cumberland County's only acute rehab hospital, we provide a unique service. We find that people are appreciative that they do not need to go out of the county to receive this level of care. There is a sense of real collaboration between the local health care providers to ensure that patients are provided with quality care and to improve the health of the local residents."
ACE PLUMBING, HEATING & ELECTRICAL SUPPLIES
John Sperratore, General Manager
"Ace has been a part of the community since 1950, so it's gratifying in that time to have worked with multiple generations of both customers and local vendors. We have been able to maintain modest sales goals since the economic downturn of 2007 through our loyal customer base and diversification, however our actual growth has come mostly through new branch acquisitions."
NEW JERSEY MOTORSPORTS PARK
Mark Verrastro, General Manager
"We are striving to bring more events and activities to the park that are family-fun based. ... Lt. Governor Kim Guadagno at this year's tourism conference attributed much of that to the popularity of racing related events in the county. ... This is a close- knit community and very family oriented."
LAURY HEATING COOLING & PLUMBING
Ted J. Laury, Owner
"Cumberland County is home to me. My family lives in Millville and our main office is in Vineland. We've been in business here since 1945, so we have many repeat customers here who have been with us for decades. It's truly a blessing having the opportunity to serve our home community in direct and personal ways, with people we've developed deep relationships with over the years."
CAPITAL BANK
Dave Hanrahan, President and CEO
"Cumberland County is full of hard-working people. It's a pleasure to serve their banking needs, lend to their businesses, and help them fulfill their financial objectives. Capital Bank recently passed $400 million in total assets, which is a terrific milestone for a 9-year-old bank like ours. We expect our growth to carry on, as local people and businesses continue to choose our style of hometown banking with local decision-making."
Published (and copyrighted) in South Jersey Biz, Volume 6, Issue 8 (August, 2016).
For more info on South Jersey Biz, click here.
To subscribe to South Jersey Biz, click here.
To advertise in South Jersey Biz, click here.