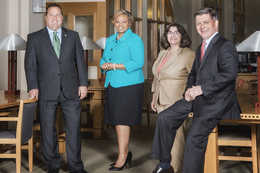 Power 50
From established businesses to emerging influencers and innovative industries on the forefront of technology, there's no question that our area's economy has grown by leaps and bounds over the last few years. This month, we take a glimpse into the stories of the 50 men and women shaping the future of the South Jersey community.
Marlene Asselta
President, Southern NJ Development Council
The president of SNJDC since 1985, Asselta leads the way for 350 member organizations and more than 800 members.
Cathleen Bennett
Commissioner, New Jersey Department of Health
Bennett began serving as commissioner of the Department of Health on Aug. 3, 2015, after joining the department as director of policy and strategic planning, a role in which she directed strategic public health and health care delivery initiatives.
Bart Blatstein
CEO, Tower Investments
Through Blatstein's vision and steady guidance, Tower Investments has become widely respected for its aggressive and creative urban investments in major projects, as well as its expertise in all aspects of planning, design, construction, financing and leasing. His redevelopment efforts have created jobs, business opportunities, tax revenues and the impetus for more investment in the Philadelphia and South Jersey areas.
Michele Brown
President and CEO, Choose New Jersey
Choose New Jersey Inc. is an independently funded and operated 501(c)(3) whose mission is to encourage and nurture economic growth throughout New Jersey, with a focus on urban centers. Through the integrated marketing and business attraction and retention efforts, Choose New Jersey works to stimulate job creation and capital investment throughout the state, as well as collaborates with the state's universities to encourage research, discovery and innovation.
Michael Christman
President and CEO, Coriell Institute for Medical Research
In 2007, Christman joined Coriell and initiated the Coriell Personalized Medicine Collaborative (CPMC), a research study evaluating the utility of using the knowledge of genetics in medicine. The CPMC project now involves more than 8,500 participants in 48 states, multiple hospital partners, and has been awarded more than $15 million in federal grants.
Jim Cawley
President and CEO, United Way of Greater Philadelphia and Southern New Jersey
Cawley has dedicated himself to a career of helping others and is focused on making sure those in need in our area are receiving proper education, are able to maintain stable incomes and have access to viable health care resources.
Chris Christie
Governor of the State of New Jersey
The sometimes controversial leader of the state has seen his political aspirations rise and could land a cabinet position if the Republican ticket takes The White House.
Joseph Coradino
CEO, PREIT
Coradino has helped PREIT establish itself as a leader in the commercial real estate industry, overseeing more than 600 employees across 14 states.
Kevin Cummings
President and CEO, Investors Bank
Cummings was appointed president and CEO in January 2008. Cummings and the executive management team are guiding the bank's evolution into a full-service community and commercial bank. The bank's performance has been recognized on Forbes' "Best Banks in America" list since 2012 and appeared on Fortune's listing of the "Top 100 Fastest Growing Companies" in 2012.
Robert Curley
Market President, TD Bank
Curley has been with TD Bank since 1989 and has played a major part in the growth of the bank's 67-store network across several South Jersey counties.
Pam Cyr
Executive Vice President and Chief Retail Banking Officer, Beneficial Bank
Cyr has held roles of increasing responsibility at various financial institutions, including seven years as CEO of St. Edmond's Federal Savings Bank, through its acquisition by Beneficial. She also holds leadership positions with several charitable organizations in Philadelphia and South Jersey.
Linda M. Czipo
Executive Director, Center for Nonprofits for New Jersey
Czipo's nonprofit sector experience spans over 25 years, and includes expertise in public policy, compliance and management issues. She speaks frequently to the media, nonprofit, philanthropic and business leaders and government officials regarding the size, strength, economic and social contributions of New Jersey's nonprofit sector.
John DiAngelo
President, Inspira Health Network
DiAngelo joined Inspira in 2000 as senior vice president of finance and chief financial officer, having previously served as vice president for planning and network development at Virtua. He has overseen the opening of the network's sixth urgent care center in Washington Township and construction of the new Medical Center Mullica Hill.
Joseph W. Devine
President & CEO, Kennedy Health
Devine has been recognized for his contributions to advancing the South Jersey medical landscape and under his leadership Kennedy has thrived in areas of innovation, safety and overall patient care.
Brenda Ross-Dulan
Regional President, Wells Fargo, Southern New Jersey
Working with Wells Fargo since 1990 and serving in her current role since 2009, Ross-Dulan is responsible for 150 community banking stores and has worked in areas such as corporate banking and commercial real estate.
Greg Filipek
CEO, Sora Northeast
Filipek has been involved in development and construction from New York to Maryland for more than three decades and has ushered in some of South Jersey's biggest redevelopment projects of late.
Bernie Flynn
CEO, NJM Insurance Group
Having celebrated NJM's 100th anniversary just a few years ago, Flynn has continued the tradition of putting policyholders first as the company continues to be the largest provider of workers' compensation insurance in the state.
Christopher Gibson
President, Archer & Greiner
With nearly 30 years of legal experience, Gibson is a highly regarded environmental attorney with an impressive track record that includes securing hundreds of millions of dollars for his clients.
Phoebe Haddon
Chancellor, Rutgers University-Camden
Haddon has direct responsibility for the daily administration of a campus that has more than 1,300 employees and enrolls more than 6,600 students in 39 undergraduate programs and 28 graduate programs. In 2015, she received the Trailblazer's Award from the New Jersey Women Lawyers Association, and was similarly honored by the National Association of Women Business Owners in South Jersey in 2016.
Richard T. Hammer
Acting Commissioner, NJ Department of Transportation
Prior to his appointment, Hammer led the department's Capital Program Management (CPM) organization as assistant commissioner since March 2006. In this capacity, he was responsible for delivering the annual Capital Program, as well as managing a workforce of about 1,100 employees throughout six divisions.
William Hankowsky
President and CEO, Liberty Property Trust
Hankowsky joined Liberty in January 2001 as chief investment officer, responsible for refining the company's corporate strategy and investment process. Under his leadership, Liberty has become the nation's leading commercial developer of high-performance green buildings, earning an unparalleled series of national awards.
David Hanrahan
Founding President and CEO, Capital Bank of NJ
Hanrahan has left his imprint on the banking industry and in 2010 was honored by the New Jersey Bankers Association as a New Leader in Banking.
John T. Hanson
CEO, Delaware River Port Authority; President, PATCO; and Chair, Camden County College Board of Trustees
Hanson oversees the transportation agency that includes the Ben Franklin, Walt Whitman, Commodore Barry and Betsy Ross bridges and the PATCO transit line. Under Hanson's leadership, the DRPA and PATCO have adopted an approach based on stewardship and service to the community.
Alexander Hatala
President and CEO, Lourdes Health System
Hatala is responsible for the overall strategy and operations of the health care system and its affiliates. Under his leadership, Lourdes has greatly expanded its mission within the South Jersey region. He was instrumental in Our Lady of Lourdes Medical Center becoming the region's largest provider of cardiology services, as recently featured in the New York Times.
Vernon Hill
Chairman/Founder, Metro Bank; Investor Advisory Chairman, Republic Bank
A Wharton grad, Hill's name is synonymous with banking in South Jersey due to his vision to help better serve the community.
Dr. Ali Houshmand
President, Rowan University
Houshmand has been critical in the university's tremendous growth and expansion during his tenure, helping transform the once sleepy campus into a thriving institution with top-notch facilities and remarkable resources for learning.
Ralph Izzo
President and CEO, PSEG
Izzo has been known to turn up in Washington to offer his insights into national energy policy thanks to his extensive experience and knowledge in the realm.
Dante Germano
Chief Operating Officer and Chief Financial Officer, Nexus Properties
Germano joined Nexus Properties in 1990 and became chief operating officer in 2002. The company develops and owns office, retail, multifamily, student housing and parking garage properties in New Jersey. Germano is concentrating his efforts on redevelopment and is currently working with the borough of Glassboro and Rowan University on the Rowan Boulevard Redevelopment Project.
Ron Jaworski
CEO, Ron Jaworski Golf Management Inc.
After a 16-year career as an NFL quarterback, Jaworski has successfully taken his leadership skills from the gridiron to the boardroom, defining the lines where sports meets business. He has always exhibited an entrepreneurial spirit and today owns a professional sports team, a business relationship company and seven golf courses, including five in South Jersey.
Thomas J. Kemly
President and CEO, Columbia Bank
With Columbia since 1981, Kemly began as a management trainee and has since risen to his current position where he exudes the bank's approach to building relationships and creating a lasting presence in the communities they serve.
Adrienne Kirby
President and CEO, Cooper Health
Kirby is responsible for all hospital and ambulatory operations and oversees the physician group and the institute structure at Cooper. She leads Cooper's efforts to advance strategic health care partnerships and the implementation of new models of care delivery to improve quality and service and decrease cost. She joined Cooper in January 2012 with more than 30 years of health care management experience.
Harry Madonna
CEO, Republic Bank
Madonna has been chief executive officer of Republic Bank since Sept. 6, 2005, and has been its chairman since 1988. He was previously counsel to Spector, Gadon & Rosen, PC, a general practice law firm located in Philadelphia, and prior to that was partner of Blank Rome LLP, where he chaired their Health Care Law and Corporate departments.
Vincent Maione
President, Atlantic City Electric Region for Exelon Corporation
ACE is a regional energy holding company that provides utility service to about two million customers and the parent company of Potomac Electric Power Company, an electric utility serving Washington, D.C., and suburban Maryland; Delmarva Power, an electric and gas utility serving Delaware and the rest of the Delmarva Peninsula; and Atlantic City Electric, an electric utility serving southern New Jersey.
Robert Marino
CEO, Horizon Blue Cross Blue Shield of NJ
Marino has served as president and CEO of Horizon BCBSNJ since 2011, and was appointed chairman and CEO in 2012. He is leading Horizon's efforts to transform the way health care is delivered and financed in New Jersey to lower costs, improve care quality and enhance the patient experience.
Dennis J. Martin
Interim Executive Director, NJ Transit
Martin has more than 30 years of industry experience, specifically with NJ Transit, and served as vice president and general manager of NJ Transit Bus Operations since the fall of 2014. As senior director of NJ Transit Customer Resources from 2003 to 2011, Martin directed the development and implementation of corporate-wide customer service strategies and also was instrumental in crafting and implementing a detailed plan to overhaul the Port Authority Bus Terminal staging for NJ Transit Bus Operations.
Barry Mertz
SIOR, Founder and CEO, NAI Mertz
Over the years, Mertz has grown the company into one of the most respected and successful commercial real estate firms serving southern New Jersey and greater Philadelphia. Throughout his career, he has been a leader in several real estate organizations and previously served on the leadership board of NAI Global for four terms. His success has been built on hard work and persistence, and providing his clients with exceptional service and earning their trust and respect.
Richard Miller
CEO, Virtua
Miller created a values-based culture defined by the "Star Initiative," adopting Six Sigma, and transforming a group of community-based hospitals into technologically advanced regional medical centers.
Denise Morrison
President and CEO, Campbell Soup
Morrison joined Campbell's in 2003 as president-global sales and chief customer officer. She has a distinguished track record of building strong businesses and growing iconic brands. She became Campbell's CEO in August 2011, after more than eight years with the company and more than 30 years in the food business. She is Campbell's 12th leader in its 147-year history.
George E. Norcross III
Executive Chairman, Conner Strong & Buckelew
Norcross currently serves as executive chairman of Conner Strong & Buckelew and chairman of the board of trustees for Cooper Health System and Cooper University Hospital in Camden and remains one of the area's top political power brokers.
John O'Connor
Market President, BB&T Bank
O'Connor joined BB&T Bank during the acquisition of Susquehanna Bank, where he served as regional president of the Greater Delaware Valley/New Jersey region. He has 36 years of banking experience, primarily in the commercial lending field. He is also a board member of the Cumberland County Community College Foundation; member of the Greater Vineland Chamber of Commerce; and the Greater Atlantic City Chamber of Commerce.
Melissa Orsen
CEO, New Jersey Economic Development Authority
Orsen was appointed chief executive officer of the New Jersey Economic Development Authority (EDA) in February 2015. The EDA is an independent state agency responsible for providing financing to small and mid-sized businesses. She most recently served as the deputy commissioner of the Department of Community Affairs (DCA), where she oversaw a budget of more than $3.8 billion and a workforce of approximately 400 employees.
Anthony Perno
President and CEO, Cooper's Ferry Partnership
Joining Cooper's Ferry in 1999, Perno developed and administered several major infrastructure initiatives throughout Camden, including the Interior Gateway Initiative, the extension of Wiggins Waterfront Promenade and the Camden GreenWay. He is also currently working with both the city and state administrations to help facilitate the relocation of several major companies to the city of Camden, including the Philadelphia 76ers.
Dana Redd
Mayor of Camden
A proven and experienced leader with over 20 years service in the public sector, she is known as a forward-thinking professional with a demonstrated ability to lead organizational change. As mayor, she successfully transitioned the city from state takeover to local control. Redd is an active member of the Rutgers University-Camden board of directors and serves as the co-chair for the Cooper's Ferry board of directors.
Elizabeth Ryan
President and CEO, NJ Hospital Association
As CEO, Ryan oversees NJHA, Health Research and Educational Trust of New Jersey, a not-for-profit affiliate that promotes continuing patient safety, quality improvement education and research; and the for-profit Healthcare Business Solutions, which provides group purchasing and other business solutions for health care providers. Prior to being selected as CEO of NJHA in 2008, Ryan served as its COO and its general counsel.
Dr. Kris Singh
Founder, President and CEO, Holtec International
Singh was elected to the National Academy of Engineering in 2013 for his seminal impact in the energy sector of mechanical engineering, and was named a fellow of the American Society of Mechanical Engineers in 1987 for his numerous contributions to heat exchange technologies. He is a registered professional engineer in Pennsylvania (1974) and Michigan (1982).
Carol Ann Short
CEO, New Jersey Builders Association
Short became CEO for the New Jersey Builders Association in 2013. Most recently she has been instrumental in successfully lobbying for the passage of pro-housing policy/regulations, including the fifth consecutive Permit Extension Act and critical changes to the Flood Hazard Area Control Act Rules.
Steve Sweeney
President, New Jersey Senate
Sweeney has been a leader on the most important state issues, passing laws to increase the minimum wage, allowing paid family leave, establishing marriage equality, setting a two-percent cap on annual property tax increases, and promoting equal educational opportunity through the Dream Act. Recognizing the importance of transportation infrastructure to the state's economy, he has been a leader on renewing funding for the Transportation Trust Fund.
Michael J. Renna
President and CEO, South Jersey Industries
Renna serves on the board of directors of the New Jersey Chamber of Commerce and the CEO Council for Growth's Greater Philadelphia Energy Action Team.
Linda M. Rohrer
President, Rohrer and Sayers Real Estate; Chairman of the Board, 1st Colonial Community Bank; Board of Trustees, Rowan University
Rowan's Rohrer College of Business is named for Rohrer's family, benefactors who have supported the college with more than $13 million to foster business education.
Angela Snyder
CEO and Chairman, Fulton Bank
Snyder is the second vice chair of the board of the New Jersey Bankers Association and board member and trustee of Our Lady of Lourdes Heath System.
Published (and copyrighted) in South Jersey Biz, Volume 6, Issue 7 (July, 2016).
For more info on South Jersey Biz, click here.
To subscribe to South Jersey Biz, click here.
To advertise in South Jersey Biz, click here.