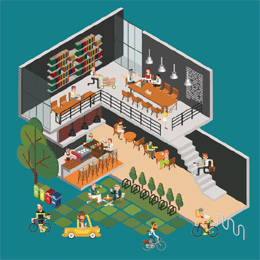 The Pros and Cons of Coworking
Coworking spaces are professional office spaces that are shared by multiple individuals, smaller entities, or sometimes a division of a larger company. As a byproduct of the emerging shared economy, these spaces are operated like a cooperative with shared amenities such as conference rooms and meeting rooms, work stations, printer-copiers and internet. Coworking spaces are typically owned by a single entity and the memberships to coworker spaces are based on usage (how much space you occupy and/or frequency of usage). Memberships to a coworking space are similar to sub-leases, but with less contractual obligations.
Coworking spaces are meant to focus on the "community" of members, and create a "collaborative environment." These spaces should not be confused with incubators and accelerators, which are programmed to evaluate the bottom-line of a company.
In the Greater Philadelphia and South Jersey region, there are dozens of coworking spaces, all with their unique interiors, various membership prices and respective community members. But before you venture out and sign up for a membership, here are a few things you should know:
CONS
1. Noisy. If you're a person who seeks the quietest corner in the library and work in total silence, a coworking space may not be for you. These spaces are often designed with open floor plans and shared workstations to foster open communication and dialogue equals lots of talking!
2. Lack of privacy. If you grew up with siblings, you know that nothing is private in the household, and this may apply to coworking spaces. Whether it's a member eavesdropping on a phone call, or someone snooping around the printer, total privacy can be hard to maintain in these environments.
3. Cost. Although most coworking spaces provide a more affordable alternative to traditional office leases, some coworking spaces may cost too much. In the coworking "arena," there are luxury coworking spaces where more established companies are members, such as real estate brokerages, architecture firms and even Google! Yes, it would be nice to be suitemates with Google, but it may also be at the detriment of your business and personal finances.
4. You can't pick your neighbors. Although you should pick a coworking space that fits a certain mind-set or culture that suits you, you may not "jell" with your fellow members. Tension amongst coworking members is not uncommon in this industry and no matter how hard you may try, it just may not be a good fit.
PROS
1. Flexibility. Although some coworking spaces can be costly for newer companies, most coworking spaces offer flexible membership based on usage of space you occupy (desk, cube or private suites). Therefore, you're not signing an office lease for a space you may not occupy as much as anticipated. Also, most coworking operators allow for month-to-month memberships and the ability to scale up or scale down based on your needs.
2. Networking. I always say "your network is your net worth." Often times, entrepreneurs take a hit on social life and the opportunity to network because of the long hours and dedication required to start and grow a business. Coworking spaces allow for the social interaction with people who share the same values, interest and passion in business. It's also an opportunity where young startups can rub shoulders with more established companies and CEOs.
3. Surrounded by success. Competition brings out the best in you. For many, being in an environment where your colleagues are growing their business, making deals and scaling at a rapid rate inspires one to stay on task and to be productive. Coworking spaces also inadvertently foster creativity and drive, especially being seated next to fellow members who are getting it done.
4. Learning. Experience is the best teacher. One of the most overlooked benefits for joining a coworkers space is all of the lessons learned and educational opportunities you'll have from your peers. One "common rule" in entrepreneurship is to "fail, and fail fast," but if you can learn firsthand from businesses that have made costly mistakes, you could be saving yourself valuable time and money.
Whatever you decide, do your research. Talk to members about their experiences and also find reviews online. You can also visit and most coworking spaces provide a trial period at low-to-no-cost.
Shahid Rana is Vice President of the Business Development Advisory Board for the Camden CoLab Cooper's Ferry Partnership.
Published (and copyrighted) in South Jersey Biz, Volume 6, Issue 6 (June, 2016).
For more info on South Jersey Biz, click here.
To subscribe to South Jersey Biz, click here.
To advertise in South Jersey Biz, click here.