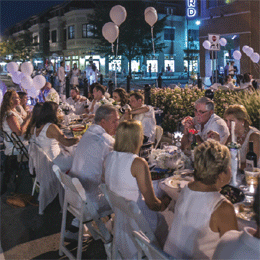 In This Neighborhood
The Main Street business model can often be a fragile plan, as small business owners are constantly battling an online market that never closes up shop for the day and often offers global products that might be hard to find on the shelf. But if you were to walk down Collingswood's Haddon Avenue on a weekend afternoon—or any evening—you would never think that the small business model is anything but successful.
The borough of Collingswood is an ever-growing and evolving area for small businesses, dedicated to anything and everything to keep the town's unique and family-friendly vibe alive. And since the rotating yearly calendar of events, restaurant and brewery openings, and new business opportunities keeps drawing South Jersey residents to visit, startups, tech companies, real estate groups and more are starting to take notice.
THE PHILLY FEELING
While many Main Streets in South Jersey present a walkable space to shop and dine, Collingswood is perfectly situated to provide business owners and customers with a convenient escape from the city.
"The proximity to the city is a huge asset. Our town is a transit village, so you can go wherever you want. It's available by a quick train or car ride in minutes," says Mayor James Maley, who has served as mayor of Collingswood for 20 years while also operating his own law office out of the borough. "And yet, while you're here, you can have city living with a lot more trees. It's city living but you've got a suburban feel. From everybody's house in town you can walk to the train. We're the only town in South Jersey that has Zipcar spots because so many people are using it from the city."
The location was a major draw to Danny Sulpizio, senior vice president and director of retail banking for Parke Bank, which is currently breaking ground on its first Camden County location right in Collingswood. "When we looked at the demographics we thought it was great. We're in Atlantic County, Gloucester County and Philadelphia," says Sulpizio. "So we would be right between Gloucester County and Philadelphia. Since so many people commute to Philadelphia we thought it would be a perfect spot."
That proximity and local convenience has always been there, but the borough has seen a renaissance, largely because of the small businesses that run along Haddon Avenue, as well as throughout the town.
"Haddon Avenue is pretty full, and there are a number of businesses that are staples in the area," says Sulpizio. "But you can't just quantify Collingswood as just Haddon Avenue. In the traditional sense people look for a bank that's close to home and close to work."
"We're slowly evolving from businesses that were run as a hobby to businesses that are an important part of family life," says Maley.
LENDING A HAND
Many of the small businesses in town agree that their success comes in part from the round-the-clock commitment coming from the local government.
"I'm a new manager coming to town with my new ideas, and everyone has been really welcoming," says Bridget Wiese, the community bank center manager for Sun National Bank, who just transferred to Collingswood a little more than a year ago. "I'm really excited to be here and to get out and meet my neighbors. You want to do business with people you know and you like, and you can do business like that in Collingswood every day."
Collingswood offers a series of monthly events for the public, including Second Saturday, Cruise Night—a car show that runs all summer on the third Thursday of every month—and the Summer Mummers series. They also run some of the largest annual festivals in the area, including the recent May Fair, which brings in an estimated 50,000 people to the borough each year on one day alone for vendors, crafts, food, games and more.
"People ask, 'does it take a lot of work to keep that going?' And the answer is yes, constantly," says Cass Duffey, director of communications for the borough. "Part of what makes Collingswood Collingswood is the events lineup, and all that planning and promotion is constant. Keeping that going is a lot of work for the whole team, and then we're always trying to think of new things, whether it is the Pop-up Gala, or our new Health and Wellness Week. We're always trying to listen to people and build from that."
Monthly and quarterly business meetings have made the entire town a co-working space, as businesses are constantly encouraged to network and receive help from each other. "The Collingswood Business Improvement District meets quarterly at the Community Center. It's a state of the community, and is very informal. You ask the mayor what you want to ask, and he talks about what is coming to the community," explains Weise.
"We communicate with business district members weekly, providing tools and resources. Our Collingswood Partners quarterly meetings give all the business members [the chance] to come together and talk about new things, gauge interest and find out what works and what doesn't in Collingswood," says Duffey. "I'm always excited to see new business owners that are really involved and really invested. We want to hear everyone's feedback, good or bad. That's the best way for things to grow."
Sulpizio says that this mentality is making its way into the development of his bank. "All of the business owners in Collingswood are involved in making it a better place to live and work, like us. So we took that and applied it to our business model, which is trying to accommodate as much of the demographic as we can," says Sulpizio, who adds that Parke Bank will be installing all new, modern technology in the bank to help incoming customers and local neighbors. "We're trying to give everybody a new high-tech opportunity to bank the way they want."
That positive environment has led to an outreach of other businesses looking to make Collingswood their home. "People have been acting as ambassadors to the town. Main Street Realty were pretty steady customers to Sabrina's in South Philly and were telling the owners—who live in Cherry Hill—they should open in Collingswood," says Maley. "Then diners wanted a Jersey spot. And their success brought in Circles Thai. They wouldn't be here if they didn't hear about Sabrina's. It takes a village to keep it going. When people hear that businesses and residents are happy and bustling they want to be here."
LOOKING FORWARD
While the borough continues to see success in their cemented spaces, their next step is finding the space to continue this growth. Since finishing construction on their biggest project recently, the Lumberyard apartments and retail spaces, in the last year Maley says that finding the space for parking and expansion for office-style companies is at the top of his priorities.
"Over the next six months we want to bump up office use, which is a recognition of how the world is evolving," explains Maley, who says the borough plans to take a look at compressing downtown retail spaces to possibly allow offices, accountants and more to co-work alongside restaurants and retail. "We're working on plans to move the public works garage and the police station out of those public parking lots and expanding the public parking. That's our next step in the downtown. We want to focus on parking, and we need more parking."
Maley says they also have far-off plans to develop the Speedline parking lot into more mixed use living and working space, adding more residency space while also developing Haddon Avenue even closer to the Speedline. "We want to keep our business district healthy but also improve our ratable. Our downtown is going through a really good time right now and a part of that is because of the residential development at the Lumberyard. We've had businesses that have said the construction of that is what made them decide to open."
The development of the town is still evolving, and business owners, government officials and residents alike are all excited to see what is to come next. "It's always interesting to see how things evolve," says Duffey. "Collingswood has done so much work over the last 15 years. We're very sensitive to our brand, and how a new business would fit into that balance, so to see all the changes is very exciting."
WHAT BUSINESSES ARE SAYING
Local companies and officials tell us what they like about doing business in Collingswood:
GRIDLESS POWER
Patrick Murphy, president
"What we're doing in Collingswood is expanding and hiring more employees, recruiting from wherever we can to bring more people into Collingswood. We have a unique business because it is a startup. We sell to government and businesses, and our location is more for meetings and employees to do day-to-day design work. I love this beautiful strip of restaurants, and our partners and people we work with love coming into town to get lunch."
PARKE BANK
Danny Sulpizio, senior vice president and director of retail banking
"The mayor has done such a wonderful job in turning that area around. It's all about relating to the business, giving people what they want; what they need to make sure their businesses succeed. We've been true to our business model of serving the community, so we think this is the perfect fit."
COLLINGSWOOD FOUNDATION FOR THE ARTS: COLLINGSWOOD BALLROOM AND THE SCOTTISH RITE THEATER
Gerard "Gerry" Chambers, director
"The people are the type that will go out of their way to help you without being intrusive. People here really care about each other and get involved. I wear many hats, and also serve with Collingswood Partners, and with the cooperation of Collingswood businesses we've established quite a sterling reputation. We as individuals really make a difference on life and business in this area."
SPARK CREATIVE GROUP
Michael Snyder, co-owner
"We've been here over 10 years, and I just love our community. It's very supportive, engaging. We have the type of business that really invites all types of people into our store. And we love our town government. They're always thinking outside the box, trying new things and I've had the pleasure of working with them over the years on the projects they do."
SHM FINANCIAL GROUP
Stan Molotsky, president and CEO
"The town is ideally positioned because of its location and because of all the things that are happening. There isn't another town like it in all of South Jersey. Plus, you have a good mayor there—he's done a terrific job at pulling things together and making things work. And what they've done downtown has been fantastic. It's a rebirth of everything you need in a small town."
DISTINCTIVE DÉCOR AND MORE
Luanne Mulvenna, co-owner
"We appreciate Collingswood's diverse community. It's not a cookie-cutter neighborhood. It's unique, like our business model. We also enjoy working with the local government; they've been very helpful in getting the business up and running. It's a very tight business community."
1ST COLONIAL COMMUNITY BANK
Gerry Banmiller, president and CEO
"Collingswood is a very open town; the businesses represent a wide sample. You have restaurants, retail and professional, so there isn't any one focus on any environment. And it's a collegial cooperation. You have businesses that go back 30 years that have helped keep this place stable."
VERDE SALON
Kevin Gatto, owner
"We opened in October of 2007, and the draw for me personally was the urban feel of the town. When we moved into the first building that went up in the Lumberyard we were the first one in that space, and it's been great to see the traffic increase. It's a really walkable town, people have really embraced us, and so much is happening."
SUN NATIONAL BANK
Bridget Wiese, community bank center manager
"Before I came to Collingswood I wasn't familiar with the town. Once I came here in January of 2015 it was the best kept secret. It's this great town right off Route 70 where you can walk down the street and know everybody. It's a community within a community."
PREMIER EYE ASSOCIATES
Dr. Brian Samartino, co-owner and optometrist
"What's really nice and refreshing is that every patient, every customer we've had, is so nice and pleasant. It makes for a nice work environment, and you get that feel throughout the town. The government has done a great job to funnel people into town, with events and special activities. We have business owner meetings with the mayor quarterly to talk about what's going on in town and how to generate buzz through that."
Published (and copyrighted) in South Jersey Biz, Volume 6, Issue 5 (May, 2016).
For more info on South Jersey Biz, click here.
To subscribe to South Jersey Biz, click here.
To advertise in South Jersey Biz, click here.