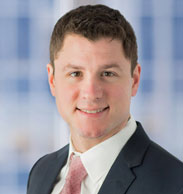 On The Move
Comings and Goings
Michael J. Casper, Esq. (pictured) has joined the firm of Sherman Silverstein as an associate in the firm's Business Practice Group. His practice will focus on advising businesses on formation, mergers and acquisitions, financing, commercial transactions and employment contracts.
J.C. Giordano has joined commercial real estate services firm Avison Young as a principal. Giordano has nearly 35 years of commercial real estate experience, most recently serving as an executive vice president with JLL. With Avison Young, he will provide tenant and landlord representation services for new and existing clients, particularly focused on growing the firm's tenant representation business in New Jersey.
The Center for Real Estate at Rutgers Business School announced David Frame has joined as an assistant professor of professional practice, with responsibilities for curriculum and program development, industry research, teaching and special projects. Prior to joining the Center for Real Estate, Frame was an assistant professor of real estate in the Zicklin School of Business at Baruch College and assistant professor of finance.
Former Camden County Assistant Prosecutor Michele G. Morgera has joined the firm of Greenblatt, Pierce, Engle, Funt, and Flores, LLC and will be working in its Haddonfield office. She is a 26-year veteran of the prosecutor's office and previously served as the Police Legal Advisor in Camden County.
Eisenberg, Gold, Cettei & Agrawal, P.C., has appointed Andrew Unterlack as a new associate. Unterlack brings 17 years of legal experience to this role, mostly in the areas of commercial litigation and creditors' rights. The law firm specializes in civil and commercial litigation, real estate, creditors' rights and condominium and community association law.
Citizens Bank has selected Fred Fang, of Livingston for its Commercial Banker Development Program. A 2015 graduate of Bentley University, Fang joins 12 other CBDP trainees who are seeking long-term career opportunities in banking. Following the successful completion of the year-long program, graduates are placed in the bank's business line as credit analysts.
Flaster Greenberg announced that Angie Gambone has joined the firm as an associate in the Cherry Hill Family Law and Commercial Litigation Departments. Prior to joining Flaster Greenberg, Gambone was an associate attorney at a family law boutique firm in New Jersey.
The Center for Neurological and Neurodevelopmental Health (CNNH) welcomed Julia Holtmann, M.D., to its team of neurohealth experts. Dr. Holtmann is certified by the American Board of Psychiatry and Neurology with Special Qualification in Child Neurology and by the American Board of Pediatrics. Holtmann joins CNNH from Maimonides Medical Center and The Brooklyn Hospital Center in Brooklyn, N.Y.
Fox, Penberthy & Dehn at Morgan Stanley, part of the firm's wealth management office in Mount Laurel, has hired four new associates: • Mark W. Schuehler will focus on financial planning and strategic development • Evan M. Brown will handle business development and technology • Shauna O'Brien's focus will be marketing, branding and client services • Brian Akbar will be responsible for client administration.
Duly Noted
Cherry Hill-based On Time Staffing has been recognized by Inc. magazine as one of the 5,000 fastest growing private companies in America in 2015. The annual Inc. 5000 is a ranking of America's independent entrepreneurs that have achieved remarkable three-year growth. The company came in at number 4,440 with 59 percent growth and joins the ranks of companies such as Yelp, Pandora, Timberland, Dell, Domino's Pizza, LinkedIn, Zillow and others.
Horizon Blue Cross Blue Shield of New Jersey (BCBSNJ) has been named one of the 50 Best Companies for Latinas in the LATINA Style 50 Report that recognizes companies that provide the best career opportunities for Hispanic women in the United States. For 2015, Horizon BCBSNJ climbs from number 24 to 21 of the 50 Best Companies for Latinas.
Ida M. Petkus, a Medford-based realtor, has been named one of 10 finalists for the Realtor Magazine 2015 Good Neighbor Award, which honors realtors who go above and beyond in their commitment to making their neighborhoods better places to live.
Published (and copyrighted) in South Jersey Biz, Volume 5, Issue 9 (September, 2015).
For more info on South Jersey Biz, click here.
To subscribe to South Jersey Biz, click here.
To advertise in South Jersey Biz, click here.