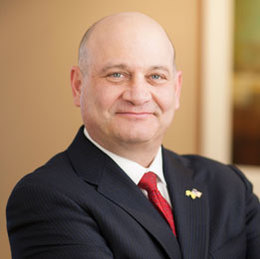 Corner Office: Jeffrey L. Nash,
Jeffrey L. Nash, Camden County Freeholder
Camden County Freeholder Jeffrey Nash was born and raised in Brooklyn, N.Y., where he was always politically involved and public service-minded. After working with the law firm of Cozen O'Connor for nearly three decades, he left to launch Nash Law Group, based in Camden. Here, the Cherry Hill resident shares his inspiration for the move, goals and experience thus far.
Drawn to the legal world: I have always wanted to be an attorney. My greatest motivation was to be involved with community service and to assist disadvantaged people. When I was 19, I established a senior citizen help center in my hometown of Brooklyn. Working hard to initiate that operation confirmed for me that being an attorney would be the best vehicle for me to accomplish certain community-oriented goals. My passion for the law developed in law school as the managing editor of a journal and member of the school's traveling trial team. My first job out of law school was as a public defender in New York City. That was a very meaningful experience for a young lawyer and I have been an active litigator ever since.
Going out on his own: After almost three decades working with one organization, it was time (now or never!) to make a change. In many ways, it was a leap of faith. However, opening my own office has been exhilarating. There is obviously much more administrative work to do. Still, I feel motivated that I am building something that will be very successful and will allow me to accomplish my professional and community goals.
Free advice: My advice to anyone going out on their own is to plan and be prepared. I was very prepared for most contingencies, thanks to the helpful advice of others who have opened their own practices. The result has been very positive and rewarding.
Focusing on the community: The driving force behind my practice is to advance community-based projects; to create jobs, promote clean energy and create opportunities for those most in need. That is my passion and my practice is focused on achieving those goals.
Published (and copyrighted) in South Jersey Biz, Volume 5, Issue 9 (September, 2015).
For more info on South Jersey Biz, click here.
To subscribe to South Jersey Biz, click here.
To advertise in South Jersey Biz, click here.