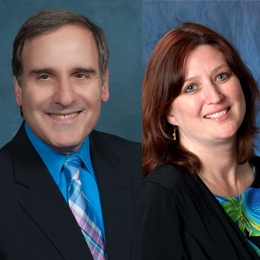 Close of Biz: Corporate Event Planning
There's more than meets the eye when it comes to organizing a professional event. Businesses often have an additional set of concerns to consider when compared with events of a more personal nature. And, there is frequently more at stake. We asked local experts for their top tips on planning a successful events and common pitfalls.
David Drubin (pictured, left)
Director of Sales for Hampton Inn

How is planning a corporate event different than a personal celebration?
Both events are very similar, with the exception of the purpose and the audience. A corporate event typically has an agenda that can range in topics such as sales, new products, technology or quarterly/annual meetings. A social event is more of a personal nature with a totally different atmosphere. However, the following components increase the likelihood of success for planning any event:
• Knowing your target audience
• Details, details, details
• A clear purpose for the event
• Knowledge of other events in the area that could affect response/attendance
• Understanding your budget and limitations
What are some commonly overlooked items?
I believe that people forget to develop a good reason to attend. What's in it for the guest? Is there real value in taking the time? Ask yourself, would I attend this event?
In addition, I believe that a thorough and professional follow-up survey is important. Use this valuable information to assess the event itself and ways in which it can be improved in the future. Consider a team-building activity within the event or after the meeting to create a fun atmosphere.
What are some resources business owners have at their disposal when planning an event?
Depending on the size of the event, use the sales team at the venue to help in the planning. They usually have a wealth of information and resources at their disposal.
If really necessary, consider working with a professional meeting planner and local business associations to help defray some costs. The local chamber of commerce can also be an asset with their community connections.
Kelley S. Thwaite (pictured, right)
CMP, Co-owner and Event Producer at KM Event Productions, LLC

How is planning a corporate event different than a personal celebration?
One of the biggest differences is the emotional investment of the client. Corporate clients have a stronger focus on efficient operation and logistics.
However, the variety in corporate events means that even with efficiency at the core, there are many factors that affect each event. The list of must-have requirements will vary greatly from event to event. For example, a corporate event could require that there are no air walls if the discussions are proprietary.
However, for a wedding or social event, you will probably need to be sure you have room for both seating and a dance floor. From client perspective to venue requirements, the two styles of planning are very different. Yet, they both require a professional with an eye on the details and knowledge of the potential pitfalls to guide the client to success.
What are some commonly overlooked items?
I'll get a lot of last-minute requests for additional rooms for breakout sessions. I also find that if I'm not involved in the planning as the client builds their agenda, they will forget to add in a break time, or take into account the time to transition between rooms if there is a shift during the event. The larger the facility and the group, the more critical these little spaces of time can become.
Constant attention to the details can make or break your event. You could have a fabulous menu for your meals, but if you fail to take into account any special diets, it could ruin the event for many. Small oversights get magnified in the final review and it is up to the planner to be constantly vigilant.
What are some resources business owners have at their disposal when planning an event?
I highly recommend using a professional planner for your events. We are experts at ensuring a successful event and in most instances, the cost savings we bring with our own network of resources (as well as time saved) provides a return on investment that cannot be matched. If you must forge ahead without an event planner at your side, make sure you do your homework on where your meeting will take place—use social media, visit the venues' websites and keep up on the news. The last thing you want to do is plan a sales meeting at a hotel with a recent bedbug outbreak. Be sure to utilize any planning resources the venues may offer and most of all, be agile and prepared for sudden change.
Published (and copyrighted) in South Jersey Biz, Volume 5, Issue 9 (September, 2015).
For more info on South Jersey Biz, click here.
To subscribe to South Jersey Biz, click here.
To advertise in South Jersey Biz, click here.