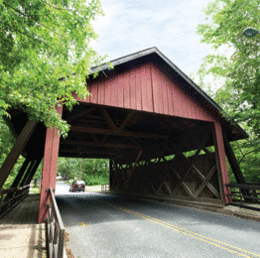 Around Town: Open for Business
With a new take on growth, Cherry Hill maintains its business-friendly attitude.
For business owners and local leaders alike, Cherry Hill is a township marked by continuous growth, redevelopment and an increasingly business-friendly atmosphere.
In short, business is booming—again.
"Between both the geographic location and the attitude of the administration that is in place in Cherry Hill Township, they really are 'open for business,' and are doing everything possible to revamp some of the fallow locations or properties in town," says Ernest Del Duke, chairman of the Board of Directors of the Cherry Hill Chamber of Commerce and owner of Del Duke Insurance Group, which has called Cherry Hill home for 31 years.
"There are a lot of different examples of redevelopment projects, such as the Syms store on Route 70," he says. "That's been a couple-year process. Just over the past couple of years, you can see [the administration is] trying to find creative ways to get that site utilized again, and even trying to solicit help from citizens. It's things like that that I think are really good to encourage business."
Del Duke touts the administration's openness to bringing new business into town as another plus for the township—the administration is "being open, and willing to talk to people and trying to find ways to bring different businesses and corporations to town," he notes. "Whereas in the past, it was very difficult to get things done as a business owner, anything from a signed permit to having someone come out and talk to you about property lines, things you'd like to achieve as a business."
Location, location, location
Del Duke also notes the township's prime location as a major driver of business. "Of course, the geographic location between I-295 and Route 70 and some of the other main arteries through town, like Route 38, those things have really helped bring people [to Cherry Hill]," he says. "The community and the layout of the neighborhoods also allow for a good flow of traffic and commerce to be transacted on a large scale."
Paul G. Stridick, director of community development for Cherry Hill, also touts the township's prime location. "We are convenient. We are 12 miles from Center City; and we have a lot going on [here in the township]. … We really are at a crossroads here in South Jersey."
Healthy growth
Redevelopment of underutilized sites has become the norm in Cherry Hill, including one major undertaking: the redevelopment of the former Syms department store on Route 70.
"The big news is that [the University of Pennsylvania Health System] is opening up a 150,000-square-foot medical building, a reuse of the old Syms department store [on Route 70]," says Cherry Hill mayor Chuck Cahn. "It's really going to have a regional impact, in terms of what Penn is going to offer. It's quite significant; [and] the plans are substantial."
The township's planning board recently approved the Penn Medicine Project, a $50 million transformation of the 150,000 square foot former department store into a state-of-the-art medical center, to provide medical services ranging from cardiology to radiation to primary care to obstetrics/gynecology, even a pharmacy and an urgent care, just to name a few. The redevelopment will also include a 1,600-square-foot addition, as well as a 405-car enclosed parking garage.
"These revitalization and reinvestment projects are [aimed at] places like Syms—sites that have not lived up to their potential in a long time," says Bridget Palmer, director of communications for the mayor's office. "Coming into [Cherry Hill] on Route 70—that is kind of our front porch and it should live up to its full potential."
Stridick agrees. "When you are coming into Cherry Hill, you are seeing those vacant or underdeveloped sites," he says. "So the township will basically develop a plan, through the planning board, in order to come up with something that's a site plan that really works and addresses those site issues."
The medical presence in Cherry Hill is also undergoing a revitalization. Kennedy Hospital, at Cooper Landing and Chapel Avenue, has recently broken ground on a new medical office building and a square foot surgical center for 102,000 square feet, an indoor parking garage, a future patient pavilion, and a full campus reorganization; LourdesCare at Route 70 and Brace Road recently added an urgent care; Virtua will soon follow suit, adding an urgent care, family medicine and imaging services; and Bancroft has recently set up their consolidated administrative offices in Cherry Hill.
A growing appetite
Another sector of Cherry Hill has also seen some growth in recent years—food and drink.
Since opening about a year ago, the 55,000-square-foot Whole Foods in the Ellisburg Shopping Center has encouraged more growth, Palmer notes. "[It] has spurred upgrades, new businesses and raised the bar for the entire Ellisburg Shopping Center," she says, noting that Ellisburg is Cherry Hill's original retail strip center.
New restaurants in Cherry Hill include Honeygrow and Jules Thin Crust, both also in the Ellisburg Shopping Center; Zoe's on Haddonfield Road; Starbucks on Route 38 in front of Walmart; and a new McDonald's at Route 38 and Church Road Circle. Forgotten Boardwalk Brewery, a new micro-brewery in the Springdale industrial area, is another new addition to the township.
Keeping with the township's theme of redevelopment, Aldi will soon be on the site of the former Bottom Dollar on Route 38; Rockhill Restaurant is a redevelopment of former Big John's on Route 70; Ichiban Buffet took over the former Old Country Buffet site on Route 70; Turning Point is now located on Haddonfield Road at the former Pier One site; and Wawa now sits on the former Blockbuster Video site on Route 38.
The price is right
And retail is not to be left out of the equation regarding Cherry Hill's success.
The Cherry Hill Mall has long been an economic powerhouse in the township. "The Cherry Hill Mall is one of the top six malls in the country. It's doing extremely well. And a lot of the investment in the mall is trickling down [to places like] the Garden State Park," Cahn says. "Cherry Hill is on a tremendous economic development growth path. It's also an easier place to do business in. New businesses see a welcome place in Cherry Hill."
A new Kohl's outlet store, Kohl's Off Aisle, recently opened its doors at Route 70 and Old Orchard; a new Audi dealership showroom and service facility on Route 70 is currently under construction; several new shops and eateries have opened at Garden State Park, including Pier One; and a new shopping center to include a McDonald's and other retail at Route 38 and Coles Avenue is currently under construction.
Cherry Hill also worked with the United States Post Office to keep the Ellisburg Station Post Office in the township and was successful, as the new post office will relocate to the CVS Shopping Center at the corner of Chapel Avenue and Kings Highway, slated for a late summer opening.
Home sweet home
Residential development is another area of growth.
"Residential development is underway as well, which is interesting for this area, because so many happened at one time," Stridick says, noting Garden State Park, Regency Court, and The Grand as areas where there has been development—whether it's a newer residential and retail mega park like Garden State Park; a new approach to a failing subdivision, such as with Regency Court; or ground floor retail that wasn't doing so well repurposed into more apartments, such was the case at The Grand.
"We're looking at sites that just need a little help, working with property owners and developers all through town and brainstorming some really good solutions and resolutions to their problems," Stridick says.
Cahn also notes that single family home ownership is up.
"[Cherry Hill is] also on track this year to sell the most single-family homes in probably 15 years. Last year, we sold 900 single-family homes. Already in the first six months of this year, we have surpassed 600," he says. "People see Cherry Hill as a very attractive [place to live]. We have not increased taxes for years; it's affordable; we have a great school system. And with all the other things that happen in Cherry Hill with economic development, shopping, restaurants, it's a great place to live."
Future growth
And they're not done yet. The Cherry Hill Township Council has also designated two other areas as areas in need of redevelopment—meaning, they're next in line.
These sites include the Park Boulevard area, the current site of America's Best Value Inn and former World Harvest Christian Center/synagogue, encompassing 7.3 acres along the revitalized Cooper River Park; and Hampton Road area, the former WB Saunders site along Hampton Road, including the Verizon work yard along Cuthbert Boulevard, for a total of 19.4 acres along Hampton Road through to Cuthbert Boulevard.
But there is a balance, officials say.
"We're in this together," Stridick says. "And we work with [residents] to kind of brainstorm solutions. But at the same time, we are not developing green space. We are taking spaces that are already developed, that are underutilized, and we are reinventing those spaces."
Cahn agrees. "There is a balancing act for the residents—not developing open space, not taking out trees. We're talking about utilizing underutilized spaces," he says.
Open for business
And local business owners name the ease of doing business in Cherry Hill as a major draw.
"We thought it was just a great community. This is a relationship business. Everybody has insurance—[but] we're looking to build relationships, build our brand, build our name, one person at a time, one relationship at a time, and doing right by everybody every single time," says Jeff Drozen, director of East Coast operations at Gaspar Insurance, which recently opened their East Coast headquarters in Cherry Hill. "I wanted to put this office in a place where I was going to be near the street fairs, the farmers' markets, the town fairs, my son's preschool, so people [would see me and say], 'Oh, that's Jeff Drozen of Gaspar Insurance.'"
Doing business in Cherry Hill has been a positive experience so far. "It's great. … People have been very receptive in this area," Drozen says.
Location was another plus. "Being in an area like this, where you are just outside Philadelphia, you are not far from D.C., you are a straight shot to Manhattan and not that far from Boston or Baltimore—there are so many cities near the area," Drozen continues. "We're able to establish our office in this area, and build our business the right way, but also have the scope of being able to travel to a bigger city for meetings. It's a great place to be."
And as far as hopes for Cherry Hill's future, Cahn puts it simply. "Our hopes are that people continue to see the value of Cherry Hill."
Published (and copyrighted) in South Jersey Biz, Volume 5, Issue 7 (July, 2015).
For more info on South Jersey Biz, click here.
To subscribe to South Jersey Biz, click here.
To advertise in South Jersey Biz, click here.