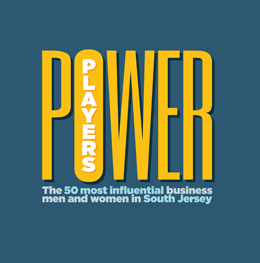 Power Players
sponsored by Wells Fargo
The 50 most influential business men and women in South Jersey
It was John D. Rockefeller who once said, "Don't be afraid to give up the good to go for the great," and when it comes to business, truer words have never been spoken. Taking risks, thinking outside the box and making the best out of any situation are characteristics all successful businesspeople must learn to embody.
Though business success stories abound in South Jersey, there are a number that particularly stand out, and it's the men and women starring in those stories that we decided to focus on for our inaugural list of the most influential men and women in business in the area. We asked them about their career accomplishments, the greatest business lessons they've learned so far and for any advice they might have for someone entering their field. From the governor to several banking executives and the heads of local universities, and many more, they're the ones particularly adept at making the right moves in business and proving to be influential leaders.
Marlene Asselta
President
Southern New Jersey Development Council
Asselta has been president of the SNJDC since 1985. Under her leadership, the council has grown to more than 350 member organizations and more than 800 members. She also helped to develop the Southern New Jersey Regional Economic Development plan—a roadmap to the economic future of our region that was the collaborative effort of the economic development directors from all eight southern New Jersey counties—further cementing her impact on the region for years to come.
Mark J. Baiada
Founder and President
BAYADA Home Health Care
Education: BS, Rutgers College; MS, Rutgers School of Business
With a personal motto of, "Think big. Work hard. Show love," it's no wonder Baiada's home health care service has become a national leader in the industry, serving clients in 22 states from more than 290 offices. While the Moorestown resident is continuously working to provide the best for his clients, he is also an advocate for improving patient outcomes and advancing health care.
William Burris
Chairman and CEO
Burris Construction
Education: Middlesex County College, Rutgers University
Burris took over Burris Construction Company from his father in 1982, and since then has worked in nearly every county in the state and throughout the country. A proven leader, he is responsible for development in excess of $500 million in the health care industry, and has spent a great deal of time developing ways to support best practices in patient care.
Jim Cawley
President and CEO
United Way of Greater Philadelphia and Southern New Jersey
Education: BA, Temple University; JD, Temple University, Beasley School of Law
"No matter where you work, whether it is a nonprofit organization, for-profit business or the public sector, there is always room for business principles. One of these principles is: Go out and find qualified candidates who have the skill set you are looking for and stay out of their way."
Chris Christie
Governor
New Jersey
Education: BS, University of Delaware; JD, Seton Hall University School of Law
New Jersey governor since 2010, Gov. Christie recently announced his candidacy for president of the United States, with the hopes of taking his political prowess to the next level.
Dr. Michael Christman
President and CEO
Coriell Institute for Medical Research
Education: BS, University of North Carolina, Chapel Hill; PhD, University of California, Berkeley
Scientists worldwide have benefited from the research efforts of Christman and his team at Coriell. Most notably, Christman initiated the Coriell Personalized Medicine Collaborative (CPMC), a research study evaluating the utility of genetics in medicine that involves 8,000-plus participants in 47 states and is partnered with leading national hospitals and numerous academic collaborators, including the United States Air Force.
Susan Coan
Region Vice President
Atlantic City Electric
Education: BA, Dickinson College; MBA, Monmouth University
"I've experienced the greatest professional growth when I've stepped out of my comfort zone and took on an assignment that, at first, felt well beyond my abilities. I realized failure was a possibility, but decided the reward was worth the risk. I've learned that being open to constructive feedback, asking many questions and taking time for self-reflection in the early stages of a new job are essential to success. And, of course, there's no substitute for hard work."
Joseph Coradino
CEO
PREIT
Education: BA, Temple University; MA, University of Arizona
"In any career, the key to success is being passionate about what you do. In order to excel in any field, you must have a fire inside of you. I knew instantly that real estate was my passion and because of that, I never regretted my career choice. In short, love what you do."
Kevin Cummings
President and CEO
Investors Bank
Education: BA, Middlebury College; MBA, Rutgers University School of Business
"Don't worry about your initial salary; find a job where you can grow and gain valuable experience with a mentor who will help you reach your potential."
Robert Curley, III
Market President
South Jersey TD Bank
Education: BS, Penn State University
A member of the TD Bank family since 1989, today Curley is responsible for the leadership and growth of a 64-store retail network and corporate giving, as well as direct oversight of commercial and small business lending teams throughout South Jersey. He is active in his community and has received a number of personal and professional awards for his efforts to lead South Jersey into the future.
Pam Cyr
Executive Vice President and Chief Retail Banking Officer
Beneficial Bank
Education: BS, La Salle University
"Remember to always think like a customer; put yourself in their shoes, listen, empathize, and consistently deliver the same high level of service that you would hope to receive if you were that customer."
Joseph Devine
President and CEO
Kennedy Health
Education: BS, La Salle University; MBA, St. Joseph's University
"Without question, having the privilege and honor to be named President and CEO at Kennedy Health [is one of my greatest career accomplishments so far]. Kennedy has been my family for nearly 30 years, so having the opportunity to be in this role—especially as Kennedy celebrates its 50th anniversary—and to work with so many great people everyday is something very special in life … not just in my career."
John DiAngelo
President and CEO
Inspira Health Network
Education: BS, St. Joseph's University; MBA, Widener University
"I'm proud of my role on the team that was able to build the South Jersey Health System into the premier source of quality health care for the residents of Cumberland and Salem counties. Our merger with Underwood to establish the Inspira Health Network is an extension of our vision into Gloucester County, to provide care to our community in our community."
Greg Filipek
Principal
SORA Northeast
Education: BS, Rowan University
"Success is when preparedness meets opportunity. It takes vision, patience and perseverance to be prepared and to be in a position to take an opportunity forward. At Sora NE, we are prepared to respond by having a talented and knowledgeable team on board that is ready to take a project forward."
Bernard M. "Bernie" Flynn
President and Chief Executive Officer
NJM Insurance Group
Education: BS, Fordham University College of Business Administration; JD, Rutgers University School of Law
"Never lose sight of the fact that insurance is a service industry. To be successful, you need to understand and meet the needs of your customers—the policyholders—especially after they've experienced a loss. At NJM, we're fortunate to have a talented and dedicated team of more than 2,500 employees who are focused on serving our policyholders every day."
Jamie Fox
Commissioner
New Jersey Department of Transportation
Education: BA, Villanova University
Fox has had a distinguished career in both state and federal governments, and has served in senior positions under five governors from both parties. Appointed commissioner in September, 2014, he also served in 2002, and oversaw several historic and bipartisan reforms at the DOT, including fixing the long-troubled E-ZPass system, consolidating the Turnpike and Parkway Authority and a historic legislative overhaul of the New Jersey Division of Motor Vehicles.
Christopher Gibson
President
Archer and Greiner, P.C.
Education: BA and JD, Villanova University
"The business of law is about relationships. You need to remember to constantly foster those relationships. As people rely more on electronic communication, one needs to remember to make the time to meet with clients, business contacts, and adversaries. Taking the time to really get to know the people you do business with will create lasting relationships, and in turn, continued business."
Kim Guadagno
Lt. Governor
New Jersey
Education: BA, Ursinus College; JD, American University Washington College of Law
Serving as Lt. Governor as well as Secretary of State of New Jersey, Guadagno has had her hand in state decisions since January 2010, having won the election the previous November as Gov. Christie's running mate.
Phoebe Haddon
Chancellor
Rutgers University-Camden
Education: BA, Smith College; LL.M., Yale Law School; JD, Duquesne University School of Law
As chancellor, Haddon is responsible for overseeing an institution that includes 6,535 students, 36 undergraduate programs, 29 graduate programs, 1,100 employees and an annual budget of more than $173 million; but as a respected leader in higher education her reach goes far beyond the Rutgers-Camden campus. She has received numerous awards for her work in education and law and was even honored by the National Jurist in 2012, 2013 and 2014 as one of the "25 Most Influential People in Legal Education."
David J. Hanrahan
President and CEO
Capital Bank of New Jersey
Education: BS, Rutgers University, School of Business; Stonier Graduate School of Banking – University of Delaware
"Being part of the team that started Capital Bank from scratch, and growing it into an institution that customers love, that stockholders profit from, and that makes a real difference in the South Jersey community, [is my greatest career accomplishment so far]."
Alexander Hatala
President and CEO
Lourdes Health System
Education: BA, Rutgers University; MBA/HA, University of Florida
"My greatest satisfaction has been keeping the Lourdes value-based mission alive in Camden. This achievement was made possible because our team built the Lourdes cardiovascular service line into one that is nationally renowned. We provide the best available heart care in the Delaware Valley, and our service has been recognized as the national standard for quality as validated by Truven Health Analytics-Top 50 Hospitals for Overall Cardiovascular Services; and The New York Times."
Vernon W. Hill, II
Chairman/Founder, Metro Bank
Investor and Advisory Chairman, Republic Bank
Education: BS, University of Pennsylvania Wharton School
"The opening of Commerce Bank in 1973 [has been my greatest career accomplishment so far]."
Dr. Ali Houshmand
President
Rowan University
Education: BA and MA, University of Essex, United Kingdom; MA and MD, University of Michigan, Ann Arbor
"Universities and institutions of higher education do not exist in a vacuum and are not experts at everything. Establishing and nurturing partnerships with businesses is vital to the future of higher education and to the growth of universities and the communities where they reside."
Stephen Hovnanian
Principal
J.S. Hovnanian & Sons
Education: BA, Rutgers University
Hovnanian has built thousands of homes in the South Jersey region in the last 50 years, making a name for himself as a groundbreaker in the homebuilding and land planning sectors. Expanding into Delaware, Hovnanian—together with the company his grandfather started over 70 years ago—has found unprecedented success and continues to be a leader in his field.
Ed Hutchinson
President
Hutchinson Mechanical Services
Education: Spring Garden College; BBA, Richard Stockton College
"Far and away the greatest business lesson I've learned is to surround yourself with the greatest team you possibly can. Trusted partners are the only solid foundation that will thrive and sustain success for the long haul. We are very fortunate to not only have trusted family members but many long-term partners with the brains and passion to deliver an incredible customer experience."
Ralph Izzo
Chairman, President and CEO
Public Service Enterprise Group Incorporated
Education: BS, MS, MD, Columbia University; MBA, Rutgers Graduate School of Management
Izzo joined PSE&G in 1992 and was elected to his current position in 2007. A well-known leader within the utility industry, as well as the public policy arena, he is frequently asked to testify before Congress and speak to organizations on matters pertaining to national energy policy. The recipient of a variety of national fellowships and awards, he has also received honorary degrees from a number of educational institutions, including New Jersey Institute of Technology, Thomas A. Edison State College, and Rutgers University.
Ron Jaworski
Founder
Ron Jaworski Golf Management Inc.
Education: BS, Youngstown State University
Born in New York, Jaworski made his way to South Jersey thanks to his affiliation with the Philadelphia Eagles—a team he played with for 10 years. Since then he has opened several businesses in the area, has raised thousands of dollars for local youth and is a regular commentator on ESPN, NFL Films and Eagles Television Network.
Dr. Paul Katz
Founding Dean
Cooper Medical School of Rowan University
Education: BS, Randolph-Macon College, Ashland, Va.; MD, Georgetown University
"Without question, having the privilege to serve as Founding Dean of Cooper Medical School of Rowan University [is my greatest career accomplishment so far]. Being able to help start the first new medical school in New Jersey in 40 years at a time when so many dramatic changes are occurring in health care has been a wonderful experience."
Thomas J. Kemly
President and CEO
Columbia Bank
Education: BS, The College of New Jersey (née: Trenton State College); MBA, Fordham University
"I have found that successful people seem to be passionate about their job. I attribute my own career path, from management trainee to bank president, to being totally committed towards my work … and always striving to add new job skills and learn new ways of doing things. To me, these are necessary success skills. Without personal commitment, your career path has limited potential."
Dr. Adrienne Kirby
President and CEO
Cooper University Health Care
Education: BS, Rutgers University; MS, PhD, University of Pennsylvania
Sitting at the head of Cooper's health care delivery operations, which includes a 600-bed hospital and physician organization with more than 100 outpatient offices throughout South Jersey, Kirby's influence is felt throughout the region. She has an extensive background in the industry—over 30 years—and has held leadership positions in more than one noted health care facility, including Virtua Health and Christiana Care Health System in Delaware.
Barry Mertz, SIOR
CEO
NAI Mertz
Education: BS, Temple University; JD, Villanova University School of Law
"Commercial real estate brokerage can be an extremely fulfilling career and can provide great personal satisfaction with tremendous earning potential. This industry is a marathon, not a sprint. There is light at the end of the tunnel, but it takes persistence and hard work to get there."
Richard P. Miller
President and CEO
Virtua
Education: BS, Mount St. Mary's College; MBA, Southern Illinois University
"My greatest career accomplishment is the culture we have created throughout Virtua during the past 15 years. It began with a culture change and determination to hire the 'best people.' People do make the difference. If you hire, nurture and retain great people, you will assuredly provide a great quality of care and service. I can honestly say that this has led to the Virtua of today—a great organization with great people providing outstanding care to all the people and communities we serve."
Denise Morrison
President and CEO
Campbell Soup Company
Education: BS, Boston College
"I'm from a generation of women that shattered the glass ceiling. We didn't wait for doors to open. The lesson I learned is that you need to open some doors for yourself in pursuit of career advancement. The best career advice I can give is to set ambitious goals and don't be afraid to declare and aim for them."
George Norcross
Executive Chairman
Conner Strong & Buckelew
Education: Rutgers University
Political power broker Norcross has led Conner Strong & Buckelew since 1979, but his influence reaches far beyond the firm's walls as a major player in a number of South Jersey communities, especially Camden, where he serves as chairman of the board of trustees of the Cooper Health System and Cooper University Hospital.
John A. O'Connor
Regional President – New Jersey
Susquehanna Bank
Education: BA, Marietta College
"Over 35 years in banking, I've been able to adapt to different roles—ranging from originating new commercial loans and mortgages to working with customers to navigate difficult economic environments."
Melissa Orsen
CEO
New Jersey Economic Development Authority
Education: BA, University of Delaware; JD, Widener University School of Law
"Have the confidence to seek out challenges. We can miss out on wonderful learning opportunities by taking the easy route. Even more importantly, listen to those around you and make sure you understand the issues. Sometimes the people we least expect can teach us some valuable lessons."
John Palmieri
Executive Director
Casino Reinvestment Development Authority
Education: BA, Temple University; MPA, University of Rhode Island
"My greatest business lesson has been you can only succeed if you have partners who believe in the mission—Harrah's conference center, Bass Pro, Margaritaville to name a few."
Toni Pergolin, CPA
President and CEO
Bancroft
Education: BA, Penn State; MA, St. Joseph's University
"Never be satisfied with the status quo and always be focused on growth. The needs of individuals Bancroft serves are changing and so is the funding model. Understanding the impact of these changes on the organization's business model is critical in sustainability of providing high-­quality services for those in need."
Anthony Perno
CEO
Coopers Ferry Partnership
Education: BA, The College of New Jersey; JD, Rutgers-Camden
As the head of a non-profit real estate development corporation based in Camden, Perno is helping to turn around one of the state's most distressed cities. He has had his hand in many successful infrastructure initiatives in the city, and continues to focus on the partnership's targeted development and civic programming strategy.
Ray Rastelli Jr.
President
Rastelli Foods Group
Education: Deptford High School; Gloucester County College; La Salle University
"Entering any field as an entrepreneur, you have to have enough passion and belief to sustain you through the most difficult challenges. Entrepreneurship takes long hours, dedication and a willingness to take risks. Unlike a regular 9-5 position, entrepreneurs have to create their own job security through hard work and perseverance."
Michael J. Renna
President and CEO
South Jersey Industries
Education: BA, University of Delaware; MBA, Cornell University
"I've always wanted my legacy to center on the accomplishments of others—to help very talented people realize their full potential. Nothing is more rewarding than watching a talented executive have the courage to step outside his/her comfort zone and take on a new and, in some cases, unfamiliar role and then go out and exceed all expectations."
Linda M. Rohrer
President, Rohrer & Sayers Real Estate; Chairman of the Board, 1st Colonial Community Bank; Chairman, Board of Trustees, Rowan University; Trustee, William G. Rohrer Charitable Foundation
Education: BA, Upsala College
"Be yourself, because you can't be someone else. Always think twice, learn from your experiences and don't be afraid of challenges. It is amazing what you can accomplish if you challenge yourself to do more."
Judith L. Roman
President and CEO
AmeriHealth New Jersey
Roman has been president and CEO of AmeriHealth New Jersey since 2006 and has more than 30 years of experience in the health care industry. She is dedicated to providing New Jersey residents access to affordable, quality health care while empowering them to make informed decisions that will improve their health and well-being.
Brenda Ross-Dulan
Southern NJ region president
Wells Fargo Bank
Education: BBA, Howard University; MBA, Anderson School of Management at UCLA
With several professional awards to her name and 25 years of banking experience in her repertoire, Ross-Dulan assumed her current role with Wells Fargo in 2009 and currently oversees 150 community banking stores and $12 billion in deposits. In perhaps her most notable role, she helped lead the Southern New Jersey Region of Wachovia through the Wells Fargo merger and conversion.
Betsy Ryan
President and CEO
NJ Hospital Association
Education: BS, Rutgers University; JD, Seton Hall University School of Law
As the head of a nonprofit trade association that represents all of the state's 72 acute care hospitals as well as other health care providers, Ryan's presence is felt not only among health care providers, but also in Trenton and Washington, D.C., where NJHA provides leadership on health care policy. N.J. hospitals are an important presence in the state, serving 18 million patients annually, providing 140,000 jobs and pumping $20 billion into the state economy.
Dr. K.P. Singh
President and CEO
Holtec
Education: BS, BIT Sindri (Ranchi University), India; MS, Penn State University; PhD, University of Pennsylvania
"Recruit the best talent you can find. It is the caliber and commitment of a company's workforce that defines its success."
Angela Snyder
CEO and Chairman
Fulton Bank of New Jersey
Education: BS, St. Joseph's University
"One of the best lessons I have learned in business is to always stay close to your employees and customers. I make sure to meet with both of them every month to understand their different perspectives, and that helps me greatly when I'm making decisions."
George Sowa
Executive Vice President and Senior Managing Director--New Jersey/Delaware
Brandywine Realty Trust
Education: BS, Cornell University
"Remember to keep your eyes, ears and mind open to change. The real estate business, like many businesses, continues to evolve at an ever increasing pace. One must be able to anticipate and adapt to changes in how, why and where companies choose to operate and locate in order to be successful over the long term."
Steve Sweeney
Senate President of New Jersey
Education: Pennsauken High School
Often considered among the most powerful political figures in the state, Sweeney currently serves as senate president of New Jersey, with wide speculation he will make a run for governor in 2017.
Dr. John M. Tedeschi
Founder, Chairman of the Board and Chief Executive Officer
Continuum Health Alliance, LLC
Education: BS, Villanova University; MD, Creighton University School of Medicine
"Advice for anyone entering the field? Jump in, the water is great!"
Published (and copyrighted) in South Jersey Biz, Volume 5, Issue 7 (July, 2015).
For more info on South Jersey Biz, click here.
To subscribe to South Jersey Biz, click here.
To advertise in South Jersey Biz, click here.