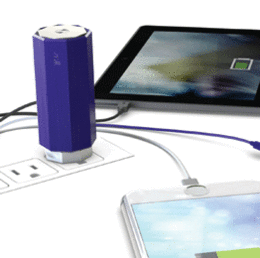 Office Space
Supplies in Demand
The newest in workplace gadgets and business-minded titles will help you be more successful than ever in the workplace.
Rocket Fuel: The One Essential Combination That Will Get You More of What You Want from Your Business
Gino Wickman and Mark C. Winters team up to explain how effective it can be when likeminded visionaries and integrators find each other in the business world, and how this combination will help your company blast off toward success. $15.37, Amazon.com
The Zolt Laptop Charger Plus
Perfect for charging on the go, the Zolt Laptop Charger Plus (pictured) offers enough energy to simultaneously power a laptop and two USB devices while always meeting each device's standard charging requirements. GoZolt.com, coming summer 2015, $79.99
ZUtA Portable Pocket Printer
This sleek, portable mini-printer is perfect for offices with limited space—and it's perfectly portable, to boot—offering WiFi connectivity to computers and mobile devices, a rechargeable battery, and the ability to print on any size paper. ZutaLabs.com, coming October 2015, $199
Crunching Numbers
88: Number of employees to be laid off from the Marlton-based Continuum Health Alliance in June.
49%: How much higher New Jersey residents' average auto insurance costs are, compared with the rest of the United States, according to a report by the National Association of Insurance Commissioners.
$8,161: New Jersey's average residential property tax bill, the highest in the nation, an increase of 2.2 percent from 2013.
69: Age Gov. Chris Christie proposed raising the national retirement age to, as part of a package to reform disability insurance, Social Security, Medicare and Medicaid.
$1.95 MILLION: Amount awarded to the Rutgers Institute for Emergency Preparedness and Homeland Security by the federal government to help fund the intelligence-related curricula at the school.
TWO THOUSAND SEVEN HUNDRED: Number of private-sector jobs New Jersey gained in March, down from 3,400 gained in February, according to ADP.
Published (and copyrighted) in South Jersey Biz, Volume 5, Issue 4 (April, 2015).
For more info on South Jersey Biz, click here.
To subscribe to South Jersey Biz, click here.
To advertise in South Jersey Biz, click here.