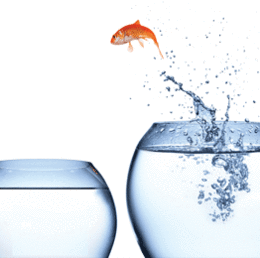 Think Small?
We're used to hearing about thinking big—but here's why you should treat your big business like a small one.
There's a lot of advice out there about how to "think big" when running a small business. Business books and workshops are all about growth and expansion. But success comes when a small business is built on certain principles and foundations. As your business grows, there are many benefits to "thinking small." In other words, remember your roots. Maintaining the principles that made your business so successful in the first place is important as you grow and expand. Unfortunately, many businesses let growth overtake their business and lose some of those essential elements.
Employee love
One thing that small businesses tend to do very well is to maintain employee happiness. But that can change as companies grow. Businesses lose touch with their employees and employees can grow resentful of changes to the way the workplace is run.
"One of the most important principles to follow when a business grows is to remember to treat the employees well," says Eileen Jason, Ph.D, MBA, PMP, president of ARTA Consulting, LLC based in Thorofare. "Often as a company grows, employee needs are put aside for growth and profit. Remembering the employees who have helped with the growth of the company will almost always ensure employee loyalty."
Understandably, this isn't always an easy task. Keeping up with employees can be more difficult as a business grows. For one, there may simply be a lot more employees. But it's important to continue that effort in order to keep employees happy. Thomas Fraser, general manager of GoEmerchant.com in Cherry Hill, says that even as GoEmerchant.com has grown, they've worked to ensure that employees know they're part of that growth. That has meant including employees in the process and involving them in celebrations of success and recognizing important achievements.
"We make the effort to celebrate our success as a group to provide our employees the recognition of a job well done and retain our workplace family atmosphere," Fraser says.
That sense of a family atmosphere is something most employees appreciate; and it's at risk of being lost as a small business grows. Robert Santiago III, COO of Para-Plus Translations, Inc., in Cherry Hill, says maintaining a family-run business environment is something he truly values. The company was founded by his mother and those that work there appreciate feeling like part of the family.
"When you spend eight hours a day at work it's possible that you're with your colleagues more than your family or friends," Santiago says. "That's why it's so important for employees to feel valued and happy to be here. That's something that can be lost as a business grows, so you need to make the effort to maintain it."
All about the people
Santiago says the "people part" of any business can be the hardest part. But it may be even harder for big businesses. "It's a challenge for any organization that is growing to stay in close touch with all of their employees," he says. "As you hire more people, you may lose those touch points that you once had. You can't walk around the office and say, 'How are you doing?' or have a conversation with each and every employee because it would take all day. But you still need to convey that culture to managers so that they're carrying on the same message."
That's why smart delegation becomes so important. If you're leaving it in the hands of managers to carry on the sense of a close-knit employee environment, and to check in on employees, you had better be sure you've put the right managers up to the task. "Communication is absolutely key in this situation," Santiago says. "Instead of having one-on-one communication with all employees, your touch points become the managers and they carry that message down the line."
Knowing you have the right people in place also allows you to give employees an increasing amount of responsibility. Jason says it can be beneficial to allow for individual accountability and responsibility in a big business, the same way you would a small one. "Generally people are more inclined to become accountable when they are involved in the decision making," she says.
This two-way street also helps employees put their trust in management. Jason says employee trust is pretty important as a business grows. "My research and focus is on leadership trust and team building," she says. "One of the most effective tools leaders can have at their disposal is employee trust. If employees are trusting of their leadership, they are more inclined to support them and the company as a whole. This rule works for both big and small businesses."
A step back
Sometimes ensuring that everything is in good working order simply means looking at things from the outside. As companies get caught up in growth, they can lose sight of the foundation a small business was built on. Fraser says sometimes a simple step back can make all the difference in the world.
"As you grow, it is easy to veer off the path from the original values as the delivery of your services become larger and more complex," he says. "We regularly like to take a step back and re-examine our methodologies, processes and management decisions to assure we retain our culture of a workplace family."
Remembering that employees were part of the effort that grew the company in the first place can help bring an expanding business back to its roots. "Never forget that your employees and customers are the ones who are responsible for your success," advises Fraser. "Treat them with respect and always lead by a positive example."
Published (and copyrighted) in South Jersey Biz, Volume 5, Issue 3 (March, 2015).
For more info on South Jersey Biz, click here.
To subscribe to South Jersey Biz, click here.
To advertise in South Jersey Biz, click here.