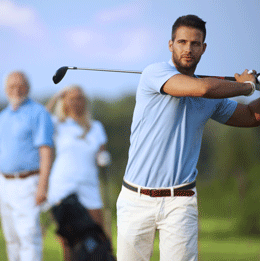 Ways to Woo a Client
Varied approaches to securing new business
Every St. Patrick's Day for the past eight years, Jake Reardon, national sales director for BCG Securities, sends more than 1,000 boxes of Oh Ryan's Irish Potatoes to his clients, along with a card. Then, he waits for the calls. "Last year, one of my best clients, a hardcore Italian man, called me and started yelling: 'Why are you sending me food? I hate potatoes! I'm Italian,'" Reardon says. "I told him, 'Stop yelling at me, try it and then call me later with an apology.' Sure enough, he did, and he even sent me a gift back—a pair of cufflinks that were a bull and bear representing the stock market—a couple days later."
This doesn't seem like the typical way to woo clients, but South Jersey professionals across all industries—from finance to construction to catering—are finding more unique and personal ways to connect with their customer base. So long are the days when a formal meeting in the office conference room represents the norm for conducting business. Today, professionals are connecting over personalized activities like golf outings and food tastings and hosting charitable events to team up with clients as they give back to the community. They're also finding unique ways to keep an open channel of communication, whether through scheduled check-ins with clients or "no voicemail" policies, like that at CASA Payroll Services. Professionals are continually looking for ways to build a rapport with their clients and bring out each other's personalities to truly connect. "I think a lot of professionals are realizing that people don't do business with businesses, they do business with people," says Mark Heenan, president of Hessert Construction Group in Marlton.
Here's a look at some strategies that are paying off for professionals in pursuit of attracting new clients, strengthening those relationships over time and generating referrals—and in some cases, even friendships—during the process.
Planning unique activities
Over at BCG Securities, Reardon says he takes note of his clients' interests and keeps that in mind when inviting them to personalized events. Some clients that have demonstrated an interest in the arts recently received tickets to see the Illusionists show in Philadelphia. Other clients have been invited to a golf lesson, and some have attended an intimate cheese tasting at Di Bruno Bros. in Philadelphia.
When clients are invited, they are often encouraged to bring a friend to the event who might benefit from BCG Securities' services. "We won't sell, we won't talk about investments, we just interact and have fun," Reardon says. He explains that if 100 people come to an event, the company usually generates 30 new clients. While the company might spend $10,000 on the actual event, they end up making $60,000 off of that.
Teaming up for charity
Hessert Construction Group bridges the gap between company and client by hosting and participating in charity events where everyone can work together as a team and give back to the community. On July 10 the company will host a golf outing at Sand Barrens Golf Club in Swainton to support The Kelly Rooney Foundation, a non-profit that raises breast cancer awareness and is very near and dear to president Heenan's heart.
These events have a philanthropic element that leaves everyone feeling like they've contributed in a positive way. In the meantime, it also provides an opportunity for networking and promotes a feel-good culture among the company, clients and their families, Heenan explains. The company also donates to other philanthropic events such as Cooper Hospital's Red Hot Gala, with proceeds that benefit the Cooper Trauma Center.
Quick problem solving
In today's world of fast technology and instant gratification, more clients are looking for professionals that think quickly on their feet and are real problem solvers.
Reardon provides several types of financial services for his clients, but when it comes to the 401k business, he says that 30 percent of the time, he sells the client within the first meeting. His tactic: presenting a good problem-solving method to meet their current needs. "I begin by asking questions and uncovering, figuring out what's going on and digging into what the problem is," Reardon says. Then, once he's uncovered the issue, he jumps right in by explaining, "Why don't you just hire us, and we'll take it right from here," Reardon says, adding that he knows the executives he's meeting with are bombarded with 40 other things that it takes to run a business. He says he tries to convince the client to let him take this issue off their hands right now, and reminds them, "You can fire us as quickly as you hire us."
"The best salesperson is someone who can walk a client down a path, leaving the client to think they got there by themselves just by asking what they want and what they are looking for," Reardon says.
An open dialogue—and going the extra mile
Most times, actions speak louder than words, and clients are most impressed by individuals willing to schedule around their needs. Reardon explains a situation in which he traveled to a hospital to meet with a prospective client who was a surgeon and ended up waiting until 2 a.m. after an emergency surgery was finished to talk to him. "Just waiting there for him went a long way," he says.
Other companies are also focusing on ways to facilitate an open dialogue. At CASA Payroll, for example, there's a "no voicemail" policy during business hours that seems to bode well with clients, according to James Burns, director of business development.
"Because of the nature of payroll, we're in constant contact with our clients, and we've found that people really appreciate a phone call to follow up about an email or a prompt response when they call," Burns says. "It's something that's so simple, but that really pays off."
Becoming a trusted resource
Professionals are also working to position themselves as industry experts, by providing quick advice to clients, referring them to individuals they trust in other industries and letting clients get to know their strengths.
Heenan, viewed as a trusted resource within his field, says "clients come to know us as a resource for information, such as budget estimates, that can help avoid problems later."
While this strengthens a business's reputation, it also keeps clients thinking about its services. "Mind share means a lot in this industry. If you're not on the top of people's minds, opportunities could bypass you," says Kayla McCause, director of business development and marketing for Hessert Construction Group.
Published (and copyrighted) in South Jersey Biz, Volume 5, Issue 3 (March, 2015).
For more info on South Jersey Biz, click here.
To subscribe to South Jersey Biz, click here.
To advertise in South Jersey Biz, click here.