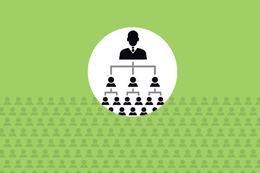 South Jersey's Leading Men and Women
Top CEO's and CFO's
Running a business is an enormous task and takes a unique individual—one who leads by example, has the ability to manage efficiently and effectively, and isn't afraid to take risks and make tough decisions when necessary. These CEOs and CFOs embody all of these qualities and are the driving force behind some of South Jersey's leading companies. Not only are these companies thriving because of these professionals, they are putting South Jersey on the map as one of the best places to conduct business in the tri-state area.
REYNOLD P. CICALESE
Managing Shareholder, Alloy Silverstein
With over 40 years of accounting, tax, and advisory experience to his name, Cicalese has earned certification as a personal financial specialist (PFS), a prestigious and exclusive distinction shared by approximately 5,000 CPAs nationwide. He has also achieved designation as a chartered global management accountant (CGMA), recognizing his ability to provide financial and non-financial guidance to businesses on performance, growth, and in making critical business decisions based on his extensive experience in public accounting, financial and management accounting, consulting, and the management and operations of the firm. Cicalese is certified in New Jersey and Pennsylvania and is a member of the American Institute of CPAs, including the tax, information technology and personal financial planning divisions.
THOMAS BALDOSARO
CFO, Inspira Health Network
With more than 23 years of health care finance leadership experience in South Jersey, Baldosaro has served as the chief financial officer of the Inspira Health Network since 2014. Today, Inspira comprises three hospitals, a comprehensive cancer center, several multi-specialty health centers and a total of more than 150 access points. These include urgent care; outpatient imaging and rehabilitation; numerous specialty centers, including sleep medicine, cardiac testing, digestive health and wound care; home care and hospice; and more than 30 primary and specialty physician practices in South Jersey. Over the past two years, Baldosaro oversaw the successful bond deals to procure $525 million of financing for the network, primarily to support the construction projects of the new 204-bed Inspira Medical Center Mullica Hill, slated to open in late 2019, and the new patient tower at Inspira Medical Center Vineland.
MICHAEL FISCHETTE
CEO, Concord Engineering
As a founder of the firm in 1989, Fischette has been driving the company's diverse DNA to build a portfolio of multimillion dollar projects ranging from hotel and casino facility design to large central station power plants. With offices in Atlantic City, Philadelphia and Voorhees, the firm now employs a staff of 100 engineers and designers. As a transition team member for two New Jersey governors (including current Gov. Murphy), he is a trusted advisor on energy and infrastructure. Fischette's passion for training has been the core of the firm's mentorship program. It has been a tremendous success for the firm, with several of Concord's project managers starting as former college interns.
SHARI HULITT
CEO, SharpLink Staffing
Hulitt is the founder, managing partner and CEO of SharpLink Staffing, LLC, a South Jersey-based staffing firm specializing in the fulfillment of light industrial, accounting, administrative, legal and professional roles. Prior to starting the company in 2015, she was director of operations at a larger international pharmaceutical staffing firm. SharpLink has seen 117 percent growth year over year, as Hulitt established the internal infrastructure, hired, trained and retained recruiters for the successful placement of candidates for a variety of clients in the local area.
Hulitt is a board member for Kids Caring Foundation and chair of their youth advisory council, Youth Voice. She is also a founding member for the Pitman Senior Outreach Committee and serves as vice chair on the Pitman Economic Development Committee.
VALERIE TRAORE
CEO, Food Bank of South Jersey
Moving South Jersey residents from charity to prosperity is at the core of how Traore has evolved the $18 million nonprofit organization from solely providing food for the needy to becoming a multi-faceted resource for helping communities lead sustainably healthy lives. A Baltimore native with extensive experience holding leadership positions at food banks across the country, Traore came to South Jersey in 2006 to spearhead the development of essential programs and services targeting the specific needs of the area's most vulnerable populations including seniors, working families and their children. Since her arrival, Traore has increased the organization's fundraising base by 500 percent and tripled its offering of programs and other services.
JACKI ROBINSON
CFO, New Jersey Community Capital
Robinson joined New Jersey Community Capital (NJCC) as chief financial officer in 2012. In this position, Robinson is a key member of the leadership team, responsible for the financial stewardship of the organization as well as with providing the president with strategic guidance. With more than two decades of experience as a certified public accountant, she brings to NJCC a very strong financial background. Most recently, Robinson served for more than six years as CFO and portfolio manager at E+Co. Prior to working at E+Co, she strengthened her knowledge about issues facing urban communities in New Jersey by serving as director of finance for the YMCA of Eastern Union County.
ANGELO ALBERTO
Founder, CEO, City Invincible
Founded in 2016 and located in downtown Camden, City Invincible represents the merger of three regional design firms, making "CI" both a new firm and a firm with over 40 years of combined experience. City Invincible focuses in the areas of health care, education, senior living and multi-family residential architecture and interior design. In 2017, the firm completed the $15 million renovation of the former site of the J.G. Whittier Family School in Camden, which is now the Kipp Cooper Norcross Academy Whittier School, and the $17 million renovation of the Gateway Head Start Early Education Center in Atlantic City, as well as White Horse Village, Memory Care, Merion Cricket Club Phase 1 interior renovations and approvals for over 300 residential units for the Lennar Corporation. The firm's new Camden office designed by City Invincible received the SNJBP "Project of the Year" award and Alberto was the recipient of the Gateway 30th Anniversary "Spirit of Community" award.
TONI PERGOLIN
President, CEO, Bancroft
As the chief executive officer of Bancroft, Pergolin has grown and diversified the services and programs provided for people with intellectual and developmental disabilities, autism and those in need of neurological rehabilitation. Most recently, Pergolin spearheaded the largest expansion and construction project in the 134-year history of Bancroft leading to the opening of the 80-acre Raymond & Joanne Welsh Campus in Mount Laurel, featuring a 175,000-square-foot, state- of-the-art facility. Ten years in the making, the campus includes The Bancroft School, Lindens Center for Autism, with campus residential treatment programs and an activity center, all designed to set a new standard of care in providing the highest level of service and recreation for students. The campus opened in January as a destination of hope for the greater autism community throughout the state and well beyond. Pergolin currently serves on the boards of Our Lady of Lourdes Health Care Services in Camden, Fulton Bank of New Jersey, South Jersey Chamber of Commerce, Peirce College and the Forum of Executive Women.
EILEEN CREAN
President, CEO, Members 1st of NJ Federal Credit Union
Crean is no stranger to the financial industry, having been in the business for 45 years and serving credit unions for 30 of those years. Serving as president and CEO since 1998, Crean has been instrumental in increasing services, bringing the credit union through the technological jungle and expanding operations to include the main office and two branches located in Bridgeton and Woodstown. Under her leadership, Members 1st of NJ has grown steadily through the years to over $57 million in assets and serves 8,000 members in both Cumberland and Salem counties. Crean is responsible for the credit union's daily operations and for creating, planning and implementing the strategic direction of the organization set by the board of directors.
DAVE HUBER
Senior Vice PResident, CFO, Horizon Blue Cross Blue Shield of New Jersey
Huber joined Horizon in 2002 as vice president of finance and was promoted to CFO in 2012. He is a people-oriented financial executive and the CFO of New Jersey's largest health insurer. As a member of the executive leadership team, he oversees the financial operations associated with Horizon's $13 billion in revenues. He's the executive sponsor of Horizon's Latin American affinity group and serves as co-chair of the board of trustees of the New Jersey Symphony Orchestra. He served on the board of the New Jersey Economic Development Authority and was past president of Financial Executives International.
GRANT LEIDY
Vice President, CFO, Deborah Heart and Lung Center
Leidy has been involved in health care finance for more than 30 years. A graduate of Penn State University in 1971, Leidy also received his master's from Penn State. Early in his career, he accepted a position in the New Jersey Hospital Rate Setting Program, eventually becoming chief of both the hospital and nursing homes rate setting division. Prior to coming to Deborah in 1983, Leidy took a consulting position in a public accounting firm, specializing in health care reimbursement, as well as regulatory and business issues in the industry. Leidy is a former member of his township planning board, and has also served on the audit committee of his church and a prison ministry.
BENJAMIN F. WATTS
President, CEO, Liberty Bell Bank
President and CEO since 2014, Watts previously served as the bank's executive vice president and chief financial officer. He also served as senior vice president and chief financial officer of First Bank of Delaware and was chief financial officer of MidCoast Community Bank in Wilmington, Del. Through his leadership, Liberty Bell Bank has been successful by providing financial services to the residents and small to mid-sized businesses throughout South Jersey. Watts is the president of the South Jersey Bankers Association and a member of the board of trustees for The Rowan College at Burlington County Foundation. He is also an alumnus of Rowan University where he participates as a mentor at the Rohrer College of Business.
DENNIS W. PULLIN
President, CEO, Virtua
Pullin, FACHE, is a seasoned health care executive with operational and business development experience and as president and CEO of Virtua, he has round-the-clock responsibilities for an operation that affects the lives of approximately 60,000 inpatients, 220,000 emergency department visitors, 53,000 same-day surgery patients and close to a half-million other outpatients. He is poised to continue his track record of strategic business prowess at Virtua which has become an important economic engine in the state. Pullin is continuing Virtua's footprint as one of the most progressive health care organizations in the nation. Under his leadership, Virtua and Penn Medicine will build a new proton facility on the campus of Virtua's acute care hospital, Virtua Voorhees. Virtua is the first location in South Jersey to offer this life-changing therapy to cancer patients.
JOSEPH SCULLY
Senior Vice President, CFO, Rowan University
As a key member of Rowan's executive management team, Scully provides leadership for the university's financial health. For more than a decade, Rowan has enjoyed a growth phase unlike very few schools in the country. Enrollment has doubled from around 9,000 students to about 18,000. The university opened Cooper Medical School of Rowan University in Camden and acquired the School of Osteopathic Medicine in Stratford. The $400 million public/private Rowan Boulevard Project has transformed the borough's downtown, Rowan buildings have risen in Glassboro and Camden, and the university has acquired Carnegie doctoral research status. Scully leads a team that has played a strong role in all of this, especially in keeping tuition increases flat or no higher than the rate of inflation for the past five years.
DENNIS E. GIBNEY
CFO, Columbia Bank
Gibney, CFA was appointed the executive vice president and chief financial officer of Columbia Bank in 2014. Prior to joining Columbia Bank, Gibney worked for FinPro, Inc. a bank consulting firm, and its wholly owned investment banking subsidiary, FinPro Capital Advisors, Inc., for 17 years. While at Fin-Pro, Gibney worked on mergers and acquisitions, mutual-to-stock conversions, corporate valuations, strategic planning and interest rate risk management engagements for community banks. He is a CFA charter holder and a member of the New York Society of Security Analysts.
DOUGLAS HACKER
Regional CFO, Acuity Healthcare
Hacker brings nearly 30 years of health care financial leadership to the Acuity Healthcare team. Prior to joining the Acuity team, he served as chief financial and operating officer for a drug recovery center as well as the chief financial officer for various senior communities that included short-term subacute care. Hacker graduated from the American University in Washington, D.C., with a bachelor's degree in business administration with a concentration in professional accounting.
LEON A. ELWELL
President, CEO, Business Accounting Systems
Elwell founded Business Accounting Systems, PC in 1971 based upon his belief that the small businessperson needed to turn to one firm for all their accounting, payroll and tax needs. With the help of his son, L. Scott Elwell, VP, MST, EA, they have grown BAS, PC from four to 16 employees over their 47- year span. They continue to help fulfill the needs of over 200 businesses with their accounting, tax, bookkeeping, and payroll services and over 1,000 individuals with tax services, all over the Delaware Valley and beyond.