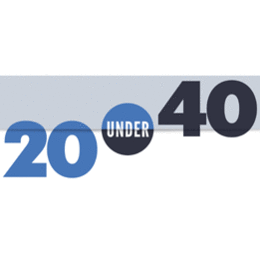 20 Under 40
We are always inspired by the talent in our annual listing of the top 20 Under 40 young professionals in South Jersey, but what's different this year might be the wide-ranging variety; from a doctor and former Miss Iowa winner to a marketing director who may have a future in the film industry—and even an employment services specialist who got his start in improv—the names on this year's list stress that creativity is one of the most important ingredients when it comes to being a successful executive or entrepreneur.
Rev. Wesley R. Allen, Director of Day and Employment Services, Quality Management Associates
Rev. Wesley R. Allen's career has followed an interesting, eclectic path. The Temple graduate initially put his communications degree to use landing jobs at Philly.com and CareerBuilder. He also enjoyed a stint with famous improv theater company Second City, whose alums include Tina Fey, Stephen Colbert and Dan Aykroyd. He eventually found a different calling and entered the Princeton Theological Seminary, where he earned a master of divinity degree in 2008. Allen served as director of youth ministries at the First Presbyterian Church in Moorestown for four years before joining Palmyra-based Quality Management Associates (QMA). As director of day and employment services, Allen, now 31, oversees Opportunities in Action, a program focused on finding employment for individuals with disabilities. In his two years with QMA, their employment placement rate has risen to 4 percent above the state average for people with disabilities, and program revenue has increased by $1 million. Allen works with businesses, organizations and faith communities in an effort to foster meaningful connections and opportunities for the disabled. He is also a member of the New Jersey Coalition for Inclusive Ministries, the American Association on Intellectual and Developmental Disabilities, and the International Association for the Scientific Study of Intellectual and Developmental Disabilities.
How has your improv training helped you in your career?
"Second City taught me how to listen to people and collaborate with them. Employees who try to dominate the workplace or 'steal the show' fade, but those who can work together as a team and build off of each other's ideas and strengths end up creating something magnificent and beautiful."
Andrew Bellia, Manager, Bellia Office
Andrew Bellia, 33, started out as a teenager in the family business, working on delivery trucks unloading and installing office furniture. Now, he has his own office. As a third-generation member of the management team at Bellia Enterprises—one of South Jersey's leading printing and office supply companies, located in Woodbury—Bellia's true passion is working with customers and building strong relationships. He credits his family with teaching him the skills he needs to succeed: his grandfather, Salvatore, who taught him to have "passion for everything I do;" the importance of strategic planning, which he learned from his father, Tom; and his uncle, Anthony, who taught him about tactical selling. Armed with those skills, and with help from the rest of his team, the business has achieved double-digit growth year after year.
Favorite Book
"Fish! A Remarkable Way to Boost Morale and Improve Results. It talks about leading a team that is totally involved with their customers throughout the selling process and having a lot of fun doing it."
Dr. Jennifer Caudle, Professor, Rowan University School of Osteopathic Medicine; On-Air Health Expert; Public Speaker
Dr. Jennifer Caudle has many titles. Physician. Professor. Public speaker. Cellist. Miss Iowa. It's the first of those handles that occupies most of the 36-year-old's time. After graduating with honors from Princeton and earning her medical degree from the UMDNJ School of Osteopathic Medicine, Caudle became a board-certified family medicine physician and assistant professor of family medicine at what's now Rowan's School of Osteopathic Medicine. She also appears regularly as a health expert on television, including CNN, Dr. Oz, Fox 29 News Philadelphia, and CBS 3. A spokeswoman for the American Osteopathic Association, Caudle is the creator of The Physicians Blog, an online platform where leading physicians across the country write about health information for patients. She has also spoken to more than 50,000 people at hundreds of venues on the topic of childhood bullying, and her programs have been featured in various publications and television broadcasts. Additionally, Caudle is an accomplished cellist—she attended Walnut Hill School for the Arts and studied cello at the New England Conservatory of Music Preparatory School—and in 1999, she earned the title of Miss Iowa and competed in the Miss America pageant, where she won the Bert Parks Non-Finalist Talent Award.
Favorite Way to Unwind After a Busy Week
"One of my favorite ways to unwind is over a great dinner with friends. I also love watching movies (comedies are my favorite), and one of my secret passions is bowling. Well, not so secret anymore."
Pam Collins, Chief Development Officer, Twin Oaks Community Services; Chair, Young Professionals Network, Burlington County Chamber of Commerce
As chief development officer for Twin Oaks Community Services, Pam Collins, 32, is tasked with managing fundraising, public relations, marketing and special events for the Mount Holly-based agency, along with two food pantries in Mount Holly and Berlin and the Twin Oaks Thrift Shop in Collingswood. The Towson University graduate leads a team of employees dedicated to the organization's mission of providing behavioral health and social services for vulnerable individuals and families throughout New Jersey. Collins is also chair, and a founding member, of the Burlington County Chamber of Commerce's Young Professionals Network. She has been instrumental in the development of the group by recruiting new members and implementing new programs. She was recently awarded the Chamber's Outstanding Young Professional Award. Collins also serves as a member of the United Way of Greater Philadelphia and Southern New Jersey in the Burlington County Campaign Cabinet.
Most Rewarding Part of Your Job
"Each day is a new challenge and I can wake up knowing that the organization I work for makes a difference in the lives of individuals living with mental illness and developmental disabilities."
Joe DelVecchio, Marketing Director, Visions in Innovative Accounting; Executive Director, Entrepreneurs Forum of Southern New Jersey
Joe DelVecchio, 29, is probably one of the few—if not only—young entrepreneurs in South Jersey to have an official credit on the Internet Movie Database (imdb.com). More on that in a minute. DelVecchio holds the distinction of being the first MBA graduate from Rowan's Rohrer College of Business with a specialization in entrepreneurship. He worked at the college for a year and a half, as a student, helping to run the Center for Innovation & Entrepreneurship under the tutelage of Steve Kozachyn, the center's director. "Steve is one of the best mentors I've ever had and without a doubt the best boss I've ever had," says DelVecchio, who also founded Toastmasters of Rowan, an educational organization that teaches public speaking and leadership skills through a worldwide network of meeting locations. In addition to his role as marketing director for Visions in Innovative Accounting (VIA) in Mount Laurel, DelVecchio also serves as executive director of the Entrepreneurs Forum of Southern New Jersey. And if the finance thing doesn't work out, DelVecchio may have a career in Hollywood. He starred in a short film titled Tides, which is being released this year and submitted to film festivals in Atlantic City and Philadelphia.
Favorite Book
"The Seven Spiritual Laws of the Universe by Deepak Chopra. Dan Ruotolo [of VIA] recommended it and for me it transcended Think and Grow Rich by Napoleon Hill for the fact that Deepak's book is about giving back and living in the present."
Kevin Gibala, Vice President, Franklin Bank
With more than 12 years' experience in commercial lending, Kevin Gibala, 34, has a proven track record of helping businesses. Gibala joined 153-year-old Franklin Bank in 2008 as a business relationship manager and was recently appointed vice president and chief commercial lending officer. He works closely with business clients by providing them with a broad range of business banking and lending services. He also lends his expertise pro bono, serving as a board member on the Salem County Revolving Loan Fund, which provides financial assistance to new and existing businesses located or seeking to locate in Salem County. Additionally, Gibala serves as vice president of the Woodstown-Pilesgrove Business Association and as board member and finance chair of Habitat for Humanity of Salem County. "It is very important to me to give back and serve in the community I live and work in," he says. "I am grateful for the work that these organizations do and feel rewarded to be a part of them."
Favorite TV Show to Binge On
"My wife and I binged on Parenthood this past winter."
Keegan Gosik, Sales and Marketing Director, Sensational Host Caterers
Keegan Gosik was instilled with a serious work ethic from an early age. "My father used to say, 'If you're not at practice or at work, then you're up to no good,'" Gosik recalls. It may come as no surprise then that Gosik, along with his brother and sister, played sports as much as possible growing up. When it came time to enter the working world, he took a job with chemical manufacturer Rohm and Haas. Shortly after starting, however, Dow Chemical acquired the company and Gosik's position was relocated to Michigan. So he went to work for the family business: Maple Shade-based Sensational Host Caterers, which celebrates its 35th anniversary this year. Growing and evolving from its early days as a retail outlet, today the company specializes in weddings, corporate events and custom celebrations, and Gosik has been instrumental in that growth. Earlier this year, the 28-year-old won the Extraordinary Leadership Award from Campbell's Soup for his work as chair of the Ambassador Committee for the Chamber of Commerce Southern New Jersey, and he was nominated vice president of the South Jersey Young Professionals Association.
Favorite Vacation Spot
"I would go back to Barcelona in a heartbeat. Loved that city, culture and food scene. Hands-down amazing."
Johnathan Grzybowski, Owner and Marketing Director, Dino Enterprise
You'd think working for one of the largest, most successful companies in the world would be a satisfying job for most people. But Johnathan Grzybowski was never cut out for a typical nine-to-five. So in his early 20s, with no backup plan and only $500 to his name, Grzybowski quit his job with Apple to start his own company. Two years later, Cherry Hill-based Dino Enterprise—a creative online marketing agency that uses social media, Web design and search engine optimization to tell clients' stories—has grown from two employees (Grzybowski and his business partner, Nick Groh) to 19, with a portfolio of more than 150 clients in South Jersey. Grzybowski, now 25, a Rutgers graduate, says the company continues to expand to other areas of the country and he hopes to one day make it the largest marketing company on the East Coast. He is in the process of writing a book—which will be released later this year—titled There Are Too Many of Us, about the fine line between being an entrepreneur and a businessperson.
Most Important Thing You Learned Starting Your Own Business
"Consistency. You are on stage 110 percent of your day. If you are fortunate enough to have employees, you are their driving force to achieve greatness. If you are fortunate enough to have customers, you need to provide consistent great work."
Jonathan Herman, COO, Preferred Home Health Care & Nursing Services
After facing a series of tragedies as a child—including the loss of both his parents to illness—Jonathan Herman committed himself to improving the lives of others through his work for Preferred Home Health Care & Nursing Services, a home health care company that provides a wide range of medical and non-medical services focused on pediatrics, adults and seniors. During his time with Preferred, Herman, 37, has helped steer the company's growth, expanding from four locations in New Jersey to nine total: seven in New Jersey, including Mount Laurel and Galloway, and two in Pennsylvania. Herman also orchestrated Preferred's first major acquisition, a durable medical equipment company servicing most of New England. He also serves on the state board for the March of Dimes. Additionally, Herman and his wife, Alene, were recently honored by the Emmanuel Cancer Foundation, a charity that focuses on serving children with cancer and their families by providing emotional, material and emergency financial support.
First Job
"I worked on Wall Street for many years, first at Smith Barney and then at a capital management firm. However, I always yearned for something greater (than making money), where I could have a bigger impact on society and enhance the quality of life for people in need."
Amol Kohli, President, AARK Enterprises
Like many young people, Amol Kohli spent part of his teenage years working in the restaurant business. Somewhat less traditionally, Kohli chose to spin that passion for the hospitality industry into a career as a restaurant franchisee. While attending Drexel's LeBow College of Business, the Voorhees resident worked as a district manager at a local Friendly's, gaining experience and exposure within the restaurant world and developing the skills necessary to manage multiple establishments. Shortly before graduating, Kohli seized an opportunity to purchase an existing franchise, which led to the formation of his own company, Marlton-based AARK Enterprises. The 26-year-old now owns and operates more than a dozen restaurants—including Friendly's, Papa John's and the Tilted Kilt Pub & Eatery—across New Jersey and Pennsylvania, managing more than 650 employees company-wide with an annual payroll in excess of $3.1 million. Kohli has received numerous accolades for his rise in entrepreneurship, including Drexel's Top 40 Under 40 Alumni Award. He was also the recipient of the 2013 Board Member of the Year Award for his involvement with the Cumberland County Boys and Girls Club of America.
Best Career Advice Received
"Early in my career, as I was just starting as a franchisee, this investor would constantly tell me, 'Amol, remember one thing: Sincere investments in people will pay dividends for years to come.' I was not exactly sure what to make of that statement then, but I certainly appreciate it now. Finding the right people and making them an integral part of your team is probably the No. 1 most difficult challenge we face. It is also the most crucial aspect in running a successful company."
Stephen Ortiz, President, Virtua Networks
Temple graduate Stephen Ortiz, 39, seemed destined for a career in medicine. But after an early brush with America's health care system left him feeling less than satisfied, he chose to follow a different path. By applying many of the same skills and knowledge he picked up studying to become a doctor, Ortiz has made himself into a successful entrepreneur in the field of information technology. Ortiz incorporated his IT company, Virtua Networks, in 2007, and now acts as president. He still keeps one foot in the medical field, serving on the executive team at Philly-based Esperanza Health Center—where, at the age of 28, he became the youngest member of senior management—and is also president of the Consortium for Latino Health. Ortiz is also responsible for the creation of Support Our Students (S.O.S.), an after-school program designed to support student development in the Hunting Park section of Philadelphia. He developed the program, which is currently run by Ayuda Community Center, while a student at Temple.
Favorite Way to Unwind
"Well, I have a Harley Davidson. Getting out for a nice ride to the Shore or just a nice stretch of road is a great way for me to unwind and focus on nothing else."
Damon Pennington, Founder, ATS Group
From an early age, Damon Pennington was possessed with an entrepreneurial spirit. At 21, while a student at Indiana University of Pennsylvania, he co-founded independent record label Apex Entertainment. After graduating with a B.S. in finance, he and a business partner patented, manufactured, marketed and distributed Clenek, a product designed to prevent ring around the collar. At 30, Pennington and three colleagues founded Advanced Technical Solutions (ATS), a supplier of products and services to the printed circuit board industry. Through all his ventures, he kept his eye on the "prize" of owning and operating a multimillion-dollar business, each experience further stoking his passion. Pennington's current business—ATS Group (ATSG), a Camden-based aerospace and defense firm with an emphasis in government contracting—is the result of that commitment, and has grown in the last three years from a Rutgers incubator startup to a company with 20-plus employees. The 39-year-old Gary, Ind., native, a South Jersey resident for nearly 20 years, further believes that with great success comes great responsibility. Pennington's hope is that through the continued success of ATSG, he may play a pivotal role in providing opportunities in Camden's revitalization.
Single Most Important Quality Needed to be a Successful Business Owner
"Understanding that failure can be your most valuable asset."
Raymond Rastelli III, Vice President, Rastelli Direct
Raymond Rastelli III has been learning the ins and outs of the family business since before he could drive. Rastelli began working for Rastelli Foods Group—one of the largest food suppliers in the region, headquartered in the Pureland Industrial Park in Gloucester County—when he was 15 and has held virtually every position as he climbed the ranks, gaining industry knowledge and building important client relationships along the way. In his current position, Rastelli, 30, runs Rastelli Direct, a home-delivery program featuring Rastelli premium meats, seafood and gifts. He led the Rastelli Direct team from its launch in 2009 to its current multi-channel sales and marketing business model, leveraging relationships with casinos and retail locations, along with several thousand individual customers. Rastelli also works with his father to drive sales on both the food service and direct-to-consumer sides of the business—which includes the upcoming opening of a new retail store in the former Genuardi's location in Marlton.
Ultimate Career Goal
"My ultimate goal is to carry on the family-oriented corporate culture and strong leadership my father and uncle have instilled in our company from the very beginning, while introducing new and innovative sales channels that will withstand an ever-changing, technology-based landscape."
Gregg Rego, Founder, Patriot Land Transfer
Starting your own business is always a risky proposition. But for Patriot Land Transfer founder and president Gregg Rego, it's a gamble that's paid off. In just a few short years, the Turnersville-based title insurance agency has gone from two rooms and three employees to five offices in two states and more than 30 employees. In addition to its corporate office, the agency maintains four satellite offices across South Jersey and Philadelphia to accommodate clients and growth, which included the formation of a new foreclosure department last year. Rego, a Cherry Hill High School West and Widener University graduate, worked as a salesman and account executive for another title agency for several years before establishing Patriot Land Transfer in 2006 at the age of 27. Now 36 and a husband and father of an 8-month-old daughter, Rego balances a busy home life with the demands of running his own company.
Single Most Important Quality a Business Owner Should Possess
"To respect, value and appreciate those you work with on a regular basis. Without the support and dedication of those you surround yourself with, it is next to impossible to succeed."
Carla Reinas, Vice President, TD Bank
An award-winning banking professional, Carla Reinas, 38, is a TD Bank vice president and the manager of the Mount Laurel location. As manager, Reinas is responsible for the overall performance of the store through sales, service, operational standards, conflict resolution, process development and supervisory personnel. Last year, she received the company's coveted CEO Leadership Award, recognizing her as one of the top-performing store managers in the country. Only 300 out of 27,000 employees are selected for this award. Prior to joining TD Bank, Reinas was a senior account executive at Thomas/Boyd Communications in Moorestown, where she oversaw a number of public relations and marketing campaigns for clients, including one that was the builder for ABC's Extreme Home Makeover: Home Edition in 2007. In addition to her professional responsibilities, the La Salle University graduate is very active in the nonprofit and business community, serving on the Burlington County Advisory Council on Women, the Burlington County Chamber of Commerce Women's Business Forum, and the YMCA of Burlington and Camden Counties' Image Committee, among others.
Best Career Advice Received
"Don't be afraid to take risks in your career and make sure to build your own personal brand."
AllynMarie Smedley, Partner, Trace Jenkins, LLC
While making a living selling gems and jewelry by day, AllynMarie Smedley took night classes at Widener Law. Upon earning her law degree, she spent a year as a clerk in Cumberland County Family Court. In 2006, Smedley began working at Woodbury-based Trace Jenkins, where she was named a partner earlier this year. Her practice is dedicated to all areas of family law, including divorce, child custody, spousal and child support, paternity, and all other related issues. Now 37, Smedley, a South Jersey native, is a member of several bar associations and has won numerous awards, including South Jersey Magazine's "Awesome Attorney" each of the last five years, and she was named a "Top 40 Family Lawyer Under 40" in New Jersey by the American Society of Legal Advocates. In addition, Smedley is the president and founder of the William T. Nace Scholarship Foundation. The foundation, named for her late uncle, a former teacher at Rancocas Valley High School, provides scholarships to graduating seniors through its annual 1-mile walk and 5K and 10K runs.
Best Career Advice Received
"Stay the course. I was at a crossroads about which direction I wanted to take my career and that was the advice I received from someone I trust wholeheartedly. That advice is responsible for where I am today."
Ryan Tookes, Senior Strategic Planning Manager, Atlantic City Electric
As senior strategic planning manager and assistant corporate secretary for Atlantic City Electric (ACE), 35-year-old Ryan Tookes is a critical member of the leadership team for a company that provides power to more than a half million homes and businesses in South Jersey. Tookes, a Wesleyan University graduate, is responsible for developing and managing strategic plans, managing department budgets, and providing counsel to the region president on a variety of issues affecting the company. Prior to joining ACE, Tookes served as director of government and public affairs for the New Jersey Utilities Association, where he gained a deep understanding of the utility industry. Tookes, who is fluent in Spanish, also holds both a master's degree—he studied in Moscow and Saint Petersburg, Russia, for his thesis—and a Juris Doctor from Rutgers – Camden.
As a child, what did you want to be when you grew up?
"I remember learning the basics of how the heart functioned in fourth grade and wanting to be a cardiologist."
Bryan Wellens, Senior Director of Clinical Informatics and Quality Management, Continuum Health Alliance
Bryan Wellens, 30, is using his formidable analytical skills to help transform patient outcomes for Marlton-based health care management company Continuum Health Alliance. Fueled by a passion for impacting under-resourced populations, Wellens—who previously worked for Jefferson University Hospital—and his team at Continuum provide nurses, physicians and other key stakeholders with information that focuses on achieving the triple aim of health care: improve the patient experience, increase quality and reduce costs. In the past year, he oversaw a shared savings program with one of the region's largest commercial insurers that, among other things, resulted in a $14 million savings, reduced inpatient admissions by 9 percent, and reduced hospital 30-day readmissions by 12 percent. In 2003, Wellens also co-founded the DREAM program at his alma mater, St. Michael's College. The nonprofit mentoring program pairs college students with at-risk youth from affordable housing neighborhoods to create relationships designed to empower children to lead healthy and productive lives.
Ultimate Career Goal
"I would like to be at the forefront of the industry in reducing the global cost of health care to less than 10 to 15 percent of U.S. GDP while improving patient outcomes."
Lauren White, Development Director, Ronald McDonald House of Southern New Jersey
After spending the early part of her professional career in the pharmaceutical and neuroscience industries, Lauren White was inspired by the birth of her daughter and switched gears to a profession that more closely meshed with her passion for helping others. White, a South Jersey native, joined the Ronald McDonald House of Southern New Jersey in Camden in 2011 and has been instrumental in helping the charity achieve its annual fundraising goals. She also helped the non-profit raise more than $300,000 in 2013 for its 30th annual gala. White, 36, along with co-worker Sonia Guzman, coordinated the "Goodness Project" in Camden this spring, in which 12 nonprofits came together in an inspirational video—inspired by the hit song Happy—that showcases all the good work they're doing in the city. The video can be seen on YouTube and at GoodnessProject.org. White looks forward to an expansion project for the Ronald McDonald House in the near future.
Favorite Smartphone App
"The Weather Channel. I'm addicted to the weather."
Trish Yerkov, Personal Manager, Ron Jaworski Management; Events Coordinator, Jaws Youth Playbook
Upon graduating from Drexel University in 2008, South Jersey native Trish Yerkov, 29, took an internship with Jaws Youth Playbook, a nonprofit—founded by ESPN analyst/former Eagles QB Ron Jaworski—focused on improving the overall health and wellness of at-risk youth in the Greater Philadelphia region by supporting healthy food programs and creating recreational spaces. Shortly after it became her full-time job, Yerkov jumped at the chance to become Jaworski's personal manager, a role that keeps her busy overseeing the NFL great's business scheduling and booking his personal appearances. She's also responsible for organizing a number of charitable events throughout the year, including the annual Jaws Celebrity Golf Challenge, QB Scramble 5K in Stone Harbor, and the Jaws Super Bowl Cigar Party. The proceeds from these events all benefit the Jaws Youth Playbook. In her free time, Yerkov also helps as Maxwell Football Club's auction coordinator and NFL Alumni Super Bowl XLVIII event assistant.
Mentor
"My mother, who always says if your dreams don't scare you, they're not big enough."
Published (and copyrighted) in South Jersey Biz, Volume 4, Issue 5 (May, 2014).
For more info on South Jersey Biz, click here.
To subscribe to South Jersey Biz, click here.
To advertise in South Jersey Biz, click here.