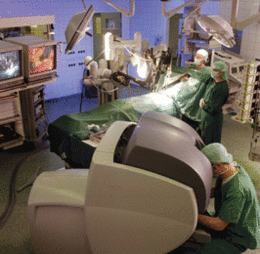 Health Care Innovations: The Next Big Thing
South Jersey health care providers and partners share their latest innovations.
Over the years, South Jersey has become a prime place for business. Thanks to its location, its work force, and a variety of other factors, business has expanded in a number of fields. Nowhere has success been more prevalent than in health care. From insurance companies to institutions of higher education, South Jersey has become a hot bed of development for health care providers and partners. Along with this influx has come a boom of innovative ideas that have changed health care as we know it. Here, we share a few of these new innovations local health care providers and partners have been working on lately. Between collaborations among hospitals, to programs that help individuals get and stay fit, we present a selection of innovations that make it clear South Jersey is a place to keep an eye on when it comes to the next new thing in health care.
AtlantiCare Special Care Center
Not your ordinary health care center, the AtlantiCare Special Care Center is a personal concierge service to serve patients' primary and specialty health care needs; a health care model designed to eliminate gaps in patient care that could interfere with chronic conditions; a one-stop destination for lab work, prescriptions and appointments. The SCC also incorporates behavioral care within the medical care setting, making for a team-like approach to factors that can contribute to chronic conditions like stress and family issues.
Developed in collaboration with employee partners—those that have signed on so far are Borgata Hotel Casino and Spa, Caesars Hotel and Casino, and Horizon—partners pay a fee per months per participant, benefiting from reduced total health care spending per employee. There are also financial incentives to patients/members, including waived copayments and reduced cost or free prescriptions. The idea behind the program is this: A team approach to individualized patient care, which includes primary, behavioral and emotional and relationship-based care, even nutritional support.
Patients for the center include those suffering from chronic illnesses, such as heart disease, diabetes, hypertension, obesity, asthma and emphysema. These patients have access to a team of care professionals 24 hours a day, seven days a week. And it's working. The center boasts some impressive statistics: 63 percent of smokers with heart and lung disease have quit smoking in their first year of care at the SCC; for patients with out-of-control blood pressure, the average drop in blood pressure was 26 points within six months; for patients with diabetes, the average blood sugar level dropped 2.38 points; and hospital admissions and emergency room visits for those involved in the program even decreased, an independent analysis by researchers at Harvard Medical School showed.
Inspira Medical Center
Inspira Medical Center Vineland (pictured) is now offering an alternative to invasive surgeries—single-site robotic surgery, an option that leaves patients virtually scarless, reduces recovery time and even reduces the likelihood of complications. Inspira Vineland was also the first in the area to offer single-site gallbladder removal and single-site hysterectomy.
"It always has been and continues to be our goal to provide area patients with the latest minimally invasive surgical options close to home," says Elizabeth Sheridan, R.N., M.A., chief operating officer of Inspira Medical Center Vineland and chief nursing executive. "Over the past four years, the robotics program at Inspira Medical Center Vineland has grown tremendously and we are very pleased to continue bringing cutting-edge surgical care right here to the community."
During surgery, the surgeon is 100 percent in control of the surgical system, which translates the surgeon's hand movements into smaller movements of smaller instruments inside the patient's body. Inspira's robotic surgical system also has a magnified 3D high-definition vision system.
Since its introduction at Inspira Vineland in 2010, the program has expanded to include a wide range of specialties, including colorectal for intestinal/bowel procedures, bariatric or weight loss, hernia repair or gallbladder removal, gynecology procedures including hysterectomy, as well as urology for kidney, bladder or prostate surgery.
Horizon Blue Cross Blue Shield of New Jersey
Horizon Blue Cross Blue Shield of New Jersey is doing their part to make pregnancy and delivery a better experience for local women. Horizon BCBSNJ announced earlier this year their Patient-Centered Pregnancy and Delivery Episode of Care Program, the first of its kind in the state. The program aims to deliver better outcomes, better patient experience, and lower costs through better coordination of care for pregnant women; and Horizon BCBSNJ paired up with 190 of their network doctors from more than 100 offices to make this program a reality.
"Keeping babies healthy begins long before delivery, and this new program, the first in the state, is focused on improving the mother's—and her family's—experience throughout the duration of her pregnancy and delivery with more coordinated, quality care," said Jim Albano, vice president, Network Management and Horizon Healthcare Innovations, Horizon BCBSNJ.
Here's how it works: the participating OB/GYN doctors spearhead and organize a team, creating a full-spectrum of care for the patient's pregnancy, delivery and recovery, working with hospitals and other caregivers to provide an unparalleled experience for the duration of the pregnancy.
Horizon BCBSNJ will also reimburse the participating practices at an agreed upon amount, while participating doctors are eligible for shared savings, should they meet their program goals.
Nemours/Alfred I. duPont Hospital for Children
As part of their goal to keep care local while at the same time capitalizing on the vast resources available to them as one of the nation's largest children's health systems, Nemours recently deployed telehealth technology to connect physicians across Inspira Health Network to their colleagues at Nemours/Alfred I. duPont Hospital for Children. Called "Nemours Care Connect," this innovative new system relies on specially programmed iPads on secure carts to allow physicians to communicate face-to-face, and for physicians to be able to see patients virtually when a consultation with a specialist may be required.
Since rolling out the system earlier this year, Nemours doctors have consulted on a wide range of issues from enterovirus to dog bites. Dr. Avian Tisdale, division director for Nemours Inpatient Pediatrics at Inspira Medical Center Vineland believes telehealth has the potential to transform the way care is provided. "Nemours CareConnect allows us to bring the best clinical minds together for the purpose of making sure our patients get the right care, at the right time, and have the best chance for a healthy outcome," she says.
LifeVest
Though we all know it is important to take our health seriously, with all the temptation we're constantly faced with, it's not always an easy task. That is, until LifeVest came along. A wellness program that enables employers to incentivize employees to get healthy, LifeVest takes a playful, yet educational, approach to health to make the journey of achieving health feel fun.
"Think of all the dirty tricks that the junk food marketing industry employs to get people to buy things," says LifeVest cofounder Jon Cooper. "There's a whole body of knowledge being exploited on that side. Why not use tricks, like behavioral economics, to improve health instead. We decided it was time to shake things up and create a wellness program that'll actually make a difference in employees' lives."
Rooted in behavioral science, users track metrics like blood pressure and BMI, and get paid instantly for doing so. This concept prompts users to stare their health stats in the face, and to use them as encouragement to get moving. As users make improvements to their health, their earning potential goes up. There are extra monetary and prize-based lotteries along the way and social health challenges, too, to keep the program engaging and fun.
Home to Stay Health Care Solutions
Gary Skole and Andrew Dubler, co-owners of Home to Stay Senior Care Solutions in Cherry Hill, have been in the home care business since 1989. The AlzBetter program they created is a patent-pending system that utilizes proprietary software to develop a custom activity program that can be implemented by home care providers.
Through an in-depth interview with the client and family members, a care manager—who is a certified dementia specialist—determines the stage of the illness, personal preferences and past life history. Using the software, a daily schedule that includes tasks and activities is established, helping the client lead a meaningful and enjoyable day.
Home health aides with advanced dementia training provide the daily care, and the care managers perform regular follow-up visits to reassess the progression of the disease and make necessary changes to the schedule.
This one-of-a-kind program has been presented to leading Alzheimer's researchers across the country and received nothing but positive feedback. It is currently available in 45 home care agencies in 30 states, and Home to Stay is the only provider in New Jersey.
Deborah Heart and Lung Center
Since being established in 1922 as a tuberculosis sanitarium and pulmonary center, Deborah Heart and Lung Center has been dedicated to being the area's premier provider of services for chest disease. Now, more than 90 years later, Deborah has an exciting new way of continuing to do just that.
The Hybrid Operating Room, a 1,000-square-foot OR, utilizes a team approach to complex cardiovascular problems. The center's cardiac and vascular surgeons and interventional cardiologists work together to offer blended procedures combining the two disciplines. Along with echocardiography and anesthesia professionals, they can provide minimally invasive approaches to challenging issues.
The room also features a three-station computer system for continuous monitoring of a patient's hemodynamics—the circulation of blood through the cardiovascular system.
Patients who are considered for Hybrid OR procedures undergo thorough evaluations to determine if they're suited for such operations. One example of the cutting-edge technology available is Transcatheter Aortic Valve Replacement (TAVR) for patients deemed too high risk for traditional open-heart surgery. With TAVR, Deborah's surgical and interventional team offers a sophisticated, catheter-based treatment option for repairing stenotic aortic valves.
Another advancement now available to Deborah patients is Beating Heart Bypass Surgery, in which the heart and lungs continue to function during surgery, reducing the risk of stroke and memory loss while shortening the average hospital stay.
Rowan University School of Osteopathic Medicine
Randy Strich, Ph.D., cites an old adage in his field when asked about his career aspirations: "Whatever you're working on now is not what you'll be working on in five years." Still, he says that understanding basic aspects of cancer biology has been a goal of his work for some time, and it will continue to be the focus thanks to a recent development.
Strich, an associate professor in the Department of Molecular Biology at Rowan University Graduate School of Biomedical Sciences, discovered a protein called cyclin C that may provide a new avenue to attack malignancies. He received a $1.2 million grant from the National Institute of General Medical Sciences for a four-year study to further his research.
Cyclin C is responsible for initiating changes in mitochondrial structure and inducing programmed cell death in response to stress. Since activating the programmed cell death pathway is the major approach for anti-cancer drugs, understanding the role of this protein may provide new treatment options. "Current chemotherapeutic regimens initially kill 'most' of the tumor," Strich says. "However, the small resistant population that survives can quickly expand and is resistant to subsequent treatments. Our discovery may provide a new avenue that will not directly attack tumors, but make current anti-cancer drugs more effective.
Mobile Physicians Group
Dr. Carolyn Cavuto has seen just about every part of South Jersey imaginable since starting Mobile Physicians Group about two and a half years ago. Her company provides high-quality, home-based health care and personal patient attention in Mercer, Burlington, Camden, Gloucester, Cumberland and Salem counties, as well as parts of Atlantic County. "Some days I'm driving 200 miles," Cavuto says. "We go all over."
Instead of heading out to multiple doctors and hanging out in the waiting room, patients can be seen in the comfort of their own home. Mobile Physicians Group treats a wide range of patients, from young adults to seniors, with a variety of issues, including MS, ALS, diabetes, congestive heart failure, pneumonia, lung problems and more.
They are constantly adding innovative methods to improve their care, and can provide such services as comprehensive medical exams, access to in-home lab and EKG, medication management and prescription renewals.
"Getting out and seeing patients who are home-bound definitely prevents re-hospitalization," Dr. Cavuto says. "That's a big thing today, trying to save all those Medicare dollars, and it's actually good for the patient and it helps with caregiver strain. We can also spend more time with the patient. Typically, they get to understand more of what's going on. I can't tell you how many times people have said, 'My doctor told me nothing.' We can sit there and explain why they're on this medication, what's it for, how we are doing it. When they understand, there is better compliance."
Cavuto recently added another aspect to her services, as she was named medical director for Acacia Hospice in Burlington. "It's been growing," she says. "We go out and help people deal with end-of-life care and palliative care."
Conversion Technologies International
With medical professionals all over South Jersey going "paperless," especially thanks to Medicare and Medicaid incentive programs like ePASS and Care360, medical professionals have been scrambling to meet the demand. Which is where CTI comes in.
"With the mandate that all patient records be electronic, you will see more quality patient care," says CTI President Michael Epstein. "CTI will aid in that process. By digitizing patient charts and capturing clinical data, misplaced and incomplete charts will be a thing of the past."
CTI's work is revolutionary in an up-and-coming field, using customized programs to meet the demand of a variety of needs. Through tools like EMR-Charts—which stores patient charts, loose documents and faxes in a standards-based directory—and other state-of-the-art tools, CTI can eliminate the mess that comes with a paperless transition and make things easier for all involved.
"For example, patients with chronic illnesses won't have to repeat tests and delay their care because of operational inefficiency," says Epstein. "The improved quality of proactive care will also reduce emergency care costs. It's a win-win for the patient and the medical staff."
And for CTI, the future is bright. "CTI always likes to think outside the box for new, innovative solutions in the health care space. This means helping patients receive better care by ensuring that medical personnel have quick access to up-to-date patient information in order to make well-informed decisions. We want to help make the world a healthier place."
Lourdes Health System
Making medicine more attainable for the general public has become a major conversation across the country, and in South Jersey, it's becoming a reality. Lourdes Health System, in particular, announced their collaboration with Walgreens pharmacy in May, as part of a nation-wide partnership with CHE Trinity Health designed to make medication compliance easier for Lourdes patients.
"Medication non-compliance is a major reason for readmission to the hospital, especially for patients with chronic conditions such as heart failure and diabetes," says Lourdes Health System President and CEO Alexander J. Hatala. "Working with patients before they leave the hospital and after they are discharged will help ensure patients obtain, understand and take the medicines that are an important part of their health."
This new collaboration will bring pharmacy services to the patient, and make it easier to coordinate medications in and out of medical care through three initiatives. First, patients can opt for a Walgreens pharmacy technician consultation in the hospital, and can then have medication delivered bedside on the day-of discharge from a Lourdes hospital.
There's also the new Walgreens Transitions Program out of Our Lady of Lourdes Medical Center and Lourdes Medical Center of Burlington County. Patients will have three consultations with Walgreens pharmacists during the first 30 days of discharge to check in and monitor medications. Finally, Our Lady of Lourdes Medical Center will now include a Walgreens onsite retail pharmacy directly in the lobby, for patients, family and Lourdes employee to use. The three-step program ultimately means a clearer and more accessible medical treatment during the recovery stage.
Kennedy Health System
Kennedy may be a familiar name in local medicine, but their newest innovations have made them more accessible and modern than ever. Kennedy's newest Medication Therapy Management Services—launched this year—provides eligible patients with pharmacist reviews of all the prescription and over-the-counter medications their patients are taking, with the goal of minimizing medication cost and error.
"Since the launch of this service in 2014, the feedback from patients and physicians has been very positive. It's a win-win for everyone involved," says Ronni Whyte, Kennedy's corporate director for population health. Offered at three Kennedy locations, it's the first ambulatory primary care setting in the state to install this model for patients.
One of their newest advancements is the unveiling of their Cardiac Catheterization Laboratory in November. The $4 million laboratory is a partnership with Cooper University Health Care, and features 3,900 square feet of state-of-the-art digital imaging equipment for some of South Jersey's most well-trained interventional cardiologists from the Cooper Heart Institute.
It includes $2 million in brand new technology, like the Maquet Cardiosave Hybrid Intra-Aortic Balloon Pump and McKesson Cardiology Workstation. They can treat over a dozen cardiac procedures directly in-house, including pacemaker implantations, diagnostic angiography and peripheral vascular interventions.
Cooper University Health Care
Cooper has seen rapid growth in the last five years, and 2013-14 has been no different. One of the biggest groups of residents to see that growth has been South Jersey's veterans, as Cooper launched their totally unique Cooper Veterans VIP Priority program. The program helps veterans in need of medical treatment that are struggling with wait times at Veterans Association facilities, and provides same-day primary care services for veterans in seven South Jersey counties.
"All of us should be appalled by what has been reported about the difficulties some veterans face obtaining basic health care," says Cooper Chairman of the Board George E. Norcross III. "That is why we are so proud to announce that just as these brave men and women have stood up for us, we will stand up for them by providing high quality health care, including same day service for primary care and dedicated professionals to meet their healthcare needs, as part of our new 'Cooper Veterans VIP Priority' program."
Some of the most significant Cooper advancements have come in the clinical field. The still-young MD Anderson Cancer Center at Cooper opened its first Phase 1 cancer clinical trial to patients, meaning more state-of-the-art cancer treatment options than ever. Cooper also became the first national team to implant the world's smallest and thinnest cardioverter defibrillator, and is the only medical study site in New Jersey for the clinical trial TRANSFORM, which implements a "rapid deployment system" for surgical aortic valve replacement procedures.
It's also been a year of partnerships—like the one with Kennedy— as the Cooper Bone and Joint Institute joined forces with Inspira Health to create offices in Glassboro and Woodbury, with another office slated to open in West Deptford next year. They also partnered with ShopRite in Marlton to open their first quick care center in a grocery store. Cooper Care One opened in November, the first retail clinic in Cooper's history.
PowerBack Rehabilitation
The vast majority of us have never had a surgery that required rehabilitation afterwards. As a result, when and if such a situation does happen, we're not sure where to turn to for the best care available. That's where PowerBack Rehabilitation comes in. Launched in 2013 by Genesis HealthCare in response to the market demand for shorter post-hospital recovery periods and fewer post-discharge setbacks, PowerBack Rehabilitation's goal is to help patients get back home as quickly and safely as possible.
PowerBack Rehabilitation is able to do this with expert specialists and the most advanced technologies and equipment, including a brand new, state-of-the-art post-hospital rehabilitation facility located in Voorhees, adjacent to Virtua Voorhees. This rehabilitation facility offers specialized care in cardiac, pulmonary and orthopedic management and has a hydro-therapy pool that plays a vital role in a patient's rehabilitation and recovery.
Offering rehabilitation seven days a week from 7 a.m. to 7 p.m. with private rooms and wireless Internet, flat screen TVs and iPads, along with restaurant-style dining, in select locations—the company also has facilities in Moorestown and the Philadelphia metro area—PowerBack Rehabilitation truly provides a rehabilitation experience unlike anything else currently available.
South Jersey Radiology Associates
As of 2012, there were 2.9 million women in the United States living with a history of breast cancer, according to the American Cancer Society. While that number is staggering, it also shows the strides that have been made to increase the positive outcomes of a breast cancer diagnosis. Part of the change is due in part to early detection and better treatment, which South Jersey Radiology Associates has been an integral part of. With mammograms remaining one of the best methods of detection, SJRA offers tomosynthesis, a series of images that are converted into thin slices that can be viewed as a 3D image by a radiologist.
"Mammography is an X-ray that allows us to look at breast tissues and detect cancer," says Dr. William Muhr, CEO of SJRA. "The traditional X-ray produces four views, two of each breast, and there is a lot of overlapping tissue. With the 3D imaging … instead of having these images of all the tissue overlapping, you're removing the overlying tissue and you can see the abnormalities easier and earlier."
Tomosynthesis is still a relatively new procedure. In fact, SJRA was one of the first imaging centers to bring it to the area, as one if its doctors, Dr. Catherine Piccoli, worked on its evaluation, according to Muhr. With an increased cancer detection rate per 1000 patients of 27 percent when comparing 2D to 3D, Muhr is hopeful the procedure will start to gain steam, however. "We have four units and are hoping to add more as time goes on. Right now insurance coverage is relatively limited but we're hoping with time that carriers will follow Medicare's lead and start to cover this."
Virtua Home Care
When Virtua Home Care introduced Telehealth, the computerized home health monitoring system that allows patients to measure vital information such as blood pressure, weight and pulse all at home, they were already ahead of the game. But in May, they took it a step further, introducing MyVirtua.Org, a patient-centered portal where patients can create their own health profile and have access to their health care records in real time.
"Every patient is given the opportunity to create their own personal health profile," says John Matsinger, Virtua EVP and chief clinical officer. "This is where critical health information can be stored. Examples include where we store information from lab results, allergies, procedures, summaries of their visits, discharge instructions."
Today, MyVirtua.Org has more than 2,000 patient-created accounts. And Virtua's patients aren't the only ones who have real-time access to this information.
"In order to support this, 200 of our home care clinicians received new computers, with built in wireless capabilities, so they can work in real time," Matsinger says. "Also, Virtua home health aides use an app on their smartphones called Mobile Light, which allows Virtua aides to have real time access to information from the home care electronic medical record that is specific to the care they are providing in the home.
"In the future, we'll also be able to exchange secure emails with doctors, home care clinicians and nurses," Matsinger adds. "The end goal is—we are trying to provide a platform for the patients to become engaged in their health care, taking their care to the next level. The patient has to be involved; the provider has to be involved. Like anything, information really is power, it enables you do take ownership of your health."
Published (and copyrighted) in South Jersey Biz, Volume 4, Issue 12 (December, 2014).
For more info on South Jersey Biz, click here.
To subscribe to South Jersey Biz, click here.
To advertise in South Jersey Biz, click here.