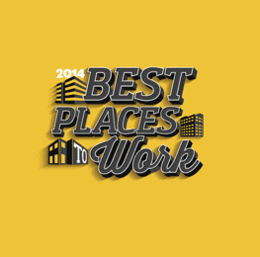 2014 Best Places to Work
Company perks have come a long way since telecommuting and flex-time became a popular benefit. Convenience is a huge draw, but employees are in search for a place that works just as hard as they do when it comes to making them feel appreciated. In our search for this year's Best Places to Work, we sent out surveys to several companies that were nominated by our readers, and the following 15 are the ones we feel have what it takes to retain a happy, healthy workforce.
As one CEO explained: "It is a testament of what can be done when a company recognizes their best asset is their employees. It is the key ingredient between working for a good company or a great company."
Fortunately, between offering on-site massages, wine and cheese socials, softball tournaments and more, it seems South Jersey is full of them.
AnnieMac Home mortgage
Year founded: 2011
Base: Mount Laurel
Business description: Mortgage loan product provider, an approved seller/servicer with Fannie Mae, Freddie Mac and Ginnie Mae, for consumers nationwide
The employee retention rate here is high—92 percent—due to a focus on ongoing education and employee recognition. All employees are "graduates" of AnnieMac University (AMU), which also offers ongoing classes on new programs and products, social media use and more. PTO ranges from 24 days for first-year employees to 40, and nearly 85 percent of staff uses flex-time. An employee recognition program called "AnnieGrams" honor employees for a job well done; and special events include a Halloween costume contest, Ugly Sweater contest, family events, and an annual team-building sales rally that concludes with a cocktail reception.
Health & wellness perk: The company contributes approximately 74 percent of employees' and dependents' health care premium, which also includes mental health, fertility treatments, fitness center memberships and alternative treatments (such as acupuncture, homeopathy or chiropractic).
Outside-the-box perk: In 2013, AnnieMac launched a President's Club recognition program, where all employees are eligible to earn a four-day, all-inclusive tropical vacation for themselves and a guest.
Golder Associates, Inc.
Year Founded: 1960
Base: Mount Laurel
Business Description: Employee-owned engineering firm providing consulting, design, and construction services
The 70 local employees are part of a global network of more than 8,000 here, where career development opportunities are provided, giving everyone the ability to become an owner. As part of their commitment to sustainability, the firm formed the Golder Trust for Orphans in 2003 to provide support to children and families in Africa who have been orphaned or displaced by AIDS. As part of the GTO, they hold special events such as a quilt raffle, baseball ticket raffles, Golder Softball and Dollar Dog Nights, a Chili & Soup Cook-Off, and other activities to raise donations.
Special events: Employees volunteer for beach sweeps and at the Food Bank of South Jersey; company events include wine and cheese socials, movie nights, a Cinco de Mayo Salsa/Dip Cook-Off, summer barbecues, a canoe/kayak trip and more.
What employees say: "[The company] empowers employees to be creative, do what they do best and control their own destiny while being accountable for their work. The employee ownership model fosters creativity, personal commitment and satisfaction."
Halo Health International
Year Founded: 2010
Base: Cherry Hill
Business Description: A health care consulting company that focuses on patient education, physician revenue cycle and grassroots marketing
Most of the company operations can be done via telecommuting, so management is very flexible with hours. From casual office attire to free lunch to summer hours, Halo Health International has its focus on making its employees feel comfortable and appreciated. They also put an emphasis on employee education. As a young office, they want to ensure the staff has the skills necessary to take the company to the next level. Special events include strategic planning team-building meetings as well as celebrations for birthdays and work anniversaries—which usually involve a trip to Tony Luke's.
Outside-the-box perk: Free Lunch Fridays are part of the norm here, where everyone, including vendors, gets treated.
What employees say: "Halo has a great team approach," says longest-tenured employee Keith Burkhardt. "We communicate well and want to make sure everyone has input before a key decision gets made."
Axeon Specialty Products, LLC
Year Founded: 1972, as Seaview Oil and later as CITGO Petroleum
Base: Paulsboro
Business Description: A specialty petroleum products company and the largest U.S. asphalt marketer on the East Coast
Formerly NuStar Asphalt, LLC, this Paulsboro-based refinery is Axeon's largest facility. It underwent a name change recently, but the employees and work environment reputation went unchanged. Several employees have worked there for 35-plus years, and benefits include up to $5,250 a year in tuition reimbursement, onsite chair-massage therapy sessions, a $600 annual gym membership subsidy, health and wellness fairs and screenings and a summer activity challenge. Special events: Bring Your Child to Work Day; an annual Chili Cook-off charity event; a Center for Family Services Family Day clean-up project; and (for the past 24 years) a golf tournament that has raised more than $1.5 million to benefit the Muscular Dystrophy Association.
Training/professional development provided: With safety in mind, there are continuous hands-on and computer-based training for all employees, including emergency responders. This May, the refinery employees achieved a three-year milestone of zero OSHA recordable injuries.
GoEmerchant, LLC
Year Founded: 1995
Base: Cherry Hill
Business Description: A one-source payment solutions provider for iPad POS, mobile processing, retail POS terminals and more
GoEmerchant employees report that they are given the opportunity to grow professionally through training programs—such as Webinars and demonstrations, conferences and trade shows—and they enjoy being allowed to think outside the box. The staff is encouraged to be innovative and learn cutting-edge technology, and their hard work is rewarded. Along with being able to carry over a max of 10 sick days to the following year, anniversary gifts—handpicked by the employee from a catalog—are given each year.
Health & wellness perk: A health club reimbursement for all regular, full-time employees covers half of the monthly membership dues up to $20 for a gym, as well as nutritional programs such as Weight Watchers.
What employees say: "I love the flexibility such as vacation days, sick time and the ability to leave early for doctor's appointments when needed," says longest-tenured employee Janice Becker, 14 years. "Some of the employees have been together for so long that it's like a family atmosphere."
Investors Bank
Year Founded: 1926
Base: 15 locations throughout Burlington, Camden and Gloucester counties
Business Description: A full-service community bank with more than 125 branches across New Jersey/New York
Investors, which recently merged with Roma Bank and Gloucester County Federal, offers daily internal classes to promote professional development. Externally, tuition reimbursement up to $5,250 per year is offered, and an Advanced Tuition Sponsorship program is available for employees who are recommended to receive above the normal tuition reimbursement. Family is a major focus as well, as the bank sponsors several trips throughout the year for baseball games, Broadway shows and zoo outings. In addition to wellness fairs, special events include a St. Patrick's Day party, Oktoberfest celebration, ice cream socials and a company softball league.
Training/professional development provided: All employees participate in Face The Challenge: an in-house personal and professional development program. Participants meet once a week for four hours over 10 weeks to become better equipped to achieve overall success in their role at the bank.
Outside-the-box perk: The Investors Concert Series, in which employees can showcase their musical talents through concerts that are performed for employees and the public at various venues to raise money for charity.
Corporate Synergies
Year Founded: 2003
Base: Mount Laurel
Business Description: Employee benefits, property and casualty broker and consultant
This firm makes it a priority to recognize associates for their accomplishments. Management promotes camaraderie with at-work social activities such as holiday parties with karaoke, an annual chili cook-off, and summer picnics where the executive committee prepares and serves the food. Employee feedback is also highly valued, as quarterly "town hall" meetings are held for employees to have their voices heard.
Special events: Their Random Acts of Recognition and Appreciation program provides companywide rewards such as closing the office early before a holiday or surprising employees with a catered breakfast. They also hold surprise catered lunches to recognize achievements of specific departments.
What employees say: "The idea is to delight our employees with spontaneous acts of recognition and kindness," says Eileen Fogarty, SVP of Human Resources. "With 200 employees, we are small enough to promote a family atmosphere, where everyone knows and appreciates each other. It's fun to come to work each day."
Subaru of America
Year Founded: 1968
Base: Cherry Hill
Business Description: United States marketer of Subaru products, serving 622 dealers nationwide
Community involvement is key here, where employees receive "release time," which is paid time off to volunteer for Subaru-organized activities. That support is a large aspect of the Subaru of America Foundation, which awards community grants and matches employee contributions to nonprofits. It also provides a scholarship program for children of Subaru employees. Two on-site fitness centers, adoption assistance, tuition reimbursement, benefits for domestic partners and more round out a comprehensive list of perks.
Special events: An Employee Field Day is celebrated yearly, which is a headquarter-wide team-building fitness event complete with athlete podium and medals. Milestones are also celebrated for when records are broken or company awards are received, whether it's a Motor Trend Car of the Year or 1 million likes on Facebook.
Outside-the-box perk: Tickets are distributed to local partners' events such as the Philadelphia Flower Show, Cherry Blossom Festival, GRC RallyCross events and more.
HBK, LLC (Hill Barth & King)
Year Founded: 1949
Base: Lawrenceville
Business Description: Accounting and advisory services
Hill Barth & King made its debut last year in New Jersey when it merged with Bartolomei Pucciarelli, LLC, strengthening a solid reputation both firms already built. The employee retention rate of the New Jersey office is an impressive 95 percent thanks in part to a strong emphasis on continuing education, for which the firm provides 50 percent financial assistance. Paid time off is three weeks right out of the gate for employees, and flex-time and comprehensive medical (including dental and vision) add to the perks.
Special events: Along with weekly morning team meetings and monthly educational team lunches, the employees look forward to participating in the annual Crohn's and Colitis Foundation of America's 5K Run/Walk in Ocean City.
Outside-the-box perk: Several hundred dollars annually to spend on clothing and merchandise
The Protocall Group
Year Founded: 1965
Base: Cherry Hill
Business Description: Family-owned and operated staffing company
The average length of employment exceeds 15 years at this staffing company, where employees say the three owners make sure everyone feels like part of the family. Along with teambuilding events throughout the year, a voluntary employee health and wellness program, ProtoSteps, was started two years ago for the 80 internal and 7,000 temporary staff. Through the program, the company focuses on healthy eating, exercise and tobacco cessation programs, and incentives and prizes are offered for participating.
Outside-the-box perk: A Home Healthcare Division offers services at considerably reduced prices for employees who need to care for an ailing relative.
What employees say: "We have team players that would help each other without hesitation. I could honestly say this is the first time I actually enjoy what I do and love all the people I work with," says Kelly Loux, payroll/billing supervisor.
L-3 Communication Systems - East
Year Founded: 1997
Base: Camden
Business Description: Design, development and production of mission critical systems for the U.S. Department of Defense, U.S. Intelligence Community and allied partners
This company's legacy actually dates back to 1901—as RCA in Camden was its predecessor—and its longest-tenured employee has been there for 58 years. They stay for a reason: Employee events include Spirit of Excellence and President's Award functions; on-site picnics; holiday luncheons; celebration breakfasts; a company softball tournament; and discounted tickets for local attractions and sporting events.
Training/professional development provided: Lunch and Learn workshops on technology trends; external seminars and tuition reimbursement for BA, BS, MA and doctorates that are related to the career; and a leadership program that partners with the Wharton School.
Health & wellness perk: There's an on-site fitness center as well as annual on-site physicals, blood work and mammography.
Rowan University
Year Founded: 1923
Base: Glassboro (main campus), Camden and Stratford
Business Description: A public, state, comprehensive research university
As an institution of higher learning, it makes sense that the university encourages employees to take advantage of its offerings. Tuition reimbursement is offered for both undergraduate and graduate programs for full-time employees, and scholarships are available for bachelor's degrees for children, spouses or domestic partners. A Celebrating Excellence Awards ceremony is held every spring to honor faculty members and staff for their achievements in teaching, mentorship of students, research and service.
Training/professional development provided: Employees are encouraged to take advantage of professional growth opportunities through classes, conferences, symposiums and more. Additionally, the Faculty for Excellence in Teaching and Learning provides faculty members with services that promote teaching excellence.
Health & wellness perk: Employees have access to the on-site recreation center, a 92,000-square-foot health club that includes a three-court gymnasium, indoor track, 25-yard pool, four racquetball courts, a cycling room, a group exercise studio, and more.
Delco Development, LLC
Year Founded: 1970
Base: Willingboro
Business Description: Real estate development and management company
Paid time off is offered from day one here to help employees find their work/life balance. Company cell phones and laptops are offered to make this even more attainable through flex-time and telecommuting options. Wellness competitions are held throughout the year to help motivate staff, and they're rewarded with monthly lunches and company outings for bowling, baseball games and more. The company's hotel properties are encouraged to participate in a philanthropic effort throughout the year, and whichever one raises the most money is rewarded with a team outing, lunch or pizza party.
Outside-the-box perk: The Delco Dollars staff incentive program, an employee rewards program for those seen going "above and beyond." Their name is entered into a monthly raffle for prizes valued up to $500.
What employees say: "I can honestly say that I have never had a job like this before, and no matter how rough the days can get, I love every second of it," says Tara Varga, front desk agent for aloft Hotel.
Independence Rehab
Year Founded: 1994
Base: Cherry Hill
Business Description: A brain injury outpatient rehabilitation facility
Seeing kids in the office at this health care facility wouldn't be a strange sight; employees report that due to a family-friendly environment and flexibility, they can bring their kids with them to work to help ease complications when it comes to scheduling doctors' appointments. With a 98 percent employee retention rate, the staff is also rewarded with bonuses at the end of a successful year, and tuition reimbursement is available for certifications and courses that enhance employee skills.
Special events: A holiday party in December with raffles and giveaways
Outside-the-box perk: The office closes early every Friday from Memorial Day to Labor Day to let employees get a head start on enjoying their summer weekend.
Inspira Health Network
Year Founded: 2012 through the merger of Underwood (founded 1915) and South Jersey Healthcare (which dates back to 1898)
Base: Hospital locations in Bridgeton, Woodbury and Vineland
Business Description: Hospital/health network
Employee health is just as important as patient health here. A Fit Friendly Committee has several initiatives including monthly wellness education sessions that fit into an employees' lunch break (and a free meal is included). But it might be their annual Stress Reduction Fair that people look forward to most. It features massage, meditation, aromatherapy, yoga, Tai-Chi, nutritional counseling, stress-reducing foods and educational information. Tuition reimbursement is also offered at $5,000 per calendar year for full-time employees and $2,500 for part-timers.
Training/professional development provided: A partnership with Cumberland County College offers eight-hour training sessions for Word, Excel and PowerPoint; annual leadership retreats and clinical skills fairs are held; and there's an annual education module through HealthStream Learning Center.
Health & wellness perk: There have been several changes in the employee cafeteria, including implementing Meatless Mondays and Fryer-less Fridays. Trans fats have been eliminated, they use only low cholesterol mayo, and 100 percent fruit/vegetable juices and protein shakes have been introduced.
Published (and copyrighted) in South Jersey Biz, Volume 4, Issue 6 (June, 2014).
For more info on South Jersey Biz, click here.
To subscribe to South Jersey Biz, click here.
To advertise in South Jersey Biz, click here.