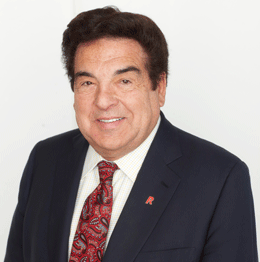 Corner Office: Harry Madonna
…From the pages of South Jersey Biz…
Harry Madonna CEO, Republic Bank
Since 1988, Harry Madonna has served as executive chairman, CEO and president of Republic First BanCorp., Inc. He is optimistic in expanding Republic Bank beyond Philadelphia and South Jersey while recognizing the issues that smaller community banks face in today's economy. Here, we speak with him about how Republic thrives despite those challenges.
In an economy that sees smaller banks struggling, what is Republic Bank doing successfully that others might not be?
Our primary focus is providing exceptional service to our local community, which helps to set us apart from other smaller banks. We listen to our customers and value their feedback; we ask them what they think is working and what needs improvement. Understanding that our customers have numerous commitments and don't want to be inconvenienced by limited hours, we provide the longest operating hours of any bank in the area, and we offer mobile banking solutions, as well.
We also value the small businesses in our area. By offering top-level small business lending, our community has come to rely on us to provide the qualified and comprehensive business support that may not be attainable elsewhere.
Republic has largely modeled itself after Commerce. How does it also maintain its own identity?
While Republic Bank has certainly utilized many successful Commerce Bank strategies, we have forged our own identity by creating a unique version of the ultimate customer experience. Throughout the years, we have amassed a large following of customers who appreciate our commitment to making the banking experience as pleasant and convenient as possible. Not many banks would generate a line of customers waiting to open an account at 7:30 a.m. on grand opening day. We do, and we think that goes directly to the character of our bank and the quality of its leadership.
Republic has managed to continue to grow while larger banks are shuttering. What are the keys to that growth? Are you comfortable with the pace of growth, and how far would you like to see it go?
Compared to larger banks that focus on generating revenue through investment banking, we concentrate on commercial banking within our communities. That has been a key component of our rapid growth. Unlike larger banks, where people looking for smaller loans are generally paired with less experienced lenders, our top lenders handle small loans in our banks. When a customer comes to us for a loan, they are given personal attention from our most seasoned lenders.
The growth of our banks has actually been counter-intuitive. While larger banks are moving away from opening physical locations and leaning toward mobile banking, we are opening more stores—and the response has been overwhelming. Although our younger customers certainly take advantage of the mobile banking option, they also want to walk into our stores and see where their money is being deposited. Young people are often the ones with the most questions as it relates to their finances and banking choices, so they appreciate the fact that our employees are available for direct consultation. I would love to see more vibrant economic growth nationwide. As the economy improves, we will be able to expand Republic Bank into new geographic areas that could benefit from our small business loans and community focus.
What would you say the top three to five concerns are facing the banking industry today, from potential legislative changes to loan access? And how is Republic dealing with those challenges?
One challenge that many banks face is that the cost of compliance has drastically increased, which means that banks have to do a better job of proving that their customers will be able to repay the loans they receive. Rather than forcing customers to jump through hoops to meet the loan qualifications, we have a first-rate compliance department that is extremely knowledgeable about new banking legislation to help determine who qualifies.
Studies earlier this year showed the vulnerability of financial institution's mobile banking apps. What does Republic do to ensure safety and privacy when it comes to technology?
When Republic Bank implemented our mobile banking feature, account privacy was our No. 1 priority. We are in constant contact with our systems management team to ensure that our mobile banking is running smoothly and free of glitches that could result in any personal information becoming available to the public. Fortunately, online banking systems have been historically much more secure than other systems—such as retail, for example. Our mobile banking app went through extensive testing before it was launched to achieve maximum security.
What sources are Republic Bank using for research and data analysis to get a sense of what their customers want?
We utilize a wealth of information from local, state and federal banking associations to find our target customers. However, when it comes to determining what our customers want, the answer is very simple—we listen. Our local stores make a point of soliciting thorough feedback from customers and delivering results. Whether it is a stronger focus on small business loans, longer lobby hours or more lollipops in our store locations, we are dedicated to not only meeting, but surpassing our customers' expectations.
What is your short- and long-term vision for the bank?
We are committed to building and opening four new stores per year to increase our footprint in the Philadelphia and South Jersey regions. We already have sites confirmed for five more branch openings in South Jersey. It has always been a long-term goal of ours to expand outside this area, and we feel that by continuing to open new stores, we are on the right track.
What's your financial outlook for the remainder of 2014?
We are very excited about what 2014 has in store for Republic Bank. We expect substantial growth in size, which has been a clear indicator of increased profitability. Although the media insists that customers prefer to bank via their mobile devices and many are resistant to visit a physical location, we witness quite the opposite. Our two newest locations in Cherry Hill and Voorhees are experiencing more than $1 million in in-store deposits a week. People still like the in-store, personal experience that we offer, and we don't anticipate that changing.
Published (and copyrighted) in South Jersey Biz, Volume 4, Issue 6 (June, 2014).
For more info on South Jersey Biz, click here.
To subscribe to South Jersey Biz, click here.
To advertise in South Jersey Biz, click here.