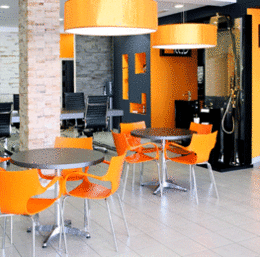 Building a Better Office
In an age of changing office trends, local experts offer advice on how to find the right design and space solutions for your company needs.
Keeping up with the latest trends can have a lot of benefits in the modern office. For instance, an intelligent office design with the latest technology capabilities not only makes the space more attractive and comfortable, but it can also boost employee morale and ultimately impact productivity. After all, a comfortable worker in a smart environment is going to get more done. We spoke to some of the area's office experts about the latest trends in both design and technology to help keep you on the cutting edge.
Design impacts
When Office Basics, an office supply company with five regional offices, including one in Moorestown, redesigned their own office space two years ago, they saw first-hand what kind of impact it had on the company as a whole. "It had so many added benefits that we wouldn't have thought about," says Norma Anthony, director of marketing for the company. "As a company on top of the trends, we were just trying to keep up. But the redesign had a positive effect on the way employees interact."
That's because Office Basics redesigned around the open concept trend that's so popular right now. Offices are becoming more open and have lounge spaces with couches where employees can come together. Anthony says this has resulted in collaborative opportunities that might have been missed before. "There's a lot of brainstorming taking place and we're coming up with solutions that never would have been brought to the table in an office where everyone is segregated to their own space," she says. "There are team members sharing ideas that you never would have thought to pair together."
Many offices are already on board with this trend. "A modern, clean, open look can be very invigorating, and if the job requires a lot of collaboration then the new open concept would increase employee morale and productivity," adds Steve Fink, of the Office Furniture Outlet of New Jersey (OFONJ) in Cherry Hill.
The flexibility factor
But the open space layout doesn't work for every situation. Even though the open space layout has been heralded for its collaborative opportunities, some studies have shown it can negatively impact productivity if employees don't have an opportunity for quiet work. "Some employers and employees are finding that the noise level of open systems can reduce productivity, especially if the workers need to be on the phone," Fink says.
He says with these more open design layouts, employees will still need a space that offers privacy and quiet. Some of the mobile furniture that has been trending is a way to achieve this. The employee can roll his file to a more secluded spot if necessary. Chairs, stools and tables on wheels have become increasingly popular as more office managers and business owners are looking to create functional spaces that can accommodate a variety of needs. Flexibility has become incredibly important.
Seth DeForest, principal, CFI-The Knoll Source, which includes an office in Pennsauken, says as the number of telecommuters increases, the office needs have evolved. Offices need to be more flexible and accommodating to these come-and-go employees. These days, many employees work from home, on the road or even from multiple offices. Therefore, they just need a space to touch down when they are in the office. "We're finding that people don't need sitting cubicles, but rather they need activity spaces which might include nice seating space and a place to recharge devices," DeForest says. "These spaces have the 'Starbucks effect' in that it's a comfortable place to sit down, access technology and charge devices. Nowadays people can work from anywhere. Oftentimes the bulk of the work is happening outside of the conference room."
Tech talk
Keeping up with the latest trends in technology is obviously also beneficial to an effective office environment. One of those trends has been the movement of software to a Cloud environment, says Warren Reyburn, executive vice president of Line Systems, Inc., which has an office in Voorhees. He says this enables employees to access information remotely by way of a smart device or home office.
Another key trend has been the adoption of automation tools along with productivity apps such as Evernote, Office for iPad, and OneSync for SalesForce, says Reyburn. "Automation tools allow employees to waste less time on tedious tasks such as data entry and manual reporting," Reyburn says. "Productivity apps can also help employees be more efficient through data gathering, organization, reporting and more."
Many offices are also finding that Hosted PBX solutions are trending. "The premise-based PBX is quickly becoming a thing of the past," says Jeffrey Boyer, director of sales for Xtel Communications, Inc., in Marlton. "Hosted PBX eliminates the need to purchase a phone system every 10 to 12 years. ... These are just two of numerous advantages."
Boyer adds that staying up with the latest technology is important to success. "If your company is not on the cutting edge of technology, the competition will eventually pass you by," he says. "Being up to date technologically will also lead to much improved productivity, and of course the office morale will follow suit."
Customize to your needs
While it's always helpful to stay abreast of the latest trends and adopt those that fit your business, DeForest adds that it's important not to get too caught up in trends solely for the sake of being trendy. "Every company is different, and just because a trend is popular doesn't mean it will be right for your business," he says. "If you're a company that writes software, you need serious focus and have head-down work.
The open layout trend is probably not the right fit for you. As much as you may like the way something looks, the key is finding what helps you as a company. What will boost your productivity and help employees be their best? You have to determine what works best for you and that's a very individualized thing."
Published (and copyrighted) in South Jersey Biz, Volume 4, Issue 5 (May, 2014).
For more info on South Jersey Biz, click here.
To subscribe to South Jersey Biz, click here.
To advertise in South Jersey Biz, click here.