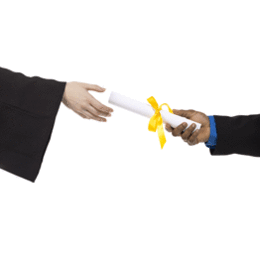 Closing the Gap
New Jersey's colleges have six years left to reach an ambitious benchmark set by the president to reform our country's higher education.
Depending on which set of statistics you use, the United States could still be considered one of the best-educated countries in the world. However, by one crucial measure, we're falling far behind: the percentage of young adults—those between 25 and 34 years old—holding college degrees. After leading the pack for many years, the United States (41 percent) has fallen steeply over the last decade or so, sinking to 16th as of 2011, outstripped by countries like South Korea (63), Canada (56), Japan (56), Norway (47) and France (43).
In response to this growing crisis, President Obama in 2009 set a goal of increasing college degree attainment among 25- to 34-year-olds to 60 percent by 2020. Separately, the Lumina Foundation—a private foundation dedicated to improving higher education—set a goal of reaching 60 percent among 25- to 64-year-olds by 2025.
Of course, colleges and universities are always looking for ways to expand access to— and success in—higher education. But the president's pledge emphasized the gravity of the problem.
"When the president of the United States makes higher education a priority and recognizes that the better educated we are as a citizenry, the better opportunities this country will have to compete in a global economy, that does a lot," says Jacob Farbman, spokesman for the New Jersey Council of County Colleges. "Our community college presidents, they took this very seriously."
New Jersey is performing better than many other states. With approximately 45 percent of adults (25-64) holding some form of degree, the Garden State is ranked sixth in the nation and is 7 percent above the national average, according to the Lumina Foundation. The state is also ranked sixth in the number of young adults holding degrees, with 47 percent.
In the tri-county area, Burlington has the highest number of adults holding at least an associate's degree, with 45.3 percent, while Camden and Gloucester have 37.2 and 38.7 respectively, according to the Lumina Foundation.
Still, there's a lot more work to do over the next several years if New Jersey—and the rest of the country—hopes to hit those lofty goals.
According to many in the field, the key to closing the achievement gap starts before students ever reach a college campus.
Get them while they're young
Nearly 75 percent of first-time, full-time students entering Camden County College (CCC) require some sort of developmental education just to get them ready for college-level courses, says Margaret Hamilton, vice president of academic affairs. Almost 30 percent of all students will take one or more remedial courses. Many of them will spend a year or more taking college-readiness courses, and that's not good.
Statistics show college-ready students have a "much, much higher completion rate versus the non-college-ready student," says Hamilton. "Quantitatively, that college-ready student absolutely leaves the non-college-prepared student in the dust. The less prepared you are, the less apt you are to ever graduate."
To avoid these issues, institutions target students early. Many offer dual enrollment programs, which allow students to enroll in college courses—and get college credit—while still in high school, says Paul Shelly, director of communications for the New Jersey Association of State Colleges and Universities. According to Shelly, such programs are an "increasing movement" at schools such as Rowan University and Stockton College.
"Think about it," says Rowan President Dr. Ali Houshmand. "If a student, by the time they finish high school, accrued anywhere from 12 to 18 credit hours, that means that the cost (of college) has been reduced by almost one semester. But more importantly, their first year in college is easier, a lighter load. A lighter load is critical … because so many students drop out (in the first year). If we can keep them through the first year, the chances of achieving a degree increase substantially."
Hamilton says CCC has an entire division devoted to partnering with high schools and working with teachers to provide supplemental instruction to juniors and seniors.
Using ACCUPLACER—a testing tool that gauges a high school student's college readiness in a variety of subjects—colleges are able to identify those most at risk of being college unready. A state-funded pilot program launched this year, dubbed "College Readiness Now," will allow New Jersey's 19 community colleges to partner with high schools to provide a "boot-camp-type" education for those at-risk students to bring them up to college level, explains Farbman.
Burlington County College (BCC) also offers several college readiness programs for high school students, including its College Acceleration Program, which gives students the chance to take college-level courses for credit in classes taught by high school teachers approved as adjunct faculty. Approximately 2,300 students at 22 high schools throughout Burlington County participate in the program.
"We're trying to create synergy between the 12-year schools and the college so we can have greater alignment," says Terrence Hardee, vice president of student success.
According to Farbman, a number of institutions have also condensed the number of developmental education courses students have to take and instituted accelerated learning programs. For example, he says, a student who may not have performed well on the reading and writing portion of the placement test will be enrolled in a college-level Composition 101 course, while at the same time taking a developmental education course for English.
So, "instead of being separated—where students take developmental ed courses and eventually they can enroll in Comp 101—they're enrolled in Comp 101, and as they're working on their assignments in Comp 101, they're improving their skills in developmental education," Farbman explains.
There isn't a wealth of hard, statistical data currently that bears out what higher education experts already know: College-ready students do better and attain degrees with more frequency than non-college-ready students.
"It's all too new here in New Jersey. … We should be able to have numbers at the end of this pilot program (College Readiness Now)," says Farbman. "Anecdotally, are we sure it's going to make a difference? Yeah, we know it's going to make a difference. But we want to be able to back up the anecdotal evidence with hard numbers."
Addressing affordability
New Jersey may enjoy one of the best-educated citizenries in the country, but it also has the dubious distinction of being one of the costliest states for earning a degree.
According to the College Board, New Jersey's public four-year schools are the fourth most expensive in the country, behind only Pennsylvania, New Hampshire and Vermont. The state's two-year schools come in at No. 15.
While institutions do what they can to contain costs—including Rowan's pledge not to raise tuition higher than the rate of inflation—over the last several years "tuition has increased substantially because of cutbacks in state support," says Shelly.
Fortunately, New Jersey has two of the most effective need-based aid programs in the nation for aspiring college students. The Tuition Aid Grant (TAG) program provides assistance based on several factors, including financial need and cost of attendance. Additionally, the Educational Opportunity Fund (EOF), considered one of the most comprehensive and "best-designed" programs in the country, Shelly says, assists residents coming from economically and educationally disadvantaged backgrounds.
Those programs may also help address attainment gaps related to race, a serious concern in New Jersey. According to the Lumina Foundation, the divide between the number of Caucasians and African Americans is the third highest in the country, while the gap between Caucasians and the Hispanic population is ninth.
According to Shelly, a full-time student at a public institution receives an average of $3,000 toward tuition per year. That means, with the average tuition for a four-year college somewhere around $12,000, most students have roughly a quarter of their tuition covered by state grants.
Rowan's partnership with Gloucester County College (GCC), which officially begins July 1, will provide a more affordable pathway to a bachelor's degree. Students pursuing a four-year degree on the GCC campus—soon-to-be Rowan College at Gloucester County—will receive a 15 percent discount off the Rowan University rate.
Fairleigh Dickinson, while based in North Jersey, offers degree programs at all three county colleges in the area. In addition to providing access to a college degree in an underserved part of the state—there are only three four-year colleges in South Jersey—the programs are also beneficial because they're offered at a reduced rate.
Anthony Mastropietro, Fairleigh Dickinson's director of community college partnerships, says students taking Fairleigh Dickinson courses at county colleges pay 40 percent less for tuition than students at its main campuses in Madison and Teaneck.
"One, they're not utilizing our facilities. Two, the student is familiar with their surroundings," says Mastropietro. "It's a psychological effect. 'I know where to park; I know where the library is; I know where the bookstore is; I know where the cafeteria is; I know where all the classrooms are. I'm comfortable with the surroundings, and I will just continue on to get my bachelor's degree here.'"
'I can do this job.'
Engaging high school students may be the most obvious strategy, but higher education advocates are fighting the battle for 60 percent attainment on multiple fronts.
Institutions are also focusing their efforts on reaching out to adults whose college careers were cut short before they could attain a degree, as well as those who may be seeking a degree for the first time.
Houshmand says two years ago, he instructed one of his advisors to look at records for Rowan's Rohrer College of Business going back 10 years to find former students who left before achieving a degree.
"I wanted to know where they are right now, what they are doing," he says. "We found about 1,800 of those people, and I was shocked that so many had accrued many, many credits … but because they hadn't finished certain courses that were required, they hadn't finished their degree.
"I thought, this is crazy that we are leaving thousands upon thousands of Americans out there, who are so close to a degree, but have never achieved it because of stringent requirements for certain degree programs."
Houshmand instructed university staff to contact those students and offer whatever they could—including discounted tuition, if possible—to bring them back and give them a chance to finish their degree.
He says the university has expanded the initial pilot program to include the entire university and has already found hundreds of former students who only need a few more credits to obtain a degree.
"If you look at these numbers nationally, there are millions of such Americans," Houshmand says.
Camden County College offers a similar program called "Dust Off Your Credits." James Canonica, executive dean of enrollment and student services, explains that students who attended within the last five years, but left before finishing, are brought in to meet with an advisor who reviews what financial aid might be available and which courses they need to complete their studies.
Hamilton says with adult students, the key is demonstrating that what they're learning in the classroom is applicable to their career.
"Remember when you were a kid? Did you ever say, 'Why do I have to learn this stuff?' Now be an adult, paying that money out of your pocket," Hamilton says. "These folks don't have a lot of time; they're not here to socialize. They're here to get a job. So what it seems we have found is if you could apply the general education—the math and the writing skills—to their chosen profession, it's much more effective. They'll do a zillion times better, because it has meaning.
"They don't just want a piece of paper. They want the credentials so they can walk into a company and say, 'I can do this job.'"
Ultimately, students pursuing a degree are seeking the key to a better future in an increasingly diverse and competitive job market. Study after study has shown that those who hold a college degree have more success than those who don't; they command higher salaries and are much less likely to be unemployed.
The economy may still be in recovery mode but, according to Farbman, the problem isn't simply a lack of jobs—it's also a lack of degrees.
"People talk all the time, 'We need to create jobs, we need to create jobs,'" he says. "There are hundreds of thousands of jobs out there that have gone unfilled. Why? Because people in the workforce don't have the skill set to do the jobs."
And just as students have to adapt to an ever-changing world, so too do the institutions tasked with teaching and training them.
"We say we're trying to prepare people today for jobs that are not created yet," says Hamilton.
"That's why you need the degree—you need good social skills, communication skills, quantitative and qualitative reasoning, math—so you can walk into an interview and transfer these skills into jobs that have not yet been created."
Published (and copyrighted) in South Jersey Biz, Volume 4, Issue 3 (March, 2014).
For more info on South Jersey Biz, click here.
To subscribe to South Jersey Biz, click here.
To advertise in South Jersey Biz, click here.