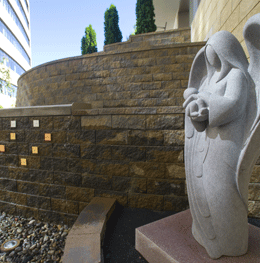 Close of Biz: The Art of Medicine
How a change of scenery in local hospitals is lifting the spirits of patients across South Jersey
South Jersey's hospitals are known for their top-notch doctors and cutting-edge medicine. But while all medical facilities offer treatment for the body, some are also embracing beautiful and inspiring pieces of artwork to provide a healing mechanism that also nourishes the mind and the spirit.
The MD Anderson Cancer Center at Cooper University Hospital in Camden is just one of them, offering state-of-the-art facilities for oncology treatment along with more than 100 pieces of artwork in a variety of mediums including watercolors, oils, silkscreen and photography to provide a unique form of therapy. Every piece was created by a New Jersey artist.
"We wanted the center to have a different feel than a medical building," says Susan Bass Levin, CEO and president of The Cooper Foundation. "We wanted to do everything possible in this building to transport a patient someplace else to help relieve the anxiety from treatment and the cancer diagnosis while promoting healing. We have even included colorful nature photographs by New Jersey artists in the exam rooms and treatment areas."
While waiting for appointments and treatments, patients and their families can tour the second floor lobby, which has been set up like a gallery for art viewing. An illuminated Tree of Life adds a peaceful touch. Since art has been known to offer calming and healing benefits to patients, each piece is colorful and full of life. Levin adds, "This is definitely something that people notice. Our art is themed and placed throughout the building. It is meant to have a mental, physical, emotional and spiritual impact on those who see it."
Likewise, the Colors of Hope project at the Frank and Edith Scarpa Regional Cancer Pavilion—part of the Inspira Health Network in Vineland—includes approximately 30 pieces of artwork from local artists displayed within the chemotherapy and infusion bays. Since treatment can take hours at a time, the facility selected local landscapes with soothing images including lighthouses, marshes and beaches. "All of the works of art bring back pleasant memories for our patients. It is a stress reliever for them as they go through treatment, and it provides a warm, healing environment," says Carolyn Heckman, Inspira's vice president of community relations.
Since this program was implemented four years ago, Inspira's staff has noticed positive changes in the demeanor of patients. "We are seeing positive effects on the patient experience. Sometimes patients were very quiet and kept to themselves, but now they look at the artwork and relate experiences to one another, engaging in conversation," Heckman says. "They are building relationships during their treatments. A few weeks later, they might see a familiar person who they've talked to before and that makes it a little easier and more comfortable for this visit and the next time they come in for treatment."
A variety of pieces including prints, paintings and sculptures have also been incorporated in the design of the Virtua Voorhees hospital, such as the Angel Garden—a peaceful place where parents can remember their babies who have died.
This outdoor memorial incorporates the natural elements of stone, water and plants to make it a tranquil place. A stone angel sculpture in the garden was designed by parents who have lost a child. "A great deal of research has shown that the physical environment of a health care facility impacts a patient's hospital experience," explains Virtua Senior Vice President Jim Rivard. "Throughout Virtua, you will find evidence-based art depicting natural elements proven to reduce stress, promote healing and improve our patients' experience."
One thing is certain. Art in hospitals encourages people to focus on pleasant images during what can be an unpleasant experience. Camden artist William Butler of Gallery Eleven One has five pieces on display at Cooper and he takes pride in knowing people find comfort in his work. "With our artistic gifting, we can provide some level of creative encounter that can take the patients' minds off of what they are going through," he says. "Art also promotes a level of creative engagement and encouragement for the patients and their loved ones."
Published (and copyrighted) in South Jersey Biz, Volume 4, Issue 3 (March, 2014).
For more info on South Jersey Biz, click here.
To subscribe to South Jersey Biz, click here.
To advertise in South Jersey Biz, click here.