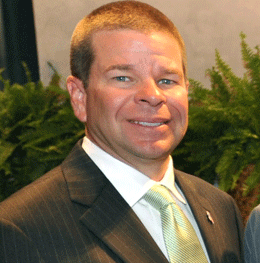 The Corner Office
Christopher Eastlack
Vice President
ACE Ford
Christopher Eastlack started in the family business just one week after graduating from Dickinson College in 1997. As a fifth-generation member of ACE Ford in Woodbury, which celebrated its 100th anniversary last year, he grew up watching and admiring his father and grandfather, but was not quite sure if he'd follow in their footsteps. However, after getting his feet wet as a young grad, he was hooked. Now as vice president, he takes pride in continuing their mantra of "always being upfront and honest," maintaining community involvement as part of their business model, and leading ACE Ford into the next generation.
What lessons in business did you learn from watching your dad and grandfather?
Being the fifth generation with my brother, there are so many lessons that have continued through the years. One of the most important is to run lean, even when times are good. You never know when the economy will take a turn for the worse. If you are lean and efficient, then you can make it through the tough times.
Are there certain pillars you would say have been passed down from the beginning?
Taking care of our customers and employees has always been one of our goals. We have several longtime employees that have been essential to the business. Repeat customers are also essential to staying in business for the long term.
Outside of your family, who's someone you look up to in business?
I would say Alan Mulally [president/CEO] of Ford. He came into the company when it was at a low point and turned it around. He had to make hard choices that were not popular with the culture of Ford, but he turned the company around.
When you started in your current leadership role, what were the things you wanted to keep, and what changes did you want to implement?
My goals included improving workflow, communication and the efficiency of each department. I also wanted to look at how we could become more environmentally friendly.
How has the company grown with the last two generations?
My father, Allen, is part of our fourth generation. He has accomplished a great deal in the 40 years he has been in the business. Some of the growth has included the installation of a computer system, the building of a new state-of-the-art body shop, and implementing Saturday hours for our service department. Our fifth generation, including [my brother] AJ and myself, has continued to make improvements as well. Some of these improvements include the upgrades to the computer system that allow us to become more efficient. Changing our paint in the body shop to a more environmentally friendly waterborne paint and purchasing new equipment to keep up with the changing technologies. We are currently going through a facility upgrade that will include a new façade, many interior changes, as well as a new service writeup area.
What are the major challenges in your industry right now?
Competition and the volatility of the economy
What's your management philosophy like?
Treat others how you would like to be treated. This can be seen with the longevity of our employees and from our loyal customers. When I am not in my office, I am wandering through every department talking with customers and employees.
The company's connection to the region is obviously pretty strong, considering it's been in business 100 years. How does ACE make community a priority?
Community involvement has always had a priority with ACE. We have had three generations on the board of the Greater Woodbury Chamber of Commerce. I am currently the vice president of that chamber as well as sit on the United Way of Gloucester County board. We also support numerous fundraisers. Yearly, we hold a blood drive for the Red Cross as well as hold a Mustang Show with the SJ Mustang Club.
What's your favorite car in the Ford lineup at the moment, both the "fun to drive" pick and the practical pick?
My favorite Ford has always been the Mustang. For practical, I would go with the Explorer.
What are your proudest accomplishments to date?
Keeping the family tradition going. There are not too many fifth generation businesses around!
Published (and copyrighted) in South Jersey Biz, Volume 4, Issue 3 (March, 2014).
For more info on South Jersey Biz, click here.
To subscribe to South Jersey Biz, click here.
To advertise in South Jersey Biz, click here.