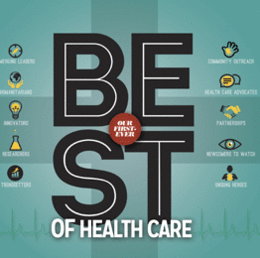 Our First Ever Best of Health Care
Honoring the top names in medicine, research and advocacy across the region
We are uniquely positioned here in South Jersey, where the best in medicine—ranging from primary to cardiovascular care, health screenings to long-term rehabilitation—is just a short drive away. On top of that, some of the most innovative research in areas such as cancer and Alzheimer's treatment are taking place right here. That's why we decided to publish our first-ever Best of Health Care issue, honoring the people, places and programs that have made South Jersey the center of innovation that it is today.
Emerging Leaders
Matthew Zuino
Zuino has worn many hats during a career at Virtua that began in 2000, including positions as vice president and COO for Virtua Medical Group and assistant vice president of the Cardiovascular Program of Excellence. In his current role as senior vice president of Population Health for Virtua North, he oversees operations at Virtua Memorial Hospital. His greatest responsibility, as he sees it, is "the delivery of the highest level of quality, safety, satisfaction and value" for Virtua's patients. Zuino has seen great expansion during his time at Virtua, and he's especially proud of how much easier it is today for people to access their care needs. For example, Virtua recently opened health and wellness centers in Voorhees, Washington Township and Moorestown, and has enhanced access to primary care and other subspecialties through the Virtua Medical Group.
Biggest lesson: "To be comfortable being uncomfortable," Zuino says. "During my career, I have found some of my most rewarding experiences have been when I left my comfort zone to take on new assignments or positions."
Susan Scanlin
Scanlin is a recent addition to Marlton-based health care management company Continuum Health Alliance, the management company for Advocare. But she brings more than 20 years of clinical, operational and research experience to her role as chief transformation officer and vice president of Population Health and Care Coordination. In different roles throughout her career, Scanlin has worked to develop innovative strategies for delivering the best care, and she's eager to do the same at Continuum. Her focus includes such initiatives as Centralized Care Coordination and implementation of the Triple Aim Shared Savings programs. "What is exciting about the work we do is that we are changing the model of care delivery from a provider-centric to a patient/consumer-centric model," she says.
Hope for the future: "That we can encourage Americans to serve as their own health advocates and change lifestyle behaviors," Scanlin says. "This change alone would impact Type 2 diabetes, heart disease, muscle and joint disorders, renal disease—all of which are some of the most costly and debilitating chronic conditions."
John DiAngelo
With more than two decades of experience in South Jersey hospitals, including the last 14 at what is now the Inspira Health Network, DiAngelo was a logical choice to replace the retiring Chet Kaletkowski as CEO this year. He rose from his position as chief financial officer and executive vice president and has shown enthusiasm in the new role and dedication to helping Inspira react to health care reform. "Inspira is rising to the challenge by being proactive and adapting in order to continue providing quality care and meeting the health care needs of the communities we serve," he says. DiAngelo also played a strategic role in the formation of the Inspira Health Network through the merger of South Jersey Healthcare and Underwood Memorial Hospital.
Biggest lesson: "We must listen to the communities we serve as well as to our employees and physicians who provide excellent care across the region," DiAngelo says. "I believe our people are our greatest asset and that we must work together for the betterment of our communities."
Best Partnerships
MD Anderson Cancer Center at Cooper
When Cooper University Health Care formed a partnership with the University of Texas' MD Anderson Cancer Center last year, they laid the groundwork for a new standard of specialized cancer treatment. Inside the new four-story, $100 million building in Camden is state-of-the-art equipment such as CyberKnife, Gamma Knife Perfexion and MammoSite Brachytherapy treatments, where patients are provided with all-in-one care from diagnosis to remission. Outside of patient care, the partnership also means access to clinical trials conducted through their third-floor research space, and academic training taught by national specialists. And with a fourth floor ready for future growth, alongside a burgeoning medical school just feet from its door, this team of experts is looking ahead.
Hope for the future: "To see expansion of the cancer program across the region and to see the development of basic research on the Camden campus; increasing numbers of clinical trials of all types including Phase I clinical trials and continuing to focus on the patient experience," says Dr. Generosa Grana, medical director, MD Anderson Cancer Center at Cooper.
Kennedy Health System and the Jefferson Neuroscience Network
In 2011, Kennedy Health System joined forces with the Jefferson Neuroscience Network to create the Kennedy Neuroscience Center of Southern New Jersey, which allows Jefferson physicians to provide services at Kennedy's locations via telemedicine robot as well as in person at the new $5.7 million Interventional Neurosurgery Suite at the Washington Township hospital. Since its inception, the alliance has become a top provider of stroke care in the region, and was named a Comprehensive Stroke Center by the New Jersey Department of Health & Senior Services. Eileen Gallagher, MSN, RN, neuroscience program coordinator for Kennedy, says the partnership has been a huge undertaking for the organization, but being able to offer such an important service to the residents of South Jersey has been worth the effort.
Greatest reward: "The greatest reward is that people who live in New Jersey can now stay close to home for complex, high-end procedures," Gallagher says. "The neurological services available right here in their own community are the same high-quality services offered at the premier teaching hospitals in Philadelphia."
Virtua Health System and the Children's Hospital of Philadelphia
What started as a desire to expand Virtua's already strong pediatric program has quickly become a reality with the help of their partnership with CHOP. In 2011, Virtua's Voorhees campus expanded its children's emergency department, pediatric unit and neonatology unit where CHOP physicians now practice. In 2012, the CHOP at Virtua Specialty Care, also in Voorhees, opened, creating for its physicians 30,000 square feet of office space. And in 2013, CHOP's pediatric pavilion was opened at the Mount Holly campus, which, according to Stephanie Fendrick, vice president of strategic partnerships and program development for Virtua, is a "really innovative unit where we treat pediatric emergencies and in-patient cases as well."
Biggest challenge: "Virtua's primary business is adult-oriented," Fendrick says, "whereas CHOP is completely focused on children's health care. When we came to work together, we realized we had differences in terms of how we approach situations and those differences, we recognized, need to be respected and understood in our decision making."
Samaritan Healthcare & Hospice and the Lourdes and Virtua Health Systems
Through their Pallative Medical Partners program, Samaritan Healthcare & Hospice was named the preferred provider for Lourdes and Virtua last year, giving patients access to one of the fastest-growing sub-specialties. It allows for a smooth transition into palliative care during and after medical treatment, whether it's a short-term or acute illness. Samaritan also teamed up with Rowan University's School of Osteopathic Medicine to launch the first-ever New Jersey Fellowship in Hospice and Palliative Medicine. According to Samaritan's Chief Medical Officer Dr. Stephen Goldfine, it is estimated there is one board-certified hospice and palliative physician for every 20,000 older adults living with chronic and advanced illness. "Samaritan is proud to offer the residents of our region access to four board-certified hospice and palliative physicians who work collaboratively with excellent health care delivery systems."
On the benefits of collaboration: "I view everything we do as part of a team effort," Goldfine says. "We're a group of people with specialized skills and talents singularly focused on taking care of folks. The more people you have taking care of you, the better."
Humanitarians
Dr. Reed Kindermann
Kindermann, second from right, of Kindermann Eye Associates in Cherry Hill and a teacher at Wills Eye Institute, has spent the past two decades working with SEE International, a nonprofit helping to restore the sight of people in underprivileged countries, from infants to the elderly. His volunteer travels, in which he teaches and performs surgeries, have taken him to countries during pivotal moments in history, from Laos, the Republic of Georgia and Mongolia shortly after the breakup of the Soviet Union, to Nicaragua at the end of their civil war, to Syria just before theirs began. This September, he'll make his eighth trip to Namibia, where he and his wife will work in a cataract surgical camp and perform more than 300 surgeries.
Greatest inspiration: "One of my professors, Dr. Robison Harley, once said to me, 'Reed, you will never remember what you did in your office or clinic on, say, April 15, but you will never forget the trip you might have made that day to help someone in need somewhere else in the world,'" Kindermann says. "He was right too; you never forget your trips. And we never stop appreciating how fortunate Americans are to have the incredible health care available here."
Dr. Mark Zaontz
In 1989, Zaontz, then affiliated with Cooper, took on a case of a Guatemalan boy born with severe bladder exstrophy—in which the bladder was exposed at the skin and the urethra completely open. "This is one of the most complex congenital malformations that we deal with in pediatric urology," Zaontz explains. "My hospital kindly offered their services gratis, as did I." The organization that brought the boy here, Healing the Children, made an indelible impression on Zaontz, who now works at Urology for Children in Voorhees and is Virtua's head of pediatric urology. He continued to volunteer locally, but took it further in 1997 with annual trips to the Dominican Republic, Ecuador and El Salvador—performing surgeries as complicated as repairing the disrupted urethra of a 12-year-old boy who had been using a catheter since the age of 2 following a car accident.
Why is giving back important? "My parents instilled that trait in me," Zaontz says. "They taught me that if you have the ability either financially or otherwise to help other people less fortunate than you, then it is your responsibility to do so."
Researchers
Dr. Gary Goldberg
Cancer is a disease that has touched us all in one way or another, but Goldberg is trying to change that. The associate professor at Rowan University's School of Osteopathic Medicine, along with an international team of scientists, discovered a component in the seeds of a legume tree native to parts of Asia that inhibits cancer cell growth. Known as MASL, it has actually been used for centuries in traditional medicine. Goldberg and his team have focused on its effects on melanoma, though other types of cancers are now being studied. To further develop MASL, Goldberg and his colleagues founded a company named Sentrimed to, in his words, "generate medical protocols that target cancer cells without producing toxic side effects that are so common with anti-cancer and anti-inflammatory drugs that are used today."
Biggest challenge: "Funding," Goldberg says. "We have developed a very good strategy to understand and combat disease—particularly cancer. However, a great deal of our energy is spent trying to obtain funding instead of actually doing the research that needs to be done."
Dr. Steve Madore
Madore is director of biobanking—storing biological samples for research use—at Coriell Institute in Camden, and oversees applied research and development within the molecular biology, cell culture, stem cell and cytogenetics laboratories. Within the stem cell laboratory, he is leading a team in exploring stem cell models to study diseases like Alzheimer's and diabetes. Madore was recently named principal investigator on a nearly $10 million award to set up a biobank facility in California. "Coriell has invested significant resources in building a state-of-the-art laboratory for producing and distributing induced pluripotent stem (iPS) cells [which are adult cells, like skin cells, reprogrammed to be stem cells]," he says. "We currently manage the single largest publicly available collection of human iPS cell lines and over the next year, will be adding to this collection through our newest biobank."
Greatest inspiration: "I am inspired by the fact that, on a daily basis, I am fortunate enough to work with fellow scientists, using our experience and expertise to reach a common solution for a specific problem," Madore says.
Trendsetters
Lions Gate
Lions Gate, a nonprofit continuing care retirement community in Voorhees, has always strived to be ahead of the curve. Care options include independent living, assisted living and skilled nursing/long-term care, and last year, they also formed a unique partnership with Fox Rehabilitation and the Rowan School of Osteopathic Medicine to add a rehabilitation center that is open to residents and the public. The center offers short-term, post-hospital stay and outpatient care and features private rooms and a fully equipped rehab gym. "It was important for us to design a beautiful space with private room accommodations and a private entrance," says CEO Morris Funk. "The rehabilitation therapy expertise of our clinical staff is exceptional and they are complemented by board-certified physicians in physical rehabilitation medicine."
Greatest inspiration: "We feel everyone is deserving of the best care and service in an environment that supports a wide array of wellness, fitness and spiritual programs," Funk says. "Our rehabilitation center promotes a culture of wellness. In fact, our tagline says it all: 'Inspiring Wellness.'"
Premier Orthopaedic Associates of Southern New Jersey
Founded in 1998 by Dr. Thomas A. Dwyer, Premier brings together specialists from a number of different fields to provide the highest-quality orthopedic care. With offices in Vineland, Mullica Hill and Elmer, they see patients for any number of reasons, including sports-related, work-related and motor vehicle injuries. For those whose injuries require surgery, Premier has a state-of-the-art surgery center located in Vineland that opened in 2010, among the first ambulatory centers of its kind in the region. Surgeons can perform same-day, outpatient orthopedic and pain management procedures for knees, shoulders, hip, foot and ankle, hand and wrist and spine. The surgery center also contains Delsea Imaging, operated by the Inspira Health Network, which offers such services as radiology, MRI, CT scan, DEXA bone density scanning, digital mammography and ultrasound, making it a convenient one-stop shop for patients.
Horizon Blue Cross Blue Shield New Jersey Utilizing a team approach is the idea behind Horizon's Patient-Centered Medical Home Program (PCMH), the largest in the state. Stressing collaboration, the network of primary care physicians and their staff give patients a personalized plan that includes coordinating and managing visits to specialists, following up to make sure they're taking medications and getting the testing they need, and focusing on prevention. "We hear from our PCMH practices, and from our members themselves, that this is a refreshing approach to care delivery and one that encourages a health-conscious lifestyle among PCMH patients," says Jim Albano, vice president of Network Management and Horizon Health Care Innovations. Early results indicate an 8 percent higher rate in improved diabetes control and a 6 percent higher rate in breast and cervical cancer screenings.
Hope for the future: "The PCMH model holds great promise to deliver better quality outcomes, a better patient experience and to control the cost of care," Albano says. "The core objective is to ensure that patients get the right care at the right setting and at the right time."
Innovators
Dr. Jeffrey Brenner
Brenner, director of Cooper University Health Care's Institute of Urban Health, is also founder and executive director of the Camden Coalition of Healthcare Providers, which has been working for the past nine years to improve the health status of the residents of Camden. Its effort has been aided by data obtained from three hospitals in Camden which showed that a very small percentage of patients account for a disproportionate amount of health care costs. As a result, CCHP began reaching out to the highest utilizing patients to improve their care. "It is our hope that by focusing on this subset of patients … we can 'bend the cost curve' within the city," says Brenner, who last fall received a $625,000 genius grant to continue his work.
Future goals: "We hope to make this type of community-based care coordination financially sustainable," the coalition said in a statement. "In this regard, we are launching a randomized controlled trial of our intervention, as well as working to influence policy that will change payment structures to allow care coordination interventions to become reimbursable."
Cooper University Health Care and AmeriHealth New Jersey
Medical care and health insurance tend to go hand in hand for patients, though that relationship isn't always reflected with medical professionals. So when Cooper University Health Care purchased a 20 percent stake in AmeriHealth New Jersey last April, many were left surprised, interested and optimistic for the future of our state's health system. It's an unusual partnership which allows Cooper to work directly with AmeriHealth, cutting out the dreaded "middle man" to make communication easier for insured and uninsured patients, as well as for Medicare options. The partnership boasts a patient-centered model, which provides an array of provider and physician options and also offers reduced pricing options for AmeriHealth patients that opt for Cooper as their medical provider.
Biggest challenge: "The biggest challenge was understanding and meeting the rising expectations of an increasingly educated consumer base," says Louis Bezichm, chief of staff and executive director, Cooper's Population Health Institute.
Our Lady of Lourdes Medical Center's Cardiac Program
Our Lady of Lourdes Medical Center created a cardiac program that is consistently ranked among the best in the nation. Through years of medical advancements and training, Lourdes has sculpted a program that specializes in everything from coronary bypass surgery and cardiac catheterization to treatment, prevention and nutrition. One of their offerings is the Heart Failure Program, which takes an in-depth look at patients with elevated risks. The program coordinates with cardiac-rehabilitation physicians and nurses to create a smooth transition from treatment to post-op recovery, and gives patients who were once high-risk a chance to live normal lives. But Lourdes knows that cardiac care doesn't end with surgery or treatments, which is why they've developed outreach programs that aim to teach the public about prevention, nutrition and risks to watch for.
Common misconception: "In regard to heart failure, people may think they need to live with it, that there's nothing that can be done," says Dr. Reginald Blaber, executive director of Lourdes Cardiovascular Institute and vice president of Cardiac Services. "But there are proactive ways that heart failure patients can improve their quality of life."
Community Outreach
Camden County Department of Health and Human Services
You'd be hard pressed to find an entity more in tune with the health of its community than the Camden County Department of Health and Human Services. Among their many programs is the popular Women's Health Conference, now celebrating its 15th year. The conference, which is free, offers a day full of workshops where women can discuss health, fitness, nutrition and other topics that affect their everyday lives. A caregivers' conference, parenting conference, influenza immunization clinics and a mobile outreach van are among other programs. Freeholder Carmen Rodriguez says the goal is to continue to evolve as the needs of the community change.
Common misconception: "Some of the most important services provided by the Camden County Department of Health and Human Services do not directly engage the public," Rodriguez says. "These are the programs that are focused on businesses and agencies such as restaurant and school cafeteria inspections and public pool testing. Our Division of Weights and Measures also inspects supermarkets and gas stations to ensure you are getting what you paid for."
South Jersey Radiology
Giving back is a major facet of SJRA's business model, as the company—which just merged with Booth Radiology—plays an active role in educating the public on the importance of mammograms, including doing free readings as part of Susan G. Komen's Camden County Screening Project. "Imaging can be a valuable tool for early detection of many conditions, especially breast cancer," says SJRA CEO Dr. William Muhr. "Outreach helps us get this message out to people and give them the facts they need." The biggest challenge, he says, is setting priorities. "With so many diseases and causes in the public eye, we want to be sure to focus on the ones where we, as imaging specialists, can have the biggest impact and help the most." Fundraising is also important to SJRA, and so they hold several annual campaigns such as their Physician's Dinner to benefit the MS Society.
Common misconception: "Unfortunately," Muhr says, "poorly designed but well-publicized studies have led women to believe that they don't need to have a screening mammogram."
Deborah Heart & Lung Center
The Deborah Heart & Lung Center and Deborah Hospital Foundation hold 50 health fairs throughout the year, on top of which there are several creative ways Deborah impacts the surrounding community. As just a sampling of their outreach, the Heart Challenge competition, which pits students from nine high schools against each other, testing them on their knowledge of the heart, lung and vascular systems, is in its 16th year; the annual Women's Health Expo held last month accomplished more than 400 blood pressure screenings, while their participation in the NJEA State Convention will see more than 900 teachers screened; and their Respiratory Evaluations for Sandy Program, launched last year to bring a screening team into the communities hit hardest by Sandy, to date has screened nearly 1,000 people. Greatest reward: "Whether it be high blood pressure or high cholesterol or an irregular pulmonary function test, when we do community screenings and alert someone to a possible problem, I know we have done our job," says Tina St. John Bialt, community outreach coordinator.
Health Care Advocates
New Jersey Hospital Association
The NJHA, based in Princeton, is comprised of close to 400 hospitals, health systems, nursing homes and related institutions, providing leadership in advocacy, community outreach and policy awareness. In 2002, the NJHA formed the Institute for Quality and Patient Safety, aimed at guiding efforts to improve health care quality. The results have reduced costs and saved lives, witnessing an 81 percent decline in bloodstream infections, 55 percent decline in ventilator-related pneumonia, and a dramatic decrease in the amount of elective pre-term births through its perinatal collaborative. "In the first two years of our most recent effort called Partnership for Patients," adds Betsy Ryan, president and CEO, "[we] have helped to avoid an estimated 6,300 adverse events for patients and save about $63 million in health care costs."
On the importance of health care advocacy: "We are always fighting for what our members need to continue providing compassionate care to members of our community," says Ryan. "It's gratifying to play a role in this important mission."
Rothkoff Law Group
Rothkoff Law Group, of Cherry Hill, has evolved into more than just an elder care firm. In 2006, the addition of a social worker was the first step in expanding its continuum of services. Since then, the firm has grown in its role as an advocate, bringing on specialists in veteran's benefits, community education and, most recently, a health insurance advocate and public benefits specialist. They help guide clients and their families through "life care planning" and the challenges of paying for health care options. "Our social workers, public benefits specialists and client services coordinators are in the trenches with our clients," says Janie De Leon-Male, M.S.S., LSW, director of care coordination.
Greatest reward: "We work until we get the results we set out to achieve for our clients," says De Leon-Male. "Being with our clients and hand-holding them through the ups and downs of caregiving is humbling."
Newcomers to Watch
PowerBack Rehabilitation
Genesis HealthCare's PowerBack Rehabilitation arrived in South Jersey in 2013, a rehabilitation facility in Voorhees designed to give patients the choice to pick their rehabilitation program before surgery or a lack of options leaves them with little choice. With the goal of getting patients back home and functioning as quickly as possible, the facility features on-site nurse practitioners and a medical director alongside attending physicians that offer pain management, physical therapy, speech and heparin therapy, and nutrition management. Specialized equipment, like hydro-therapy pools, have helped patients get the treatment they need quicker, and in one location. A new Moorestown facility is slated for a late spring opening.
Biggest challenge: "Educating Americans that they need to plan ahead in the event of a medical event or surgery," says Carol Rohrbaugh, vice president of sales and marketing. "According to independent research, 96 percent of people between the ages of 60 and 75 do not anticipate an injury or needing surgery over the next year. We plan for weddings, vacations, even our weekly meals, but most Americans do not know that they can plan ahead for where they choose to undergo rehabilitation."
MedExpress Urgent Care
To say MedExpress Urgent Care has burst onto the local scene is an understatement. In the last year, the center has opened in Cinnaminson, Runnemede, Washington Township, Willingboro and Woodbury, and Mount Ephraim and Cherry Hill locations are in the works. It's no wonder considering the surge in popularity of urgent care centers across the country, which provide quick and immediate care for everything from a cold or flu, to burns, broken bones, stitches and minor surgery. These centers mean patients in need of care can skip the hours of waiting and hefty bill from the emergency room. Appointments are available seven days a week, 12 hours a day, as well as walk-ins without referrals, and they offer vaccinations, school, camp and sports physicals and wellness screenings.
Greatest reward: "Everything about MedExpress is entirely focused on the patient, and our greatest reward comes from continuing to meet the health care needs of the community and by making sure high-quality, affordable health care is available when our patients need it," says Dr. Dheeraj Taranath, medical director for New Jersey.
Unsung Heroes
Wendy E. Pester
After 20 years in health care management, Pester took the leap into elder care just four years ago when she was contacted by home care agency Homewatch Caregivers of South Jersey. As their community relations liaison and a certified dementia specialist, Pester now works closely with those struggling with dementia and other conditions, and she lends her expertise as a client care manager at Rice Elder Law. She is involved with multiple organizations, including the Alzheimer's Association, for which she facilitates support groups across South Jersey; Nancy's House, a retreat center offering respite for caregivers; and the Gift of Life Program.
Biggest challenge: "There are so many," Pester says, "from governmental regulations to the lack of financial resources for families to denial. I deal with so many families who have a loved one with dementia, but they can't get beyond the stigma attached to the words dementia or Alzheimer's. … People need to know what help is available."
Trish Bronsky
Bronsky, nursing director at senior living community Cardinal Village in Sewell, says after more than 20 years as an RN, the move to the assisted living industry in 2005 has been most rewarding. She oversees more than 50 nursing staff members and takes pride in being the only facility in their area with RNs and LPNs around the clock. Since joining the staff, Bronsky has helped improve quality of care—including achieving a deficiency-free state survey, providing among the best individualized and nutritious meals in Gloucester County, and being more than "only an assisted living facility," she says, as they are able to retain the majority of their residents without having to discharge them to nursing homes.
Hope for the future: "That our government finally realizes they are discharging our elderly residents who are settled and well cared for and very happy and forcing them to be placed in nursing homes over an insignificant dollar amount," Bronsky says. "Nursing home care can cost the taxpayer three times the amount of assisted living care. Not only is this financial nonsense, but look at what this is doing to our elderly."
Dick Subber
Every Thursday between 7 a.m. to 2 p.m., Subber can be found hard at work in the office of Lisa Fedorick, Kennedy Health System's corporate manager of volunteer services. A WWII vet who retired from the Post Office in 1986, Subber has spent the last 12 years organizing the timesheets for Kennedy volunteers— "I pretty near keep the office running," he says—though he's actually been volunteering for the health system for 26 years, starting as a food prep worker until the time spent on his feet became too much. At 89, Subber was honored last year for reaching 7,500 hours of service. "I've got no plans to stop," says Subber, who might get his energy from his Monday, Wednesday and Friday morning swims at the Y. "I don't feel all that old and I don't act all that old. I keep busy and that helps me stay that way."
On the importance of giving back: "I think it makes life worthwhile," Subber says. "You're helping people that need help. It's something I love to do and I think it keeps you going yourself."
Published (and copyrighted) in South Jersey Biz, Volume 4, Issue 3 (March, 2014).
For more info on South Jersey Biz, click here.
To subscribe to South Jersey Biz, click here.
To advertise in South Jersey Biz, click here.