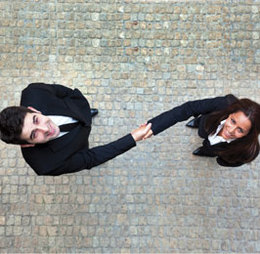 Getting Down to Business
…A Special Advertising Section…
No matter how good one's acumen is, business owners need to know when it's time to delegate certain responsibilities so they can focus on the daily tasks at hand. But that doesn't have to mean hiring more in-house employees. According to these professionals, success is a team effort—and there are plenty of outsourcing opportunities that can prove it.
"What software solution(s) has the most value for small- and medium-size companies today?"
The three most common types of projects that are requested and have the most immediate value and relatively small budget (usual range 5-15k) return are: Document Management, Financial Report Writers (BI Tools), and Sales and Tax Use Compliance Solutions. Any business owners who have sat through an audit of any kind know first-hand that the Excel spreadsheet has to go. All businesses are subject to regulations and compliance specific to their respective industries. A very real by-product of being a business owner operating in New Jersey (aka the Nanny state) is paperwork; lots and lots of it. Being able to eliminate paper in regard to billing, and to be able to gather documents from separate company locations in a cost-effective way, has one of the quickest returns available. What does five hours of paperwork-related labor cost per week? How about the services related to document disposal, storage and archiving? Or the cost of an error exposed during an audit? Project leasing makes these initiatives doable and within reach of just about every business owner who wants to take advantage of them.
Sean Atkins
ACC Accounting Solutions, Inc.
Cherry Hill
(856) 335-1005
4ACC.com
"How can outsourcing the accounting services department make a business more efficient?"
Outsourcing accounting services to a CPA firm can provide a variety of benefits for businesses of all sizes. Often the services come in several tiers that allow different customized levels of expertise. The basic tier is strictly transactional. This would include accounts payable, payroll, bookkeeping and accounts receivable. These processes often consume much of the time and focus of the business owner on a daily basis. Controllership services are typically the secondary tier and include monthly close and financial statements. Using an experienced professional allows for a company's staff to focus on other business functions. For businesses that require more comprehensive consulting, the premier tier of accounting services is a virtual CFO, which gives management accessible experts for business planning, budgeting and cash flow analysis. Outsourcing the accounting operations allows business owners to have more flexibility and freedom to do what they do best—their business.
Christopher R. Cicalese
Alloy, Silverstein, Shapiro, Adams, Mulford, Cicalese, Wilson & Co.
Cherry Hill
(856) 667-4100
AlloySilverstein.com
"How do I move to the cloud?"
Current cloud options are immensely varied, complicated and tricky to navigate. Outsourcing your cloud needs to a managed service provider assures your needs will be met with accuracy, cost savings and security. You have to focus on the vital details regarding applications, real-time recovery and data rate of change, just to name a few. Hiring a managed service firm not only guides you to the right solution, but is also a surprising way to save money when using the cloud. The benefits of buying space and service through an aggregator get better and more efficient with greater capacity; it's the old economy of scale theory in practice. Free your team to build your business and innovate; don't waste time struggling to manage your cloud or risk your data security with the wrong move.
Melissa Iacovino
Ancero
Mount Laurel
(856) 210-5810
Ancero.com
"At what point in time during the planning process is it best for an owner to hire a construction manager?"
I believe that the true value of engaging an agency construction management professional is realized by early involvement in the process. We bring the most value to a client when hired very early in the planning phase of a program, whether new construction or renovations. GREYHAWK provides a wide range of services from early feasibility studies and risk analysis to A/E selection, design phase management, construction oversight, occupancy, and startup and commissioning of operations. Our professionals will participate in the design process, develop budgets and schedules, oversee contractor procurement, manage the reporting and communications, and provide on-site inspection services. We attribute our success to the dedicated teams we assemble at the beginning of a program and keeping them involved throughout the project.
Ron Kerins
GREYHAWK
Moorestown
(856) 722-1800
GREYHAWK.com
"Do you know what the 'effective rate' of your merchant services program represents?"
This is an easy way to calculate the true cost of processing credit cards each month. The effective rate is a calculation you can easily perform each month to determine what the total cost of your transaction is on a percentage basis: Total Fees/Total Transactions Adjustments. Simply put, merchants who calculate an effective rate that is 1 percent above their qualified rate (lowest available) should consider a new merchant consultant as they are paying too much. For most businesses, the effective rate should not exceed 2.25 to 2.50 percent.
"Do you know what the terms 'qualified,' 'mid-qualified' and 'non-qualified' mean?"
The terms qualified, mid-qualified or non-qualified (sometimes called 'tiers') are used to base pricing structures. Unfortunately, the various processors do not define the categories in the same way, so the use of certain cards is more expensive because of the 'tiers' they are placed in for each transaction. The tiers are set up in such a way to benefit the processors—not the merchants. The fee structure should be scrutinized carefully.
Scott Tanker
Benchmark Payment Networks
Marlton
(609) 922-0201
BenchmarkPaymentNetworks-Scott-Tanker.com
"What is the value of hiring an architect to do a feasibility study before starting a project?"
Don't make the mistake of steam rolling into a renovation or construction project without a sound feasibility study. This can be costly. A feasibility study can help you look at possible opportunities, costs and risks of one or more possible solutions. The study will help you make a sound decision by examining: existing conditions (i.e. space utilization, code enforcement, etc.); the program, which should consist of site requirements, required room sizes, configurations and functions, communications and security, and more; the timeline—duration of design, review/approvals, permitting, construction and occupancy; and finally the budget, which should be prepared with the preliminary estimate(s) of probable total construction and outfitting costs for your project option(s). This will allow you to know the full cost of the project. In the end, the analysis becomes cost required for value attained. But you need the relevant information, presented in a clear manner, to move forward (or not).
Regan Young
RYEBREAD
Mount Holly
(609) 265-2652
RYEBREAD.com
Published (and copyrighted) in South Jersey Biz, Volume 3, Issue 11 (November, 2013).
For more info on South Jersey Biz, click here.
To subscribe to South Jersey Biz, click here.
To advertise in South Jersey Biz, click here.