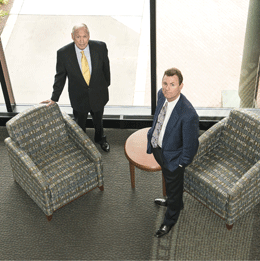 The SHM Financial Group
Providing a comprehensive and individualized approach to financial security
When the economy is as unpredictable as the weather, Americans are looking for financial guidance they can count on. Particularly in South Jersey, The SHM Financial Group is one such firm that people can rely on for sound advice.
Stanley H. Molotsky, founder, president and CEO of SHM, has been in practice since 1958 and began The SHM Financial Group in 1970. Its team of financial advisors has more than 118 years of combined experience, and they have seen a lot of change in the world of finance.
Molotsky and his team take a comprehensive approach to investment analysis, asset protection and tax reduction, which is combined with other services, including insurance and long-term care and estate planning. A multi-generational business, Molotsky's son Lee is the managing partner of The Molotsky Tax Advisory Group, LLC, a fee-based registered investment advisory firm.
"Our family has lived in South Jersey for over 100 years," says Molotsky. "We're not going anywhere."
SHM's longevity can be attributed to several factors. For one, SHM has no mandated product lines to sell, and clients are assured a customized plan to meet their needs.
"Larger firms can be good and people in those firms are excellent, but they tend to be very cookie-cutter in their recommendations," says Molotsky. "If three people come in with the same goals and objectives, their portfolios will be created differently because we look at their age, health situations, and whether or not they have children. At our firm, we don't have a particular product line to sell, so we can offer unbiased decisions and customized plans."
Searching for a financial advisory firm can be an intimidating process. After all, you're entrusting these individuals with your life's savings, and SHM understands how important it is for an individual to feel comfortable with what its advisors are offering. "We look at our initial client meetings like a two-way interview," Molotsky says. "We need to determine that we are all on the same page. We're not a one-size-fits-all firm."
The meeting will include what SHM refers to as a financial stress test: a complimentary review of a client's financial picture and current investments. "From there we tell them what we can provide and let them tell us what they are looking for," says Molotsky. "It's an ongoing, continuing process. We like to meet on a monthly basis at first, and as you become more comfortable with what we're doing, we'll scale it back to once every three to four months."
For clients who are entering their senior years, SHM encourages them to speak to their attorney and CPA, as well as their children and have them take a look at their proposal. "We don't draft any legal paperwork; we're working in a strictly advisory capacity," says Molotsky. "We can look at tax returns and make comments, but we'll work with their accountant regarding what can be done from a tax saving point of view.
"That's one of the benefits of being a boutique firm. We can look at the whole picture. It's not just buying and selling stock, but coordinating a plan and adjusting it as we go," he continues. "As people live longer, different things happen that you need to be prepared for and, when we work with clients, we're in it for the long run."
As 2013 comes to a close, Molotsky encourages people to make sure their financial house is in order. "The market has been strong, but the economy is only slightly better in some cases. Inflation is something to watch and the tax picture is anything but pleasant," he says. "The new health care program is going to be costly for small businesses, which could have a somewhat negative effect on the economy itself."
With all of that in mind, SHM is guiding its clients through, helping them develop secure exit strategies. "Our philosophy and approach in planning is to stress that you have an exit strategy with whatever kinds of things you have money deposited in. Know how you can get out, when you can get out and what process you have to go through to get out," says Molotsky.
A proponent of financial education, Molotsky, his son and their firm continue to spread their knowledge to the South Jersey area through various media outlets, including radio and TV. The TV program "Molotsky on Money" is especially interesting to Molotsky because it is completely off-the-cuff. "I really enjoy it because we don't know the moderator's questions in advance," he says. "We discuss a different financial planning topic each week and it's always interesting to hear what questions the moderator will ask."
Ironically, despite the fact that he helps clients plan for their retirement, for Molotsky, retirement is not an option. "I find this to be a fascinating business and I'm fortunate to be able to do something I love. I intend to keep doing this until I can't do it anymore," he says. "Working with Lee and our other associates and having three full-time outstanding administrators make it a pleasure to continue to work. I am truly lucky."
SHM Financial Group has three convenient locations in South Jersey. Its main office, the SHM Building, is located at 100 Richey Ave., Collingswood. The team also has offices at 1000 Main St., Voorhees, and 800 Route 70 W., Lakehurst.
For more information or to schedule a complimentary financial stress test, call 1 (800) MONEYSHM or 1 (800) 666-3974.
Or, visit them online at SHMFinancial.com.
Molot$ky on Money The SHM Financial Group invites you to watch them on TV, Mondays at 7:30 p.m.
Verizon FIOS - Channel 19
DIRECTV - Channel 44
DISH Network - Channel 44/8165
Comcast - Channel 794
Published (and copyrighted) in South Jersey Biz, Volume 3, Issue 10 (October, 2013).
For more info on South Jersey Biz, click here.
To subscribe to South Jersey Biz, click here.
To advertise in South Jersey Biz, click here.