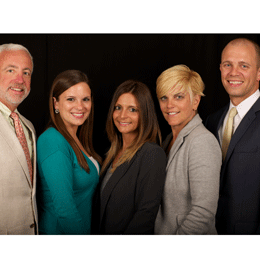 Benefit Concepts
Helping individuals make informed financial decisions
We've all come to a point in our lives where we've wondered if what we're doing financially is right. We've all questioned whether we're saving enough, whether we're investing enough, or if we're ever going to be able to enjoy our retirement years. As a wealth management and employee benefit firm, one would imagine Benefit Concepts as a place to go for that financial direction. While this is true, in reality, the goals of the firm are so much more than that.
"When an individual becomes a client of Benefit Concepts, what we ask in return is that they commit to the education process," says firm owner Daniel Boychuck. "Our firm's Client Value Proposition is 'Delivering the promise of tomorrow with today's innovative solutions through education, communication, and a sincere commitment to excellence.'"
Located in Haddonfield, Benefit Concepts is a boutique wealth management and employee benefit firm offering pension solutions, group benefits and individual wealth management for business owners and individuals. Founded in 1990, Benefit Concepts primarily started out as an employee benefit and corporate retirement plan administrative and advisory services firm. It then evolved in the early 2000s to incorporate individual financial advisory services as the need became more evident.
"We work with a lot of employees through corporate pension plans," Boychuck explains. "A lot of times, people didn't think they had the assets or resources to work with an individual advisor. The dynamics of a group setting allow us to work with employees with varied account balances.
"People worked with us through their companies for years," he continues. "People with minimal account balances need just as much, if not more, advice and access to resources, in my opinion, than people with substantial capital. Initially, we were just doing it as a service, and then it became an integral segmented part of our firm."
When an individual comes to Benefit Concepts, Boychuck says the first step involves a discussion of the individual's concerns and issues. Then, there is an assessment of what the individual has already arranged on his or her own. By fact finding and exploring the client's individual needs, considerations and solutions will be offered for the individual to assess. "Before we even get into products, though, we look at a person's time horizon," he says. "We make certain that they're in the appropriate asset classification. We also ask the individual to describe what their needs and goals are, and their aversion to risk. As we sit and listen to them, often the product describes itself."
Because the process is focused on education and communication, the individual becomes a client with better knowledge of their investment decisions. Of course, the interaction with Benefit Concepts does not end upon the implementation of their investment choices. "We monitor and review everything," Boychuck says. "Clients hear from us about four times a month, on average. So that means they'll hear from us about 50 times a year, whether it's in the form of an email, phone conversation, on-site consultation in our office, or via newsletters that we send out."
While it is an involved process, the long-term benefits of the commitment to education adds so much value when you are thinking about sustaining a lifetime of retirement income. "One of the best compliments we've ever received came from a client who recently submitted his intent to take an early retirement. Like many of today's baby boomers, the client started his retirement savings later in life. However, by consistently monitoring and reviewing his decisions and product selections, he was able to realize that he had accumulated sufficient capital to provide a sustainable retirement income," Boychuck says. "He said he never in his lifetime thought he would be able to retire, and now he will be able to. It was cool to see his reaction, and then the reaction of my assistant. I told her, 'This is what we're here for.'"
The attention Benefit Concepts gives to each and every one of its clients has not gone unnoticed. For the past two years, the firm has been named a top-five finalist for John Hancock Financial Network's "Practice of the Year" award. "It is truly a compliment to what our employees do here," he says. "I am very proud of our firm."
As for advice to those currently wondering how to invest in today's tumultuous economy, Boychuck says that people should understand the difference between "investing" for their long-term future and "saving" for short-term utilization. "Historically, the best approach on long-term investing has been in the equities markets," he says. "Although past performance isn't an indication of future performance, when you take a look at the 86 years of the Dow Jones, the oldest equity index, over 70 percent of the time the index has seen positive gains and less than 30 percent it's had losses. In fact, gains of 12 percent or more have happened over 50 percent of the time. Losses of 12 percent or more have occurred less than 10 percent of the time.
"People also have to understand if we've seen five or six years of positive growth, there is an increasing likelihood of a down year," he continues. "People have to keep from reacting to that. There's a quote from Warren Buffett I like to tell people that says, 'Be fearful when others are greedy and be greedy when others are fearful.'" With careful planning and assistance from Benefit Concepts, you will be better prepared to make informed decisions regarding your retirement.
Benefit Concepts
304 N. Haddon Ave., Haddonfield
(856) 427-0020
BenefitConceptsOnline.com
Offering John Hancock Insurance Products. Securities & Investment Advisory Services offered through Signator Investors, Inc., Member FINRA, SIPC, a Registered Investment Advisor, 290 West Mount Pleasant Ave., Suite 2300, Livingston, NJ 07039. 973-994-0100. Benefit Concepts is independent of John Hancock and Signator Investors, Inc.. SMAR 37420131016
Published (and copyrighted) in South Jersey Biz, Volume 3, Issue 10 (October, 2013).
For more info on South Jersey Biz, click here.
To subscribe to South Jersey Biz, click here.
To advertise in South Jersey Biz, click here.