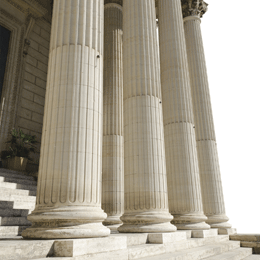 Guide To Attorneys
…A Special Advertising Section…
With legal reform both at the state and federal level, it's more important than ever to have a trusted lawyer at your side. That's why we went straight to the source to find out exactly what business owners should be keeping their eye on, from minimum wage increases and social media privacy to alimony reform and divorce.
"What, if any, legal reforms are under consideration that will impact business owners now and in the future?"
A reform bill dealing with alimony payments (A-3909) is currently working its way through the New Jersey State Assembly. Obviously, alimony payment is of interest to not only a business owner but also to non-owner employees of businesses. Alimony payments can be quite burdensome even if reasonably affordable. Sometimes key employees are compelled to seek employment elsewhere solely to increase their present income even at the cost of the future benefits of remaining with your company. Business owners themselves sometimes must sacrifice the desired level of reinvestment of company revenue to increase their own current income to make alimony payments affordable. This alimony reform bill technically eliminates 'permanent alimony' and creates a concept of 'indefinite' alimony keyed into a percentage formula based on years of marriage. This reform will eliminate some of the uncertainty surrounding alimony; however, it is far from perfect.
Ron Graziano, Esq.
Graziano & Flynn, P.C.
Cherry Hill
(856) 755-9800
GrazianoDivorceLaw.com
"What, if any, legal reforms are under consideration that will impact business owners now and in the future?"
"All LLCs should be aware that the New Jersey Revised Uniform Limited Liability Company Act will apply to all LLCs beginning March 1, 2014. It puts automatic operating concepts in place in the absence of you having an operating agreement, so talk to your partners about how you want to build an operating agreement so the government doesn't do it for you. Some of their rules can be fairly intrusive, so see your business lawyer."
Lynda L. Hinkle, Esq.
The Law Offices of Lynda L. Hinkle, LLC
Blackwood
(856) 227-7888
LyndaHinkle.com
"How can the divorce of a shareholder or partner affect a business?"
One of the silent culprits in the collapse of a business is a divorce by one of the shareholders, but there are two major steps to take to preserve a business in such an event. One is creating a buy-sell agreement which would govern the liquidation of a shareholder's stake. It needs to set forth what a shareholder will be paid for his or her shares and reflect both the value to the shareholder and value to the business. The other step is to consider entering into a prenuptial agreement before the marriage which would govern the ownership and value of any shares. Without one, the shareholder is opened up to legal and expert fees and the added issue of how to fund a buyout. Regardless of how an owner wishes to proceed, the owner should act with an eye toward preservation of the business. An experienced business attorney and/or a family law attorney should be consulted when dealing with these issues.
Ronald Lieberman, Esq.
Adinolfi & Lieberman, P.A.
Haddonfield
(856) 428-8334
SJFamilyLawyers.com
"What new laws in the state or federal level of government will affect business owners in the next year?"
A new state law in New Jersey regarding the boundaries between the workplace and life outside the workplace illustrates the broader challenges that social media and technology present for employers and employees. This law, A-2878, also known as "the Facebook bill," becomes effective Dec. 1. In general, this law prohibits an employer from requiring an employee or applicant to provide information such as a username or password to personal social media accounts. The law defines a "personal account" as one used "exclusively for personal communications unrelated to any business purpose of the employer." Although one might consider a Facebook, LinkedIn or other social media account as personal to him or her, the meaning of "personal account" under the new law is specific and limited.
Alan A. Reuter, Esq.
Nash Law Firm, LLC
Blackwood
(856) 228-2206
TheNashLawFirm.com
"What, if any, legal reforms are under consideration that will impact business owners now and in the future?"
New Jersey is considering raising its minimum wage. New Jersey residents will see a question on their ballot this Nov. 5, Election Day, that asks voters whether the state constitution should be amended to raise the current minimum wage $1 from $7.25 to $8.25 an hour and mandate future annual cost of living adjustments to that rate. The result to all businesses in New Jersey, if this ballot is passed, is that they could be facing costly wage increases every year going forward. In addition, because it would be a constitutional amendment, wage increases could be triggered even in tough economic times. In addition, on the federal level, President Obama has said he supports raising the federal minimum wage to $9 an hour. There is a bill pending in the Senate and the House, proposed by Democrats, to increase the federal minimum wage to $10.10 by the year 2015. These increases are likely to be supported by voters. Business owners can expect that minimum wage will be increased in the near future either under state or federal law.
Laura D. Ruccolo, Esq.
Capehart & Scatchard, P.A.
Mount Laurel
(856) 234-6800
Capehart.com
Published (and copyrighted) in South Jersey Biz, Volume 3, Issue 10 (October, 2013).
For more info on South Jersey Biz, click here.
To subscribe to South Jersey Biz, click here.
To advertise in South Jersey Biz, click here.