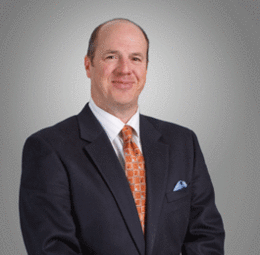 The Corner Office: Tony Mahon
If you ask Tony Mahon how long he's worked in the insurance industry, he'll say he used to type homeowner policies with carbon paper. "I've been in the business all my life," he says, and the joys that come with interacting with the public and helping them find their insurance solutions is what has kept him in it.
As the president of AJM Insurance in Mount Laurel, Hamilton Square and Haddon Heights, Mahon also serves as acting chair of the Burlington County College Foundation, where he's helped institute a successful internship program for students that pairs them up for co-op experiences all across South Jersey. His relationship with the college is very close to him, as his father was serving as freeholder director during the college's construction and his mother started the school's theater program.
We sat down with Mahon to talk about his experiences and how he believes there's always something to learn in the industry. He also shared how he likes to unwind at the end of the day, along with some hidden talents that just might surprise you.
What are the major challenges in your industry?
One challenge is the changes surrounding the health benefits field. The Affordable Care Act and its various requirements and funding mechanism can be quite daunting for the average business owner or business manager of a public entity. These challenges also bring opportunities. The customer as a matter of necessity needs to become a savvy consumer of health care. We have begun to offer many plans that put the power in the hands of the patient and the doctor with an eye on both treatment and the cost associated with it.
You've been with AJM for 20 years. How would you say you've grown during your time there?
When I first came to AJM, I was a young producer who thought I knew exactly how things should be done. I had been working for a large firm, McCay Corporation, and thought if the owners only would listen to me they would be so much more successful. What I know today is that I still have a lot to learn but I'm much wiser than the young man who came here 20 years ago. I've learned to take the cotton out of my ears and stick it in my mouth.
What are your short-term and long-term goals?
Short term is getting settled in our new office in Mount Laurel and continuing to enhance our service and sales staff. We shared the building at our previous location with four other tenants. Eventually, we had the whole building plus additional offices in the surrounding areas. We hope to have the same result at our new location. The long-term goal is simple: Grow 20 percent each year; double every five.
Describe your management philosophy.
We have a mission statement that discusses the three "P's." Proactivity, Persistence and Professionalism. Anticipate the client's needs, be unwavering in helping to meet those needs, and do it with class and dignity. Do those things and it's easy to put your head on the pillow at night.
What do you enjoy about serving on the BCC Foundation?
My roots run deep there. There is nothing quite like the feeling of helping a student who is faced with challenges. Helping him or her fund their education and get an internship opportunity is an experience that's not to be missed.
What else outside of work are you passionate about?
My family. My daughter is thriving in D.C. at American University but I'm a mess because I can't forget the little girl who liked to be sung lullabys. My son is searching for colleges now and any parent who has had that experience knows how hard it can be. He and I surf and the entire family skis and is generally very active. Something personal to me is theater. I studied it in college and perform with an ensemble cast at the Philly Fringe Festival. We have had sold out shows each year for the past six. It satisfies that creative passion I got from my mom.
Book recommendation. Raving Fans by Ken Blanchard. It's the absolute bible on how to turn customers into raving fans.
Little known hobbies. New one: CrossFit
Favorite TV show. Politically correct: 60 Minutes; Guilty pleasure: Breaking Bad
Published (and copyrighted) in South Jersey Biz, Volume 3, Issue 8 (August, 2013).
For more info on South Jersey Biz, click here.
To subscribe to South Jersey Biz, click here.
To advertise in South Jersey Biz, click here.