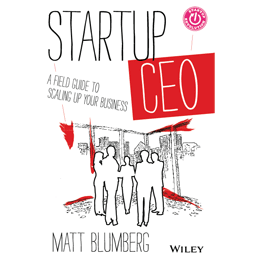 Office Space
On The Books: The Big Picture
How does what you do each day from 9-5 fit into the bigger picture of individual success, company growth, and even world politics? This month's books explore how you can achieve success personally and professionally and how it all relates back to the wealth of your country.
Startup CEO: A Field Guide to Scaling Up Your Business
A must-read for first-time and experienced CEOs, Matthew Blumberg, a startup CEO himself, describes what it takes to lead every aspect of a company, including the process of creating a vision and hiring the most talented staff. (Wiley, Sept. 2013, $29.95)
Die Empty: Unleash Your Best Work Every Day
Todd Henry's guide to making the most of the work day will teach busy professionals how to fulfill their curiosity, step out of their comfort zone, and contribute their most meaningful work before it is too late. (Portfolio Hardcover, Sept. 2013, $26.95)
Why Nations Fail: The Origins of Power, Prosperity, and Poverty
After 15 years of research, Daron Acemoglu and James Robinson reveal the politics that make or break a country's economic success using examples of the wealthiest and most impoverished areas of the world. (Crown Business, Sept. 2013, $17)
Office Supplies: Tech To-Go
We're not exactly stationary when we're working. Whether it's a business trip, making sales calls or conducting calls while on the road, we tend to be on the go and need certain gadgets to be just as fast-paced. Here are this month's picks to make the trip easier.
Portable Storage
With 1 terabyte of space, the Toshiba Canvio Slim II Portable External Hard Drive can keep all your Mac files in one place. Its slim and lightweight design makes this hard drive perfect for travel and allows all files to be shared from anywhere. ToshibaDirect.com, $149.99
Print on the Road
Brother's Pocketjet 6 Plus shrinks the common printer down to a portable size that can easily be carried in a briefcase. This printer packs a hefty punch with a 300 dpi resolution and features USB and IrDA interfaces, with optional Bluetooth. Brother-USA.com, $379
Charged and Ready
Charging your electronics becomes a little easier with the MyCharge Hub 3000. This compact piece can charge up to three devices at once with a built-in Apple Lightning and Micro USB cables and an USB port without needing to look for an outlet. MyCharge.com, $79.99
Crunching Numbers
$4.7 Million: Taxpayer money used to hire a politically connected PR firm to handle Gov. Chris Christie's "Stronger than the Storm" ad campaign—$2.2 million higher than the next bid. A North Jersey Congressman has requested a state probe of the issue.
7: Number of Camden County municipalities looking to combine the administration of individual police departments, an effort separate from the new Camden County Police Department
52%: The amount of manufacturers in southern New Jersey, eastern Pennsylvania and Delaware that expect an increase in business during the next six months, according to a survey from the Federal Reserve Bank of Philadelphia
25,000: Students anticipated to be enrolled at Rowan University within the next 10 years as a result of the school's Restructuring Act and Bond Act
Thirty-Eight: Number of soup varieties Camden-based Campbell Soup Co. plans to introduce during fiscal 2014
$43,000: Amount Medford Township is withholding from Mount Laurel's Parker McCay law firm after allegedly being overcharged from 2009-2011
778 tons: Reduction in carbon footprint made by Deptford's Ray Angelini, Inc. through the use of rooftop solar array systems over the last six years
$3,400: Amount raised by bicyclists from Flaster/ Greenberg in Cherry Hill during the 41st annual American Cancer Society Bike-a-thon from Philadelphia to Buena
15 miles: The length of the section of the Pennsylvania Turnpike that Marlton-based Hill International will provide construction management services for under a nine-year, $17.1 million contract
Published (and copyrighted) in South Jersey Biz, Volume 3, Issue 8 (August, 2013).
For more info on South Jersey Biz, click here.
To subscribe to South Jersey Biz, click here.
To advertise in South Jersey Biz, click here.