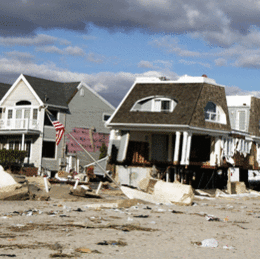 Active Disaster Response & Restoration
Prepared to get you back up and running whenever disaster strikes
After Hurricane Sandy hit our region last October, it wasn't until the water started to recede that we could really see the damage she left behind. Homes that weren't knocked down were practically underwater. Families returned to their shore houses to see what could be salvaged, business owners worried about their livelihoods. It seemed beyond repair.
One company that was called upon very early in the cleanup efforts for the Jersey Shore towns was Active Disaster Response & Restoration, a division of Active Environmental Technologies. Since 2010, this division has dealt exclusively with damage caused by water and fire, as well as mold remediation and hazardous spill cleanup.
Greg Davis, director of the disaster response division, says Active had previously assisted with damage caused by Hurricane Irene in 2011 and was prepared to immediately step in to assist homeowners and businesses clean up. "[Hurricane] Sandy was on a different level than Irene, but we saw everything across the board in terms of damage," Davis says. "But because we had assisted previously, we had the labor forces ready and the key was quick response."
Active had teams on site in shore points from Brigantine to Brick, cleaning and drying to mitigate the chance for any microbial—or mold—growth, which Davis says can occur within 24-72 hours. "This was especially important in homes that weren't necessarily damaged enough to require demolition. For those who had more minor water damage, mold growth could cause health effects like allergies if not remediated," Davis adds.
Of course, no home damage clean-up efforts are without a level of sensitivity. The owner of Active Environmental Technologies lost his own home to Sandy, so he knows first-hand how it feels to see possessions gone forever and the feeling of not wanting to be disturbed while sifting through memories. "Our crews get in there quickly and are conscious of making the process as painless as possible for the property owners," says Robert Iles, director, marketing & communications for Active. "Additionally, we know the red tape people have to get through when it comes to insurance claims and the stress it can bring on."
In fact, Active's roots stem from a history of contracting and insurance services. The Mount Holly-based company was founded in 1991 as an environmental contractor, handling commercial, residential and government projects. The company expanded to consulting and residential insurance restoration, developing relationships with the Department of Environmental Protection and large insurance carriers. Iles says, based on those relationships, Active entered into the disaster response arena because of its extensive experience dealing with insurance claims.
"We've seen clients who try to go through it themselves and they get hung up on the jargon. When you're trying to process an insurance claim, one missing piece of information can hold that claim up for weeks," says Iles. "We're on the side of the property owner; able to work with them to get all of the documentation they need, as well as assist in writing proposals to rebuild."
Davis says Active uses proprietary software to document everything they do, which includes logs of when the drying process started and ended. He'll provide certification that the structure is dry and prepare estimates for any repairs to be presented to the insurance carrier. "We'll act as a liaison between property owners and the insurance company to make sure they have all the information necessary to process the claim," says Davis.
Even if you're not dealing with an emergency disaster situation, Active can remediate any issues inside a living space, such as odor, and act as a resource for solving these problems. "Many people who manage property or work in real estate need issues cleared up quickly for a pending sale, and we'll work at a reasonable price to get the work done before a settlement date," says Davis.
Whether you have a leaky pipe under the sink, smoke damage or something as extreme as a flooded basement, Active Disaster Response & Restoration can supply the personnel and equipment to efficiently handle your issues, meaning there is less money you pay out of pocket for repairs and fewer headaches to deal with.
Active Disaster Response & Restoration
203 Pine Street
Mt. Holly
(609)702-1500
ActiveDisasterPro.com Published (and copyrighted) in South Jersey Biz, Volume 3, Issue 8 (August, 2013).
For more info on South Jersey Biz, click here.
To subscribe to South Jersey Biz, click here.
To advertise in South Jersey Biz, click here.