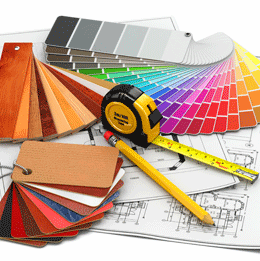 From Start to Finish
…Special Advertising Section from the pages of South Jersey Biz…
Whether you're looking to build, renovate or expand, there are a number of firms in South Jersey ready to tackle the project with you. From architects to realtors to contractors, rest assured you'll have plenty of support when you finally decide to take your next big step.
Elite Landscaping
Elite Landscaping is a full-service residential and commercial landscape design and installation company based in southern New Jersey. In addition to award-winning services for home owners, Elite also features a commercial division that provides services to property management companies, business owners, municipalities and homeowner associations. Their commercial services include lawn service, shrub and tree care, snow removal, irrigation installation and maintenance along with complete property maintenance.
The professional staff at Elite works with landscape architects, property and project managers to enhance the appearance of the site to make the most of the grounds and to enhance its beauty and value. Additionally, they work to make the most of a company's budget.
For more than 20 years, Elite has been creating beautiful surroundings for customers throughout the Delaware Valley. Their inspired designs and meticulous craftsmanship are on display with every project. As one of South Jersey's premier full-service landscape design and installation firms, they stand behind all their work, providing weekly or biweekly monitoring of their landscaped settings.
8 Pineview Ave., Berlin
(856) 753-1944
EliteLandscaping.com
GREYHAWK
GREYHAWK is an award-winning program, project and construction management and consulting firm providing comprehensive professional services to project owners and stake-holders. They specialize in providing value-added planning and preconstruction services, on-site project management, commissioning, LEED and energy savings project support, roof inspections, value analysis and CPM scheduling. GREYHAWK manages building projects and infrastructure development for government, education, health care, senior living, commercial, and private industry.
GREYHAWK also provides construction litigation support, claims management, dispute resolution and damage mitigation services. Their portfolio includes a wide range of public and private projects from sports stadiums to bridges, university buildings to high rises and factories to airports. GREYHAWK's reputation is built on clients' trust and the value they bring to each assignment.
224 Strawbridge Drive,
Suite 100, Moorestown
(856) 722-1800
GREYHAWK.com
RYEBREAD
Regan Young England Butera: Referendums, Engineering, Architecture, Design (AKA RYEBREAD) is a Mount Holly-based architecture/ planning/interior design firm that serves public- and private-sector clients for their renovations and expansions.
RYEBREAD knows that successful projects do not just happen. Successful projects are based on thoughtful analysis and careful planning, are designed to perform well and optimize limited resources, and come about when responsive architects/planners and informed clients join in a thoughtful, cooperative effort.
RYEBREAD is recognized for their creative design, knowledge of code, thorough construction documentation/administration, and a superior set of consultants, chosen on a project-by-project basis for a perfect "fit." RYEBREAD's office is centrally located near exits to I-295 and the NJ Turnpike, putting them minutes from most South Jersey locations.
RYEBREAD has been recognized as South Jersey's Best Architects by South Jersey Biz for the past three years.
456 High St., Mount Holly
(609) 265-2652
RYEBREAD.com
Jefferis Engineering Associates, LLC
Jefferis Engineering Associates (JEA) is a civil engineering firm based in Runnemede and licensed in N.J., Pa., and Del. JEA provides a wide range of professional civil/site engineering design and consulting services throughout New Jersey and the tri-state area to both private and public clients for all types of land development for educational facilities, governmental agencies, commercial/retail facilities, offices/banks, solar/renewable energy companies, senior housing/affordable/single family housing, churches, cemeteries, and industrial companies. JEA utilizes sensible and innovative design approaches, sustainable design strategies, and environmentally conscious design approaches to engineer practical and cost effective solutions for their clients. JEA's range and diversity of experience enable them to diligently and effectively perform the civil engineering services associated with your project. They strive to provide effective, quality services while focusing on the customer's immediate and future needs.
801 Orchard Ave., Runnemede
(856) 933-2005
JefferisEngineering.com
The Bloom Organization
The Bloom Organization recognizes tenants have a choice and not all landlords are the same. It's professional property management that sets the Bloom team apart in working closely with current tenants, prospective lessees and commercial real estate brokers. To current tenants, Bloom is a visible landlord—one with well-planned systems in place to ensure routine maintenance, building enhancements and timely responses. This is complemented throughout the year with a variety of helpful tips, service provider recommendations and occupancy-related information.
Businesses looking to lease in South Jersey will find The Bloom Organization has 3.5 million square feet of office and industrial space in Burlington and Camden counties. They own and manage buildings ranging in size from 1,000 to 115,000 square feet for companies of any size and industry. This diversity helps tenants expand or downsize as needed.
For commercial brokers, Bloom is a trusted landlord. Since 1945, they have been a leader in the local commercial real estate market. Knowledge, resources and expertise are complemented by financial stability, continuity of service, market expertise and quality construction—all attributes that make all the difference.
1300 Route 73, Suite 106, Mount Laurel
(856) 778-0300
BloomOrganization.com
Distinctive Wood Work, Inc.
Looking to create a new office environment or add value and style to an existing space in your home? Since 1995, Jim Cherubino and his experienced staff at Distinctive Wood Work, Inc., have been creating custom woodwork and millwork that will set your workspace or residence apart. From classic to contemporary styles, Distinctive Wood Work will design, manufacture, finish and install all of their projects. In fact, they can do anything you imagine, whether it be entertainment centers, wall units, offices, bars, trimwork, wainscoting, furniture and much more. They also offer a variety of different finishes including paint, stains, glazes, distressed, rub-through, crackle, etc. Distinctive Wood Work is available to assist you from start to finish and it is their pleasure to serve all your engineering and fabrication needs. If you can dream it, they can build it. Give them a call today.
70 Stacy Haines Road, Lumberton
(609) 714-8505
DistinctiveWoodWork.net
KAVI Construction, LLC
Established in 2006, KAVI Construction, LLC, was formed on one basic principle: "A solid team with a common goal and focused leadership will always achieve the highest levels of excellence." This principle is the cornerstone of every KAVI project.
KAVI Construction is a general contractor and construction manager for commercial projects, serving the South Jersey area. From permits to final occupancy, KAVI Construction manages the entire construction process. Pre-construction services include conceptual/budget estimating, site development, scheduling and lump-sum bidding.
KAVI knows that a construction project can be a stressful endeavor for an owner, but their approach fosters an enjoyable and exciting environment. The relationships formed are built on respect, commitment and solid performance and they maintain their relationships long after a project is complete. Your upcoming project will be in good hands with more than 30 years staff experience in South Jersey commercial building.
KAVI Construction is where quality, experience, trust and reliability come together to provide outstanding results for their customers.
50 Egg Harbor Road, Suite 16, Berlin
(856) 767-2491
KAVIConstruction.com
Surety Title Company, LLC
With 35 years of experience, Diane Ridgway of Surety Title began her career as a real estate agent, selling residential and commercial properties. She then worked in property management, mortgage lending and as a title clerk, enabling her to pursue a freelance career while raising her family. She made her full-time return to the industry 20 years ago as a title insurance sales executive and joined Surety in 2011 in her current position as a sales executive. Ridgway is an affiliate member of the Burlington Camden Board of Realtors and served as 2006 Sales & Marketing Council president for the Builders League of South Jersey. In 2010, she served on the Board of the National Association of Women Business Owners. Her diverse background serves her and her clients well in this ever-changing field.
1 E. Stow Road, Suite 100, Marlton
(856) 988-8900
Surety-Title.com
A.A. Duckett, Inc.
A.A. Duckett, Inc. serves complete HVAC/R needs of South Jersey's companies. For nearly a century, A.A. Duckett has been delivering an unparalleled level of service to its clients by never losing sight of its mission—to exceed expectations. As part of the Elliott-Lewis family of companies, A.A. Duckett provides HVAC/R mechanical service, design and installation; plumbing; backflow certification; facilities management; and energy management services to retail, office, industrial and commercial clients throughout South Jersey. Building professionals have come to rely on A.A. Duckett to provide them cost-efficient and creative solutions to their HVAC/R needs. You can depend on them to be there when you need them.
134 Maple Leaf Court, Glassboro
(856) 863-1919
AADuckett.com
Hutchinson Mechanical Services
The Hutchinson group of companies is a leading energy and mechanical services contractor servicing commercial, industrial and residential clients throughout the Tri-State Region for more than 65 years. Headquartered in Cherry Hill, the third-generation family business trades as Hutchinson Mechanical Services, Hutchinson Plumbing Heating Cooling, and Hutchinson Energy Services. Hutchinson's key offerings include: heating and cooling, plumbing, turnkey incentive-funded energy solutions, as well as Web Access Building Automation Systems and high efficiency HVAC and lighting upgrades. Hutchinson seeks out the latest strategies and technologies to help businesses and facilities reduce energy consumption and improve the bottom line. Hutchinson educates businesses about energy-saving rebates and programs, including two of New Jersey's most successful Clean Energy Programs – Direct Install and Pay for Performance. Hutchinson's factory trained, NATE-certified technicians are on-call 24/7/365 days a year.
621 Chapel Ave. W., Cherry Hill
(877) 777-4501
HutchBiz.com
Published (and copyrighted) in South Jersey Biz, Volume 3, Issue 8 (August, 2013).
For more info on South Jersey Biz, click here.
To subscribe to South Jersey Biz, click here.
To advertise in South Jersey Biz, click here.