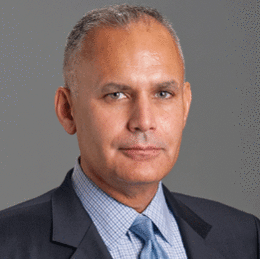 The Corner Office: Michael Munoz
Michael Munoz
Senior Vice President of Sales and Marketing,
AmeriHealth NJ
When AmeriHealth NJ opened its first office in Mount Laurel in 1994, it was a regional South Jersey health insurance company. But a strategic decision was made in 2008 to face the competition and go statewide. Michael Munoz, senior vice president of sales and marketing, says the investment paid off, as the company is now the only provider focused solely on New Jersey, offering the largest network in the state along with innovative plans and wellness programs for companies of all sizes. We talked with Munoz about what's next—health care reform—and what AmeriHealth NJ does to benefit both employees and employers, and promote wellness.
What's your outlook for 2014 as the Affordable Care Act rolls out?
There are definitely going to be challenges, but this new law is also going to create a very important level of awareness about health care and the options available. Small business owners in particular need to take the time to educate themselves by speaking with their broker and accountant to understand the impacts of the tax subsidies, and as a result help determine what strategy would work best for their business.
What does AmeriHealth NJ do to help educate both employers and brokers about the changes?
We regularly communicate with our employer and broker groups through face-to-face seminars and meetings, our monthly newsletter and email.
How does AmeriHealth NJ balance the needs of both the employer and employee when it comes to health care?
We are focused on offering affordability on both ends and are always looking for new ways to create programs to help individuals improve their health and well-being and help businesses improve their bottom line.
Do you think it's the employers' responsibility to promote health and wellness? And what can they do to promote it?
It's a combination of the two. Whether an employer chooses to promote wellness programs, it's ultimately up to the individual to make changes to improve their health and well-being. Employers who choose to offer our Commit2Wellness program have access to a variety of resources and benefit from onsite nurse-led health education, screenings and support to help employees work toward their health and wellness goals.
Are incentives offered to companies that do so?
Yes, there are incentives for large employers who engage their employees in our Commit2Wellness programs. Employees who participate in the program can earn wellness points for completing a variety of healthy activities. Wellness points can then be redeemed for debit or gift cards to a variety of retailers.
What do you think is a common misconception in health care?
The cost of health care; namely the association between employer premiums and provider rates. Rates are tied to the cost and utilization of benefits. The more services covered by a health insurance plan means more utilization of that health care plan.
How has AmeriHealth NJ been impacted by the economy?
We have seen an increase in late payments and a decrease in members going to their doctor.
In your role in sales and marketing, what do you do to promote brand awareness for the company?
Consumers are receiving information differently than they did five to 10 years ago, so we have focused on that trend. For example, we created a mobile app for our members, enhanced our social media efforts and placed kiosks in local malls.
What's the best business advice you ever received, or could give to others?
Nobody ever works for you, they work with you.
You're involved in multiple organizations. Is there one that's close to your heart?
I am especially proud to be involved with the CARES Institute. Child abuse is so prevalent in our society, but people don't like to talk about it. CARES makes a difference in the lives of abused children every day.
Little known hobbies: I used to be a DJ.
Favorite movie: The Godfather I and II (but not III)
Published (and copyrighted) in South Jersey Biz, Volume 3, Issue 7 (July, 2013).
For more info on South Jersey Biz, click here.
To subscribe to South Jersey Biz, click here.
To advertise in South Jersey Biz, click here.