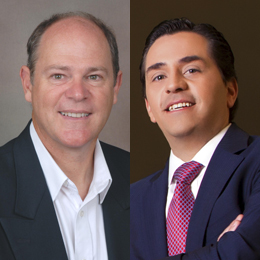 Conference Room: Online vs. In Person
Going back to school has never been easier thanks to the advancement of technology combined with the desire of local universities to cater their services to the needs of the 21st-century working professional. But the question does remain: Is there a considerable difference between an online education and one face-to-face in the classroom?
Ray Compari (pictured, left), Associate Dean and Director, Executive Education,
Rutgers University School of Business – Camden
"Good education, whether via the classroom or online, is good education. There are thousands of examples of highly effective learning occurring in non-brick-and-mortar settings. As society changes, influenced by easy access to information and connectivity through advances in technology, it seems unlikely that traditional classroom instruction will remain in its current form. Blended learning models are growing in acceptance among providers and students, models where students participate in traditional classroom sessions blended with online coursework and/or collaboration. Technology is also driving down the costs to deliver and participate in non-traditional education. The choice of obtaining education in a classroom versus in an online setting over the next five years will increasingly come down to cost vs. value."
Todd Lucca (pictured, right), Senior Vice President of Marketing and Business Development,
Drexel University Online
"Making the decision to pursue an educational opportunity online or in the classroom is a great step in the right direction. When a student is deciding between a virtual or on-campus classroom, it really comes down to their lifestyle and needs. Online learning provides working professionals the opportunity to earn an advanced education while continuing to develop their careers. Students are able to sit in on a lecture one evening and apply the lessons and research they just heard to work the next morning. We have students raising families, overseas on military deployment, or living all over the world. Pursuing your education online not only enables a person to work full time and attend school, it gives them access to a valuable degree program from a reputable school, without having to make a long-distance move or put their lives on hold."
Published (and copyrighted) in South Jersey Biz, Volume 3, Issue 7 (July, 2013).
For more info on South Jersey Biz, click here.
To subscribe to South Jersey Biz, click here.
To advertise in South Jersey Biz, click here.