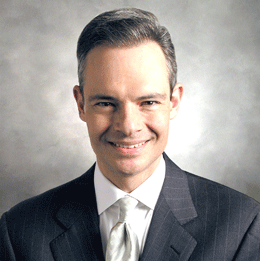 On the Move: July, 2013
Comings, goings, hirings, retirings and more in South Jersey.
Comings and Goings
Continuum Health Alliance in Marlton annouced Dr. Christopher T. Olivia (pictured) will join as the new president. Olivia previously served as the managing director of Philadelphia's Navigant, and will work with Continuum to develop its ambulatory service model.
Cherry Hill's Alloy, Silverstein, Shapiro, Adams, Mulford, Cicalese, Wilson & Co. hired several new employees. Christopher Cicalese, Scott Daroszewski and Owen Hoxie will join the firm as full-time accountants. Meanwhile, the firm promoted CPA Julie Strohlein to the position of supervisor.
Sun National Bank named Eileen F. McEvoy senior vice president and senior relationship manager of wholesale lending. McEvoy, who has more than 20 years of experience in commercial lending in the region, will manage and grow a portfolio of commercial loans for client companies in New Jersey and eastern Pennsylvania. Prior to joining Sun, McEvoy was a senior vice president and relationship manager for Citibank's commercial lending division.
Jacquie T. Huynh-Linenberg joined the regional law firm of Parker McCay P.A. as an associate in the public finance department. She is based out of the Mount Laurel office. Prior to joining Parker McCay, Huynh-Linenberg was an associate with PricewaterhouseCoopers LLP.
Praxis Data Systems, of Gibbsboro, announced the appointment of Laura Yackle as director of operations. Yackle brings 10 years of experience in business and technology operations and managing day to day processes such as financial and operational initiatives.
Jim Mullen was named vice president of Clinical Services for Kennedy University Hospital in Washington Township. In this position, Mullen will oversee the operational and clinical aspects of nursing and clinical operations. Mullen comes to Kennedy with more than 30 years of nursing and administrative experience. He most recently served as chief operating officer, chief nursing officer and senior vice president at Cooley Dickinson Hospital in Northampton, Mass.
Katherine Schleider was named vice president for clinical integration at Kennedy Health System. In this role, Schleider will oversee efforts to expand the community presence of the Kennedy Health Alliance (KHA), as well as Kennedy's strategic alignment with primary care Medical Staff. Since 2010, Schleider had served as corporate director of clinical integration for Kennedy.
Duly Noted
Our Lady of Lourdes Medical Center and The Heart House are participating in a clinical study to determine whether a patient's own adult stem cells are safe and can relieve chronic chest pain caused by coronary artery disease, as well as increase their ability to walk/exercise. The RENEW study, sponsored by Baxter Healthcare Corporation and endorsed by the FDA to support a Biologic License Application for investigational CD34+ cell therapy, is a Phase III clinical trial to test the safety and efficacy of CD34+ stem cells. The study is being conducted at only 50 sites in North America and will involve approximately 440 patients.
Robert E. Curley III, the South Jersey president of TD Bank, was awarded the 2013 Camden County College Civic Leadership Award from the Camden County College Foundation and Camden County College's Center for Civic Leadership and Responsibility. He was awarded for his charitable contributions in the area, specifically in organizations like the Camden County College Foundation Board of Directors, the Alicia Rose Victorious Foundation, and the Boys and Girls Club of Camden County.
The Board of Directors of the Assisted Living Federation of America (ALFA) named Brenda J. Bacon, the co-founder, president and CEO of Brandywine Senior Living in Mount Laurel, as the ALFA chairwoman of the board for 2013-2014. ALFA is a national association that works with professionally-managed, resident-centered senior living comminuties.
Terrence J. Murphy, vice president of client sales at Fiserv, Inc., was elected to a term on the board of directors of South Jersey Federal Credit Union. Murphy, a resident of Medford, has worked at Fiserv, Inc., a leading global provider of information management and electronic commerce systems for the financial services industry, since 1986.
Gerry Banmiller, president and CEO of 1st Colonial Community Bank, announced the promotion of Jason T. Haugh to vice president of Residential Lending. Haugh, who serves as senior residential lender, has been with 1st Colonial since 2009.
Jeremy Shackleford was been elected the 2013-2014 chairman for the board of directors of the Camden County Regional Chamber of Commerce. Shackleford, the retail executive for Susquehanna Bank's central New Jersey region, has served as the vice chairman for the past two years.
Capital Bank of New Jersey's Senior Vice President and Gloucester County Market Manager Joseph F. Rehm graduated from the American Bankers Association's Stonier Graduate School of Banking at the University of Pennsylvania's Wharton School of Business. He was also awarded a Leadership Certificate from Wharton along with his degree.
Parker McCay in Mount Laurel's shareholder Elizabeth M. Garcia was appointed to the position of treasurer of the Burlington County Bar Association (BCBA), while associate Breanne M. DeRaps was appointed to the BCBA's 2013-2015 Burlington County Young Lawyers Trustee. Attorneys George M. Morris and Carl Tanksley Jr. were promoted to counsel, with Morris focusing on municipal and government relations, public contracting and education, and Tanksley concentrating on school law.
For the second time in three years, Wells Fargo & Company is the U.S. Small Business Administration's (SBA) Large 7(a) Lender of the Year. The award recognizes Wells Fargo's leadership and role in driving our nation's economic growth as an SBA lender.
Thirty-one employees, family and friends from Conigent/Wodify of Haddonfield and CrossFit 1Force of West Deptford teamed up to sort and pack food for people in need at Philabundance in Philadelphia. Philabundance is the region's largest hunger relief organization providing food to more than 65,000 people each week through neighborhood distribution programs and a network of close to 500 neighborhood agencies.
PBF Energy, Inc. announced that its Paulsboro Refinery was recertified by the United States Occupational Safety and Health Administration (OSHA) as a Voluntary Protection Program ("VPP") Star Site, the highest recognition a company can earn for its industrial safety programs. This marks the second time that the Paulsboro Refinery has been recertified as an OSHA VPP Star Site, which was first awarded to the refinery in 2004.
ARI, a global fleet services provider specializing in complex car and truck fleets, announced it has acquired the fleet management segment of Fleetlevel+ Services GmbH's business holdings. The transaction is expected to close in August. The new company, which will be known as ARI Fleet Germany, supports ARI's continued development of a strong, strategic global footprint and will provide the company's clients with enhanced fleet management services and solutions in both the German market and in continental Europe.
First Bank, with locations in Ewing, Hamilton, Lawrence and Williamstown, announced that it has entered into a definitive merger agreement with Heritage Community Bank, headquartered in Randolph. The combined entity will have more than $500 million in assets with seven branches in three counties in New Jersey.
Published (and copyrighted) in South Jersey Biz, Volume 3, Issue 7 (July, 2013).
For more info on South Jersey Biz, click here.
To subscribe to South Jersey Biz, click here.
To advertise in South Jersey Biz, click here.