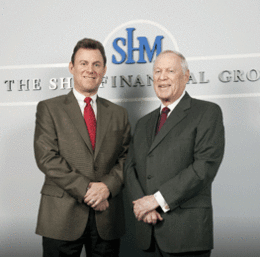 The SHM Financial Group
Providing certain economic assistance in uncertain times
Economic uncertainty is at the heart of many conversations these days. While politicians in Washington go back and forth, Americans are left wondering how their financial situations will be affected. Despite the uncertainties, Stanley H. Molotsky, founder, president and CEO of The SHM Financial Group, says the biggest thing people need to realize is that it's important to make sure you have a plan for your future.
Molotsky has been in practice since 1958 and founded The SHM Financial Group in 1970. Its team of financial advisors has more than 118 years of combined experience, and they have seen a lot change in the financial world in that time. The firm's comprehensive approach to investment analysis, asset protection and tax reduction is complemented with services that include insurance and long-term care and estate planning, and can help their clients through any amount of uncertainty.
"We are a multi-generational business and plan to remain of moderate size," Molotsky says. "This affords our clients the personal attention they deserve." The SHM Financial Group has no mandated product lines to sell, and clients are assured a customized plan to meet their needs. The firm takes pride in making unbiased decisions customized to each client.
The education of finance
The SHM Financial Group believes a more knowledgeable client is a more successful client, so education is at the core of the firm's mission. Throughout the year, Molotsky and his team present seminars to discuss relevant issues such as the economic outlook, best practices in stock market investments, planning income for retirement, and other innovative strategies. Clients are encouraged to contact the firm if they are interested in learning about its future seminars, which are complemented by an on-air and online program. "We help individuals navigate the complex financial world with useful advice and up-to-date information," Molotsky shares.
As the only South Jersey-based advisor with weekly radio shows on multiple stations, Molotsky is able to reach a broad audience and share valuable insight on a range of topics. The live broadcast is interactive and encourages people to call in and ask questions on topics that directly affect their lives. Each weekly opening of the show highlights varying topics relevant to current events and the market, including reverse mortgages, Social Security, economic outlooks and differences in various annuities.
The Molotsky Money Hour is live every Monday from 10 a.m.-11 a.m. on both 860 WWDB-AM and 1160 WOBM-AM, and on Sundays from 9 a.m.-10 a.m. on 860 WWDB-AM. The program can also be streamed through the Internet. "It is great to reach a broad range of listeners of all ages who are looking to assure a sustainable future for themselves and their families," says Molotsky.
What's on their minds
Now that we are well into 2013, Molotsky says there is no time like the present to consider your assets and your expectations for them. "As we move forward, further into 2013, and the various markets are doing what they're doing, now is the perfect time to take inventory and to make sure that your financial house is in order," Molotsky says. "Use this time to look back, see how your holdings have performed against how the market has performed, and think seriously about eliminating those things that have not performed as well."
Molotsky says now is also a good time to think ahead and prepare for the long term. "Economically you have to be prepared that at some point there is the probability that interest rates will be moving higher, and you need to think about how that will affect what you're planning to do," he says. "It might not be in the next couple of months, but it is inevitable down the road. You need to think about how this will affect your overall asset picture."
Molotsky surrounds himself with people that are equipped to help clients navigate the evolving economy, including his son, Lee, who is the managing partner of The Molotsky Tax Advisory Group LLC, a fee-based registered investment advisory firm.
During the past two years, SHM has also added personnel to its staff that are bringing new benefits to clients. Melvin Chilowitz, Esq., is an in-house attorney specializing in asset preservation; and Michael Semolonus will be beneficial to young professionals and those looking for small- to medium-sized business planning. Along with senior VP Josh Reisman, CRPC, The SHM Financial Group is poised to help clients discover assets they didn't know they had, such as home equity, and how they can be used to stay ahead in this economy. As the practice continues to grow, Molotsky says they continue to look for qualified, experienced individuals who can bring their skills to the team.
The financial stress test
A client's first visit to The SHM Financial Group is really like a two-way interview. As Molotsky says, "We interview clients but, more importantly, they interview us. Together, we need to feel there is a true fit."
Molotsky refers to this first meeting as a financial stress test: a complimentary review of a client's financial picture and current investments. The team discusses a number of key factors starting with the client's goals, objectives and risk tolerance.
"To provide the best possible advice, risk varies based on one's age, financial assets and debt, health and even marital status," he explains. "We look to get an overall assessment of the client's status and future needs."
Information gathered during the initial interview is analyzed and results are presented at a second visit. With well-thought-out customized recommendations in hand, clients have the details needed to determine if they'd like to move forward with The SHM Financial Group. "No matter who you choose as an advisor, it's important for people to know who the entity represents and that they are transparent, keeping your best interests in mind," Molotsky says. SHM is an independent, family-run small business, which gives its staff the ability to make unbiased decisions and nimble movements with the utmost transparency.
"We believe clients should visit us at least every six to nine months—just as they would a physician—and go over their portfolios," Molotsky adds. "Most importantly, our clients are encouraged to have high expectations. Their financial future is too important and they need to know we are here for them—now and for years to come.
We take a positive approach; yet with the state of today's economy, an exit strategy needs to be in place. Our goal at SHM is to ensure you do not outlive your money."
SHM Financial Group has three convenient locations in South Jersey. Its main office, the SHM Building, is located at 100 Richey Ave., Collingswood. The team also has offices at 1000 Main St., Voorhees, and 800 Route 70 W., Lakehurst.
For more information or to schedule a complimentary financial stress test, call 1 (800) MONEYSHM or 1 (800) 666-3974.
Or, visit them online at SHMFinancial.com.
Molot$ky on Money
The SHM Financial Group invites you to watch them on TV, Mondays at 7:30 p.m.
Verizon FIOS - Channel 19
DIRECTV - Channel 44
DISH Network - Channel 44/8165
Comcast - Channel 794
Published (and copyrighted) in South Jersey Biz, Volume 3, Issue 7 (July, 2013).
For more info on South Jersey Biz, click here.
To subscribe to South Jersey Biz, click here.
To advertise in South Jersey Biz, click here.