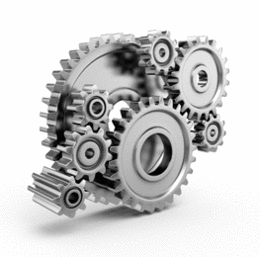 Partners in Business
There's a plethora of companies across South Jersey that can suit your outsourcing or consulting needs, whether you're a business owner looking for an IT upgrade or the best benefits package, in need of some legal advice or perhaps tracking down unpaid bills from clients.
Ancero
Relocation or new construction is the perfect time to switch to a Voice over IP system. Ancero's Utility VoIP service provides businesses a leading-edge phone system without the capital cost. Eliminate the past burden of an aging telephony structure dependent on costly maintenance and upgrades with a cloud-based hosted solution. From day one, a VoIP system delivers all the newest telecommunication features plus the "future proof" advantage of seamless future upgrades to your system without new capital equipment investments. The scalable infrastructure expands or contracts based on your needs—perfect for a growing business with remote users or multiple locations. Utility VoIP empowers your business with the right tools for increased productivity, collaboration, lower telecommunication costs and the ability to communicate smarter.
1001 Briggs Road, Suite 220
Mount Laurel
(856) 210-5800
Ancero.com
Benefit Concepts
At Benefit Concepts, they assist individuals and businesses in realizing their goals, offering guidance and support to clients—each with unique financial needs. They provide corporate qualified retirement plan design and support, full-service group employee benefits, and individual wealth creation and preservation strategies to meet the needs of business owners and individuals. By embracing a team approach, they ensure a wide breadth of experience is delivered, based on each client's individual needs. They believe a benefit plan and investments are only as good as the knowledge their clients have about them.
304 Haddon Ave.
Haddonfield
(856) 427-0020
BenefitConceptsOnline.com
C&H Collection Services, Inc.
In this economy, you need a solid long-term partner who can jump-start your recovery process without destroying long-term relationships. C&H will take the time to understand your customer, forge a relationship and help resolve their problems. That is the difference between the C&H Debt Resolution Approach and other collection agencies. C&H understands that their customers value the C&H Debt Resolution Approach to recovery because: their resolution approach leads to early recovery; their recovery rate beats the national average; their process provides predictable recovery and closure; their commitment is to retain and strengthen customer relationships; and their technology gives you real-time status reporting. C&H Collection Services even succeeds where other firms have not and they will take second- and third-tier collection recovery assignments. Since 1989, C&H has been serving the collection needs of health care and large and small businesses. Reach out to them for affordable collection resolutions without risking your reputation.
3 Executive Campus, 2nd Floor
Cherry Hill
1 (800) 308-4357
CHCollects.com
DLC Technology Solutions, Inc.
Businesses just need their technology to work. But more than that, they need information technology partners who are professional yet personable, understand the business impact and respond with a sense of urgency. Even better, the ideal partner should understand your business and anticipate your needs. DLC and its principals have been providing world-class IT services to businesses for decades. With a best-practices approach and a breadth of technology expertise, DLC provides service excellence in IT that most small businesses haven't seen before. And with DLC's flexible pricing and package terms, the solution becomes painless. Call to find out more about DLC – Enterprise Class IT for your small business.
775 Route 70 E., Building F-160
Marlton
(856) 983-2001
DLCTechnology.com
GCV PRODUCTIONS
GCV Productions is a full-service video production company. Their goal is to enhance the image and communication capabilities of their clients, utilizing the combined elements of video, audio, motion graphics and interactivity that is targeted to reach your customers, on time and on budget. With a balanced understanding of technical skills, a true passion for the art, and an excellent marketing sense, their dedicated staff and creative artists have extensive backgrounds in creating hundreds of innovative, dynamic and effective productions. GCV understands how important your business is to you. Their creative professionals will work with you to create an exciting production that will grab the attention of today's busy and discriminating viewers—your customers.
5 Kelly Drivers Road
Laurel Springs
(856) 504-3025
GCVisual.com
Graziano & Flynn, P.C.
Specializing in divorce/family law, employment law, business/commercial litigation and personal injury, Graziano & Flynn, P.C. represents individuals and businesses in South Jersey and Pennsylvania. With a combined 40 years of experience, their attorneys are fully qualified and experienced to handle your case. Your case will be handled directly or supervised by a lawyer who was a "certified civil trial attorney" for more than 20 years. This is a title designated by the New Jersey Supreme Court to fewer than three percent of all lawyers in New Jersey. Their firm founder, Ronald A. Graziano, is also an AV rated attorney, which is the highest rating available under Martindale Hubbell's Peer Review Rating process. As a small firm, Graziano & Flynn, P.C. can meet the specific needs of each client with personalized attention while using big firm experience to reach the best outcome.
1040 N. Kings Highway, Suite 650
Cherry Hill
(856) 755-9800
GrazianoDivorceLaw.com
Line Systems, Inc.
Line Systems, Inc. (LSI) is a full-service, integrated communications provider. With a complete line of voice, data and cloud solutions, as well as national and international networking capabilities, LSI helps companies located in the Mid-Atlantic region expand their presence and leverage their communications technologies as a competitive advantage. LSI, in an expanding MSP model, also offers comprehensive IT consulting services to fit all of your networking needs. These services include: LAN/WAN integration; LAN review, assessment, overhaul and support; managed VPN; Security Cloud—Web and email content filtering; device protection—endpoint, wireless or webserver; and data center and disaster recovery. Contact them for more information about their information technology services, or about voice, data and cloud solutions.
Locations in Voorhees, N.J. and West Chester, Pa.
(855) 733-1000
LineSystems.com
Telecorp, Inc.
Founded by Tim Jennings in 1998, Telecorp Inc., continues to follow its mission to provide and integrate communication systems for small- to mid-size companies. Offering managed IT services, carrier services, telephone systems and hosted services, it has always been Telecorp's goal to provide superior service in order to meet or exceed every customer's expectations. As an authorized dealer for some of the most technologically advanced manufacturers such as Vertical, Samsung, Avaya, HP and Dell, Telecorp also offers the best in carrier services, partnering with names such as LSI, Netcarrier, Windstream and Verizon. Located in Woodbury, Telecorp is proud to celebrate their 15th year in business and would like to thank all of their customers, clients and friends for their continued support over the years.
1535 Gateway Blvd.
Woodbury
(856) 384-6000
TeleCorpInc.com
USAPhone.com
USAPhone.com is a communications installation, service and consulting firm headquartered in Cherry Hill. Founded by Gregory Gutos in 1981, the company provides PBX and Hosted VoIP phone systems to businesses in both SMB (3-499 users) and enterprise-level (500 + users) markets. USA Phone begins its process with an ROI review to determine clients' current voice and data operating costs and configurations and a review of client requirements. The company then prepares a plan to reduce cost and improve service by removing old technology and upgrading to improved, cost-efficient technology. Hosted cloud-based service is where technology has gone. In 2013, consider a quote to lower your monthly cost by trading in your old phones for smart IP phone technology.
1790 Route 70 E.
Cherry Hill
(856) 761-1000
USAPhone.com
Xtel Communications
From initial contact to signed contract, communications play a vital role in attracting and retaining a solid customer base. Xtel, an established regional facilities-based telecommunications leader, has been providing custom communication solutions to New Jersey businesses of all sizes since 1994. Xtel's full array of telecom and Internet services gives you all the tools you need to keep the conversation up and overhead costs down. Their fully redundant data center, located in Philadelphia, uses the latest in digital switching and fiber optic technology, allowing them to provide 10MB to 1GB Ethernet, WAN, Hosted IP PBX, SIP trunking, MPLS, and cloud-based services. Maintaining and constantly investing in their own facilities ensures their customers enjoy reliable service at significant savings.
10 Lake Center Executive Park, Suite 106
401 Route 73 N.
Marlton
(800) 438-9835
Xtel.net
Published (and copyrighted) in South Jersey Biz, Volume 3, Issue 7 (July, 2013).
For more info on South Jersey Biz, click here.
To subscribe to South Jersey Biz, click here.
To advertise in South Jersey Biz, click here.