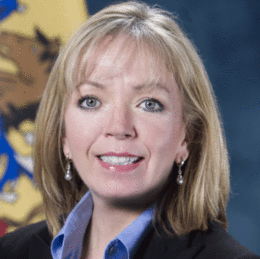 Corner Office: Michele Brown
Michele Brown
Chief Executive Officer,
New Jersey Economic Development Authority
When we have questions about the state of the economy, we go straight to the source: Michele Brown. As CEO of the New Jersey Economic Development Authority, Brown is charged with helping connect startups and established businesses alike with the myriad of loan opportunities available. We talked with Brown recently about the position—a role she began in 2012 after serving as appointments counsel to Gov. Chris Christie, plus 18 years in the Attorney General's Office—and about the successes she's seen so far in carrying out the EDA's mission.
What do you consider some of your early accomplishments?
I am proud that the EDA was able to launch the first of its business recovery programs—the Stronger NJ Business Grant Program—just two days after the U.S. Department of Housing and Urban Development (HUD) approved New Jersey's Community Development Block Grant (CDBG) Disaster Recovery Action Plan. The plan paved the way for New Jersey to receive its initial $1.83 billion in federal CDBG funding to rebuild damaged housing, restore infrastructure, and stimulate business activity and job growth. Gov. Christie called on the EDA to administer $460 million of the CDBG allocation to support our storm-impacted businesses and communities. As part of this effort, EDA is launching a series of Stronger NJ Business programs, including the grant program, which launched on May 1. Under the program, small businesses and non-profits that sustained at least $5,000 in storm-related physical damage can apply for grants of up to $50,000 per impacted location.
Looking ahead, we are set to launch the next business recovery initiative, the Stronger NJ Business Loan Program, in July. The program will offer direct, low-cost loans of up to $5 million to businesses and non-profits that suffered physical damage, as well as to businesses looking to expand within storm-impacted communities.
What do you think the biggest cost is facing business owners today?
In any business, labor, materials and other operating costs, including utilities and real estate, are always the most significant. To be successful and remain competitive, companies need to be efficient in production; with our well-educated workforce and ideal location, New Jersey businesses tend to be very successful in meeting this objective.
Why is New Jersey so ideal?
New Jersey has become a pro-investment state that is responsive to the needs of the business community. By establishing a more favorable tax climate and a common-sense regulatory process, New Jersey is successfully fostering the growth of key industries, and businesses once again have optimism and faith that our state is a place they can thrive.
There are a lot of large corporations the EDA has helped sway in North Jersey, but what are some South Jersey success stories?
Burlington Coat Factory broke ground on its new headquarters in Florence, which will accommodate the company's existing staff of over 620, as well as 120 new, full-time employees. A Grow New Jersey award helped encourage the company to keep its facility in the state over competing locations in Pennsylvania. With the help of the Business Employment Incentive program (BEIP), Everite Machine Products Co. moved its headquarters and 100 employees from Philadelphia to Pennsauken. Everite is a world leader in advanced electrochemical grinding and machining technology. The new global headquarters houses the company's manufacturing and assembly operations. A Sovereign Bank loan and EDA participation through the Statewide Loan Pool Program, as well as a BEIP, encouraged BK Specialty Foods to relocate its headquarters from Philadelphia to Logan. The food distributor expects to create more than 50 new jobs. In May, the EDA provided a working capital loan to Coriell Life Sciences, a new, for-profit spin-out of the Coriell Institute for Medical Research. The company is expected to create a total of 26 new jobs in the city and is considering leasing space at the EDA's Waterfront Technology Center at Camden.
Describe your management philosophy.
Decide, empower, hold accountable
What's the best business advice you ever received, or could give to others?
Don't dwell in the rearview mirror.
Published (and copyrighted) in South Jersey Biz, Volume 3, Issue 6 (June, 2013).
For more info on South Jersey Biz, click here.
To subscribe to South Jersey Biz, click here.
To advertise in South Jersey Biz, click here.