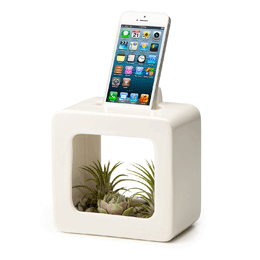 Office Space: June, 2013
Office Supplies: Added Amenities
There are offices, and then there are offices. You know, the places with the coolest accessories that make you wish you worked there. No worries: Here are a few products we think would take any office from ordinary to extraordinary.
Multipurpose
A lively round of pingpong can get anyone's creative juices flowing, and since this table can quickly convert to a conference table—we love the hidden compartments for game essentials and meeting materials—it's business-minded and fun. Poppin.com, $2,900
Multifunctional
Coffee is a hot commodity, but with this machine, five flavors can be made either hot or cold. We're willing to bet even the non-coffee drinkers will get behind this works-at-the-touch-of-a-button wonder. Bunn 5-Flavor Hot/Iced Beverage Dispenser Silver Series Plus, $2,336.95
Multifaceted
Not only does this Bloom Box (pictured) allow you to charge your phone—while you're transcribing meeting notes or listening to music—but it also amplifies music and affords a space to grow a little garden. With so many amenities, we may never want to leave our desk. Uncommongoods.com, $60
On the Books: The 'New' Consumer
This month, we take a look at the largest driving force of your business: the consumer. These new titles focus on how to reach and understand your customers on a whole new level based on new and evolving marketing strategies.
Marketing to Millennials: Reach the Largest and Most Influential Generation of Consumers Ever
Jeff Fromm and Christine Garton discuss how to market to this ever-important generation, the consumers of today and the future, by focusing on social media marketing and customer involvement. (AMACOM, July 2013, $24.95)
Laddering: Unlocking the Potential of Consumer Behavior
Eric V. Holtzclaw's book unlocks the key to the new rules of marketing by teaching businesses how to understand the new consumer, who is more involved than ever, and what drives them to make the decisions they do when choosing a product or service. (Wiley, July 2013, $27.95)
True Story: How to Combine Story and Action to Transform Your Business
This enlightening book by Ty Montague focuses on the old style of "storytelling" marketers, giving your customers a story about you and your product, versus the new style of "storydoing" marketers, providing a story through action, and how to apply it to your company. (Harvard Business Review Press, July 2013, $27)
Crunching Numbers
$93 million: Gross sales generated in 2012 by Plum Organics, a California-based baby food and snacks company that Campbell Soup Co. just acquired
30,000: The number of sources in RFP Watch, a daily e-mail service outlining public and private business opportunities in the state, launched this month by Choose New Jersey, a Princeton-based nonprofit that acts as the state's corporate recruitment arm
$8.25: The amount minimum wage could be changed to—up from the current
$7.25: —if voters approve in November to amend the wage in the state constitution, and then adjust it annually based on the cost of living
55 percent: Number of New Jerseyans who say they pay off their credit card debt each month, according to the Financial Industry Regulatory Authority's investor education arm
11 miles: Distance from Ocean City that Fishermen's Energy placed a test buoy for their potential wind farm which, with five turbines, would power 10,000 homes
Published (and copyrighted) in South Jersey Biz, Volume 3, Issue 6 (June, 2013).
For more info on South Jersey Biz, click here.
To subscribe to South Jersey Biz, click here.
To advertise in South Jersey Biz, click here.