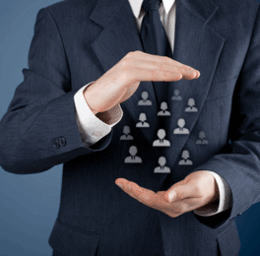 Guide to Employee Benefits and Staffing
…Special Advertising Section from the pages of South Jersey Biz…
The main costs facing any business owner are benefits and payroll, making the effects of the pending Affordable Care Act all the more important. Companies need to get creative when it comes to choosing benefits packages that'll attract the right employees as well as finding the best staffing fit that will maximize resources and reach. But if you ask these experts, it just might be easier than you think.
What are the newest trends in employee benefit packages today?
I really believe that employers are waiting until they maneuver all the nuances of the Affordable Care Act. This is where their focus is right now. This will let companies know whether the ACA is really going to save budget monies and if there are then monies in the budget for other benefit offerings. Employers are presently working on understanding the legal requirements and what changes in policies they will need to make. There are also decisions on whether or not to even offer health coverage. I think companies aren't making many changes to benefit packages because of the focus on ACA. However, for companies with less than 50 employees, their focus is different. Their focus is on low- or no-cost additions to benefits such as voluntary benefits that are employee funded. Also, wellness programs are more popular today than ever. Wellness programs have a direct impact on attendance and productivity; absenteeism drops with a well-run wellness program. These can also be low-cost to the employer.
Christine M. Schaefer
CEM HR Strategies, LLC
Maple Shade
(856) 665-5770
21stCenturyHR.com
What is the biggest advantage of using a payroll company as opposed to using in-house staff to provide this service to a company?
Using a payroll provider can save both time and money. It is tedious for employers to keep up to date with changes in federal and state tax laws and filing requirements, so with a provider, business owners and staff are instead able to utilize their valuable time to engage in revenue-generating activities. Also, hiring a bookkeeper or payroll specialist can be expensive. Employers have the additional salary and incur the cost of training, supplies and maintaining software. They also run the risk of late payments and incorrect tax filings, which can lead to costly penalties. Payroll companies provide expertise in calculating and paying taxes and managing filings. They are trained and experienced professionals who are dedicated to staying up to date with ever-changing tax laws that could affect your payroll.
Linda J. Colacicco
Abacus Payroll, Inc.
Cherry Hill
(856) 667-6225
AbacusPay.com
What benefits may be important to my employee but won't cost our company a lot of money?
Offering financial services through a credit union is a unique benefit that employers can provide to their employees at no cost. Today's employees are looking for benefits that not only simplify their busy lives but also ones that can enrich their quality of life. Credit unions can improve the quality of your employees' lives by encouraging healthy savings programs, offering low rates on loans and time-saving financial services. By partnering with a credit union, employers will be able to offer a valuable tool to help employees manage both their money and their time.
Lisa Fisher
Campbell Employees Federal Credit Union
Headquartered in Cherry Hill
(856) 486-3279


How will my company better compete in the marketplace by offering unique employee benefits to capture the best employees in the marketplace?
One way employers may better compete is to consider participating in a private benefits exchange. Many private exchanges give the employer the opportunity to choose the most competitive health insurance carrier and couple it with a vast menu of other voluntary benefits. Because of the purchasing power of the exchange, the employer may be able to offer an assortment of other benefits that they were unable to offer due to their group size or the administrative burden. This unique approach may help the employer control costs and ease administrative issues while creating a diverse menu of benefits to better fit the needs of their employees.
Amy R. Webb
Saratoga Benefit Services, LLC
Moorestown
(856) 642-2949
SaratogaBenefits.com

What steps/measures should business owners be taking to prepare themselves for the upcoming changes with health care reform?
The Affordable Care Act is a major concern for many business owners. It has never been more important to be working with a broker who understands the law and disseminates that information timely and accurately. Next year will bring about some changes that employers need to address now. Most importantly is the determination of "small" or "large" employer status based on the number of full-time and full-time "equivalent" employees. This has a direct impact on the employer's responsibilities on offering health insurance coverage and the possible penalties involved. The total cost of employer-sponsored health insurance and any additional employer funding of deductibles and coinsurance needs to be reported on the 2013 W-2 for all businesses regardless of size. The waiting period for health insurance cannot exceed 90 days in 2014. Some employers may need to adjust their procedures and employee handbooks to comply with this. The implementation of health care reform is an ongoing and ever-changing process. Employers need to be informed in order to remain compliant.
Anne Boychuck
Benefit Concepts
Haddonfield
(856) 427-0020
BenefitConceptsOnline.com

How can a business measure the return on investment when using staffing to save company resources?
Evaluating the ROI may not be easily quantified in dollars and cents. It is easy to be penny wise and dollar foolish when hiring without the professionalism and skill of staffing specialists. The ability to flex-up and flex-down the workforce during peak workloads or projects is of great value to many customers. When customers need products shipped fast and out of the warehouse, getting a team of good workers is important. In small companies, the value can best be measured in terms of the time it takes someone away from revenue-producing activities in order to place ads, screen resumes and candidates, and conduct initial interviews. Do I have the talent to conduct good solid interviews and make the right selection? What about turnover? How quickly can I replace people that leave? What staffing functions might I outsource to make my team more effective? These are questions a company should ask themselves to warrant a call to the staffing professionals.
Roy Fazio
The Protocall Group
Cherry Hill
(856) 667-7500 ext. 1256
ProtocallGroup.com

Published (and copyrighted) in South Jersey Biz, Volume 3, Issue 6 (June, 2013).
For more info on South Jersey Biz, click here.
To subscribe to South Jersey Biz, click here.
To advertise in South Jersey Biz, click here.