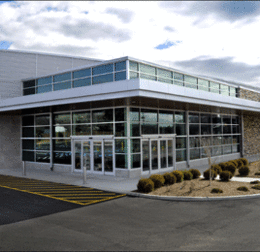 LourdesCare at Cherry Hill
Lourdes Health System: New LourdesCare at Cherry Hill facility is a hub for cardiac care
Lourdes Health System
1600 Haddon Avenue
Camden, NJ 08103
Phone: (856) 757-3500
Web: LourdesNet.org
Top Executives: Alexander Hatala, President & CEO; Kimberly D. Barnes, VP Planning and Development; Joanne Gianndrea, VP Operations
Products/services: Health care system including two hospitals: Our Lady of Lourdes Medical Center in Camden and Lourdes Medical Center of Burlington County in Willingboro
No. of NJ employees: ??
Year founded: 1950
Choosing a hospital is no simple task. Besides considering the qualifications of the medical professionals on staff and the reputation for care, many people are beginning to look at how hospitals are adapting to the evolving health care system overall. One of these factors is access to medical services in an outpatient setting that is closer to home. Described as ambulatory care, these centers are becoming increasingly popular offerings from large hospital networks.
LourdesCare at Cherry Hill is the latest ambulatory care addition to the Lourdes Health System. Set to open in March 2013, the highly anticipated 54,000-square-foot facility was recently completed at the intersection of Route 70 and Brace Road. According to Lourdes President and CEO Alexander J. Hatala, the site is an excellent geographic location for patients in the community as well as physicians that will be supporting the medical center.
Approximately 100 employees and physicians are on staff at at LourdesCare at Cherry Hill, which will be the primary location for Lourdes' nationally recognized cardiology services. It is a one-stop shop for services including general radiology, diagnostic testing, cardiac rehab and physical therapy. Sports medicine, orthopedics, surgery and other metabolic specialties will be offered as well.
The construction of the facility is a welcome sight for many residents in Cherry Hill as the former building sat empty for years. "Cleaning up this highly visible lot and building an asset that will serve the community well is an added benefit to our mission to enhance our care options," says Hatala. "We are happy to help boost the economic vitality of Cherry Hill and the surrounding areas through this valuable addition."
A mainstay in the South Jersey medical community for more than 60 years, the Lourdes Health System continually strives to provide the highest quality of care possible. HealthGrades ranked Lourdes No. 1 in New Jersey and among the top 100 hospitals nationally for overall cardiac services in 2012. It also received the HealthGrades Patient Safety Excellence Award in 2012. Our Lady of Lourdes Medical Center in Camden has also been named as a U.S. News & World Report "Best Regional Hospital" in the Philadelphia Metropolitan Area for two years in a row.
Hatala sees the development of outpatient care facilities as the future of health care. Cherry Hill will join the already functioning LourdesCare at Moorestown and LourdesCare at VanSciver, and Specialty Practices center in Moorestown, and a similar facility in New Hanover is in the works. "As health care reform moves forward, there is greater incentive to restructure from the ground up," he says. "Centers like this will drive value for the health care system and make a difference in terms of reducing cost of care. Ambulatory facilities are more convenient and give patients the ability to be home while coming in for treatments without requiring an expensive overnight stay at a hospital. The quality and dedicated care given at these centers really does improve the patient experience—as well as the wellness of the entire Lourdes Health System—overall."
Hatala adds that it's not just people receiving treatment at these centers who are finding them convenient and beneficial. "Business owners that contribute to their employees' health care coverage will also find outpatient settings a better value, and it ultimately reduces the time an employee would spend out of work," he says. "Our goal is to keep the population healthy and these centers help us achieve that."
In addition to Lourdes' growing ambulatory services, Hatala noted the recent opening of Living Springs at Lourdes, a renewal and and resilience center for service women at Lourdes Medical Center in Burlington County. Living Springs at Lourdes is the only private inpatient unit on the East Coast providing behavioral health care focused on women in our military, and there are only a handful of units like it in the country. "An increasing number of women are serving in the field of combat. The goal of the unit is to improve access to care for women and provide treatment for post-traumatic stress disorder, drug and alcohol abuse and other health issues," says Hatala. Lourdes Burlington has a longstanding, well-regarded behavioral health service. Patients will benefit from a comprehensive treatment program that includes individual counseling and group therapy, as well as holistic treatment approaches such as pet therapy and recreation therapy.
"These women have put their lives on the line and are now reintegrating back into society and the working world. We have seen an overwhelming response from local businesses who want to help these veterans find good jobs, and we're honored to provide this service to get them on the right track." Lourdes Health System is poised to be at the forefront of the ever-evolving health care industry. "We are very excited about these projects," says Hatala. "They will help to form a truly integrated continuum of care, from the doctor's office to the outpatient center to the hospital."
Published (and copyrighted) in South Jersey Biz, Volume 2, Issue 3 (March, 2013).
For more info on South Jersey Biz, click here.
To subscribe to South Jersey Biz, click here.
To advertise in South Jersey Biz, click here.