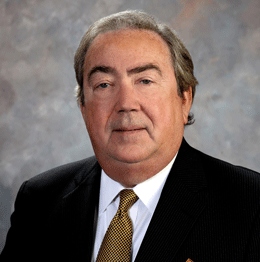 Corner Office: Gerard Banmiller
Gerard Banmiller, President/CEO
1st Colonial Community Bank
Gerard Banmiller founded 1st Colonial Community Bank in 2000 after working for a large-scale banking institution. He saw what worked, and he saw what didn't work—lessons he carried over into his own organization. Since then, 1st Colonial has achieved an asset size of $300 million and recently underwent a name change—from 1st Colonial National to 1st Colonial Community Bank—as state chartered banks tend to be more community oriented, he says.
Banmiller recently spoke with South Jersey Biz about how listening to the needs of customers drives the company toward success—and why not carrying a cell phone or using emails helps him to be a better leader.
How has your company handled the ups and downs of this economy?
Significant fluctuations in the economy should not be a revelation to a banker. We should be able to see variations coming just by listening to our customers and their good and bad news.
Where did your path to leadership begin?
At Villanova, I received an undergraduate degree and furthered my education in the study of banking at the Graduate School of the University of Wisconsin. I took employment with Girard Bank—a great, stable bank that didn't take risks unnecessarily. After that, I worked for Midlantic and Florida National. Recognizing that large banks were making mistakes believing that they were too big to fail, I organized my own bank, 1st Colonial, in May of the year 2000, bringing with me the positive and negative lessons learned in the large bank culture.
What are your short- and long-term goals?
Overall, both short-term and long-term goals are to maintain our stature as a community bank and resist falling into the large bank syndrome, which is impersonal and non-responsive banking.
How do you ensure your clients' needs are met?
No one knows their business better than the owner or manager of the particular enterprise. I listen to their concerns, try to understand their challenges, and within the context of prudent banking, give them what they need.
What makes 1st Colonial unique?
1st Colonial's responsiveness to its customers sets us apart from other banks, especially large area banks.
What's the best business advice you could give to others?
If you don't like what you do … quit. When you enjoy your job, you bring a level of energy and intelligence to it in which everyone benefits.
What are the major challenges in your industry?
The major challenge to banking is overregulation by the government. Large government and large banking are the twin evils that will harm any business. Smaller community banks will soon have to combine in order for them to maintain any level of responsiveness to our customers. I have to continue to explain to the community and our customer base that they should maintain relationships with community banks.
What's the best part of your job?
Hiring qualified personnel and encouraging them to have the same level of energy and excitement about accommodating our customers.
If you had to give one key to success, what would it be? Never, never give up. Don't accept defeat.
What gadget can't you leave home without?
I am not a gadget freak. When I see bank presidents and senior officers walking around with two cells phones and their iPads, it distresses me. I do not carry a cell phone; I do not own an iPad. I have never originated an email in my life. Key members of my staff communicate electronically for me so that I can focus and concentrate on what I do best, and that's help customers in their business success. If you want to be a computer geek, go to work for Apple.
What do you like to do to unwind at the end of the day?
At the end of the day during the summer, I hop in the pool and swim like Johnny Weissmuller to release my stress. During the winter, I read and workout in my exercise room.
Book recommendation: Any book by Alistair Cooke.
Little known hobbies: I take a lot of trips and engage in big game hunting. My favorite location is Northern Saskatchewan for giant breed deer. This year I was fortunate enough to bag a 13-point, 260-pound buck.
Favorite TV show: I enjoy watching Fox News to see that there is an alternative to the propaganda put out by the networks.
Published (and copyrighted) in South Jersey Biz, Volume 2, Issue 2 (February, 2013).
For more info on South Jersey Biz, click here.
To subscribe to South Jersey Biz, click here.
To advertise in South Jersey Biz, click here.