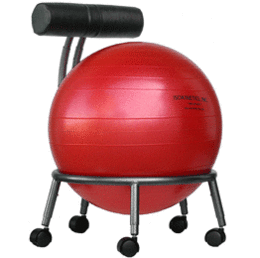 Office Space: February, 2013
Office Supplies: Work it Out
In a busy world—let alone during the winter—who has time to exercise? Well, with these gadgets that help keep you fit while on the job, the answer is everyone.
Speed Walk
Did you know you're supposed to walk 10,000 steps a day? This pedometer keeps a seven-day history and resets itself at midnight automatically. With a clock and battery that can last for six months, it'll make you more conscious of your fitness in your day-to-day routine. Omron HJ-112 Digital Pocket Pedometer, $24.79
Play Catch Up
A durable holder for a laptop or iPad, SurfShelf connects easily to most treadmills, letting you concentrate on other things—think catching up on emails or working on presentations—while exercising. SurfShelf Treadmill Desk: Laptop and iPad Holder, $59.95
Sit Straight (pictured)
This fitness chair that works out the core muscles while you sit at work lets you improve balance and posture, and may prevent back injuries. It also comes in multiple colors. Isokinetics Inc. Fitness Ball Chair – Adjustable, $84.98
On the Books: A Change of Pace
Times have changed the global market, and business has changed its tactics in order to survive in this brave new world. Here is the latest selection of new releases to help you adapt and thrive.
Top Dog: The Science of Winning and Losing
Po Bronson and Ashley Merryman bring science into the discussion of how competition works. Factoring in biological, genetic, statistical and psychological effects, including the birth order of a family or a sports team playing as a visitor or at home, the authors show how readers can move the balance in their favor no matter their goals. (Twelve, Feb. 2013, $27.99)
The Coffeehouse Investor: How to Build Wealth, Ignore Wall Street, and Get on With Your Life
Bill Schultheis has updated and revised his book on how to invest money wisely, offering a primer on common sense tips to save time, invest smart, and reach success. (Portfolio Trade, Jan. 2013, $15)
The Edge: 50 Tips from Brands that Lead
With the advent of the Internet, Allen P. Adamson describes how the market has been changed to be faster, unforgiving and merciless to brand name products, and how those brand names have adopted new tactics to survive. (Palgrave MacMillan, Jan. 2013, $27)
Crunching Numbers
3rd—Rank New Jersey placed out of states worst prepared to protect the public from disaster, according to Trust for America's Health in conjunction with the Robert Wood Johnson Foundation
$3.3 billion—Transaction amount of the sale of Acme, along with its four sister stores, to AB Acquisitions LLC, part of Cerberus Capital Management, amounting to 877 stores
$3.2 billion—Amount of debt the investor firm is taking on as part of the deal
30%—Amount of the region's manufacturers that reported business declines between Dec. 19 and Jan. 15, six percentage points higher than those that reported increases, according to a survey by the Federal Reserve Bank of Philadelphia
16%—Amount that reported they had to decrease their workforce
3,000—Increase in jobs reported statewide, despite that data, in manufacturing in the month of December, according to the Department of Labor and Workforce Development
Published (and copyrighted) in South Jersey Biz, Volume 2, Issue 2 (February, 2013).
For more info on South Jersey Biz, click here.
To subscribe to South Jersey Biz, click here.
To advertise in South Jersey Biz, click here.