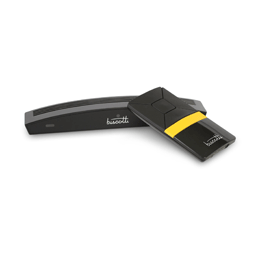 Office Space: January, 2013
On The Books: Get Ahead
Thanks to this month's Biz picks for new and intriguing reads, you'll be sure to stay on top of your game whether you're looking for leadership inspiration, how to grow your revenue or climb the ladder.
How to Win Friends and Influence People in the Digital Age
Dale Carnegie's common sense approach to communication has lasted generations, but now the guide has been "rebooted" for modern times. His advice covers how to make people like you, project your message, and become a more effective leader.
(Simon & Schuster, Dec. 2012, $15)
The Neatest Little Guide to Stock Market Investing: 2013 Edition
This updated fifth edition of the popular strategy guide by Jason Kelly offers a clear, concise and effective approach to stocks and investing, including an interview with Legg Mason portfolio manager Bill Miller on what he learned from the crash and recovery.
(Plume, Dec. 2012, $16)
Mad Women: The Other Side of Life on Madison Avenue in the '60s and Beyond
Fans of the show Mad Men will enjoy this look at agency life on Madison Avenue, from an ad woman's perspective. Jane Mass—a real-life Peggy Olson—shares her own experiences rising from copywriter to agency officer at Ogilvy & Mather.
(St. Martin's Griffin, Jan. 29, 2013, $15)
Office Supplies: Face Time
Even when you're on the go or operating from multiple locations, face-to-face meetings are still highly important. These video chatting services can help keep you connected, no matter where you are.
Skype Premium: You may be familiar with the light version of this video chat service, but an upgraded subscription is better for businesses that need to chat with multiple people at once—or multiple countries. Your membership will allow unlimited calling to mobiles and landlines in a foreign country of your choice, as well as screen sharing and group video chatting for up to nine people. Subscriptions start at $4.99 a month, Skype.com
Biscotti TV Cam (pictured): There's no need to crowd around a small computer screen. This tiny device hooks up to a television and uses Wi-Fi to make free calls to any Biscotti or Google Voice user. Its wide-angle camera captures the whole room in 720P HD, so entire conference rooms can get in on video meetings. $149, Biscotti.com
Cisco WebEx Meetings: Host unlimited video conference meetings for up to 25 people on your desktop, smartphone or tablet. Share private documents or brainstorm with online drawing tools, then record the meeting to share with colleagues later on. A corresponding iPhone app is free but you must subscribe to WebEx Meetings to participate. Premium membership is $49 a month
Crunching the Numbers
2% : Amount of respondents that feel the local economy is improving, according to a recent survey of South Jersey and Philadelphia business clients and CFOs.
41%: Number that think the economy is stable
55%: Those who said we are slipping
85 percent: Number of people that approve of Gov. Chris Christie's response before and after Hurricane Sandy, according to a survey by Alloy, Silverstein, Shapiro, Adams, Mulford, Cicalese, Wilson & Co.
$60 million: Amount Atlantic City's Resorts Casino is spending to reinvent itself as Margaritaville, a Jimmy Buffett-themed casino.
$1,000,000 — Grant awarded to South Jersey Healthcare, Cape Regional Medical Center and Shore Medical Center, collectively forming the NJSHINE nonprofit, to build a new digital network that will improve access to electronic patient data.
Published (and copyrighted) in South Jersey Biz, Volume 2, Issue 1 (January, 2013).
For more info on South Jersey Biz, click here.
To subscribe to South Jersey Biz, click here.
To advertise in South Jersey Biz, click here.