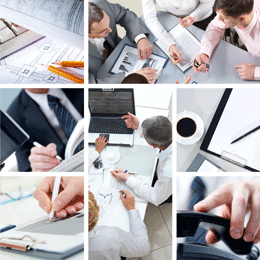 Corporate Communications
South Jersey Biz spoke to a sampling of local businesses to find out how they facilitate good communication and keep unproductive interactions in check.
Good communication is an essential element of any business. Whether it's communicating among employees or with customers, successful companies know that keeping the lines of discussion open is key for everyone. In fact, a recent survey found that companies that are highly effective communicators had a 47 percent higher total return to shareholders during the last five years compared with firms that are least effective.
Setting realistic expectations is an important first step. Maintaining clear, upfront expectations has helped Fox Rehabilitation, headquartered in Cherry Hill, improve communication with employees despite the fact that most of them are external (the company makes more than 14,000 geriatric house calls each week).
"Four days of orientation lays out expectations from our employees in terms of how to communicate within the organization," says Tim Fox, company founder and CEO. "We also make it OK here for people to ask questions."
Opening up the channels of communication is important. A recent study from Cornell University found that about half of survey respondents spoke up about specific work problems or ideas six or more times during the past year. But that means half have never spoken up about problems.
That's what companies like Fox are looking to avoid. In fact, they've created a staff morale division for this very reason.
"Both in the office and out in the field, it's important to have outlets available for people to talk to that are a good channel for communication," says Lauren Lazaruk, the company's director of staff morale. "Instead of griping and talking with peers about what's not working, we want to be able to help the employee identify the person they need to talk to, to fix it. These small problems only get bigger and can spiral out of control if not resolved."
Putting Policies in Place
Creating specific communication policies is also effective. At Radwell International, Inc., based in Lumberton, one of the most important communications policies is their "Ask Once Policy." "This policy basically means if you need something from another internal function, 'Ask Once' and expect a prompt response," says John Radwell, vice president of customer relations. "If a prompt response is not received, ask again, but this time escalate the request by copying the slow responder's supervisor. If a pattern forms, the slow responder will be removed from the function.
Slow and inefficient internal responsiveness at any level in an organization will eventually cause unacceptable external customer loss."
Of course, the way that companies are communicating is vast nowadays. Dan Lockwood, public relations specialist for SJI Services, LLC in Folsom says that whether you're dealing with internal or external communications, varying your communication vehicles will best capture a variety of audiences and help spread your message efficiently. "For internal pieces that need to be shared companywide, two primary methods are used at SJI: all-user e-mails and posts on the company intranet site," says Lockwood. "Each employee's PC is set to display the company intranet page when it's opened. For those employees who are in the field and don't have email or browsers handy all the time, we have other staff print and post important notices on employee bulletin boards around our satellite offices. We can also relay important messages to our field works using an instant messaging function."
Non-Verbal Communication
In this day and age, email has become a regular form of communication. E-mail at the workplace recently got a lot of buzz when The New York Times reported that international information technology services company Atos would be phasing out email because its CEO considers 90 percent of them to be a waste of time. Fox Rehabilitation has also found that emails can be a huge time drain and as a result has implemented some key policies. They created a system in which employees are required to indicate an expected response time on all messages. This takes away the feeling that emails need to be answered immediately. "When a memo comes into my box, I can look at that RSVP date and prioritize it because I know whether it needs immediate action or can wait," says Fox.
But some companies do a large majority of their business through email. Radwell International has found that external customers tend to use email frequently and expect a fast response. Since the company prides itself on prompt communication with customers, they needed to develop a company communications policy surrounding emails. "We decided to keep it simple," says Radwell. "We call it our Phone/Email Forwarding Policy. This policy basically says that if you are absent, your phone calls and emails must be forwarded to someone who will respond promptly in your absence. Any lapse in response times within any function at Radwell can negatively affect customer communications."
With employees and reps working in nine different geographical areas, ProPhoenix in Moorestown has also found e-mail to be an incredibly important communication tool. In fact, company president and CEO Sam Ramasamy says many forms of non-verbal communication have proven to be successful tools. "To be effective with our internal communications, we utilize social media, company blogs, SharePoint repositories and email blasts," he says. "Also, one of the latest and best additions has been introducing Microsoft Lync (a unified communications platform) throughout our company. Not only is the instant communication valuable between remote locations, but the ability to instantly share each other's desktops for demonstrations or problem solving has been invaluable."
Challenges to Open Contact
Making it easier to connect within an office is important to facilitate productive work, but it can also allow for gossip and unproductive communication to surface. With so many forms of contact available at the workplace, office gossip is made much easier than in the past, says Radwell. And it's harder to curb.
If the average corporate employee sends 112 emails per day, at least 17 of those are gossip, a study found.
Radwell says that managers need to try to stay on top of their employees to ensure that communication tools like email and social media are being used for the good of the company and not for gossip. "We believe socializing is important, but the time wasted in small talk no matter the mode can quickly extend so that it hurts productivity," he says. "These business communications systems or modes of communication can be valuable tools in an organization to enhance communications, or they can be destructive forces allowing a few bad eggs to pull many good eggs off task."
Published (and copyrighted) in South Jersey Biz, Volume 2, Issue 11 (November, 2012).
For more info on South Jersey Biz, click here.
To subscribe to South Jersey Biz, click here.
To advertise in South Jersey Biz, click here.