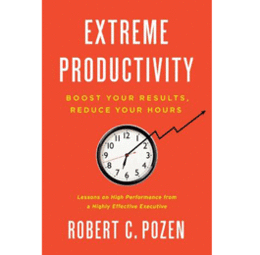 Office Space: November, 2012
On the Books: Boost your Biz
This month's crop of business titles includes useful views from the top. A Harvard professor, TV host and successful execs share their advice.
Extreme Productivity: Boost Your Results, Reduce Your Hours (pictured)
As a senior lecturer at the Harvard Business School and chairman of a global financial services firm, Robert C. Pozen knows a thing or two about success. He teaches the importance of prioritizing and time management by introducing a new mind set and providing expert tips on how to be professional leaders. (HarperCollins Publishers, Oct. 2, 2012, $18.45)
It's Your Business: 183 Essential Tips that Will Transform Your Small Business
From one of MSNBC's longest running series, Your Business, JJ Ramberg presents a right-to-the-point book of advice and tips from the many successful small business owners and entrepreneurs who have appeared on his show. Covering topics from public relations and sales to human resources and finance. (Business Plus, Oct. 16, 2012, $15.58)
The Outsiders: Eight Unconventional CEOs and Their Radically Rational Blueprint for Success
William Thorndike introduces eight successful CEOs who went against the trend. Through the stories of these "outsiders," readers learn how to pilot a company with through the methods that turned these individuals into leaders. (Harvard Business Review Press, Oct. 23, 2012, $17.28) -
Office Supplies: Style at the Top
The executive office is going chrome. Add these helpful chic items to your work desk for a touch of class.
Chrome Business Card Holder Display your business cards in an elegant way this mirror-finish business card holder. Made in the Basque region of northern Spain, this hand-polished and assembled business card holder is a popular item among the most demanding collectors. El Casco, $86.95
Waterman Expert City Line Urban Grey CT Rollerball Pen Give your fingers some relief with this heavy writing tool. With its full base and thick barrel look, you're given a luxe and sleek look, this is a pen for someone ready to take charge. Waterman, $96.00
Horizontal Pen Holder Chrome At work, your ball point pen may be one of the most reliable things in your office, so why not keep it somewhere stylish? This silver pen holder holds two ball point pens with a double tray design, making it a fine addition to the managerial desk. El Casco, $168.94 -
Crunching the Numbers
$30 Million: The cost of the new, three-story, 107,000 square foot science building at Camden County College, which had a ribbon cutting ceremony in October as a part of $83 million Blackwood Campus transformation project.
$18.5 Million: The amount agreed to by South Jersey business, government, and transportation officials to improve freight-rail links in the region, upgrading a 42-mile rail line that runs from Salem through Swedesboro, Paulsboro, and Camden.
700,000: Estimate of customers and businesses without power across New Jersey immediately following Hurricane Sandy, according to PSE&G
$35,000: Amount Birdsall Services Group of Eatontown donated to hurricane relief efforts at the Jersey Shore, instead of hosting its annual party during the now-cancelled League of Municipalities convention
289 acres: Size of a lot in Vineland, where developer Ronald Nametko has proposed a $200 million Magic Sports & Health Complex, featuring hotels, an indoor water park, playing fields, bunk houses and training facilities for athletes.
266,989: Number of vehicles sold by Subaru of America, Inc. this year — and counting. The company, headquartered in Cherry Hill, surpassed its previous annual record last month, marking a fifth consecutive year of sales growth.
Published (and copyrighted) in South Jersey Biz, Volume 2, Issue 11 (November, 2012).
For more info on South Jersey Biz, click here.
To subscribe to South Jersey Biz, click here.
To advertise in South Jersey Biz, click here.