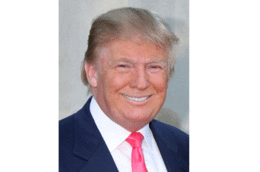 Outstanding Entrepreneurs
Each year we highlight a selection of South Jersey entrepreneurs who have helped create extraordinary things in our region. These driven individuals have taken risks, tackled problems and brought an extraordinary vision to the local business world.
Donald Trump
Owner, Trump National Golf Course
His is a name that's known across the globe, but in South Jersey Donald Trump has succeeded in marketing the Trump brand across a number of thriving local enterprises. One of the most notable examples was in 2009 Trump National Golf Courses purchased the Pine Hill Golf Club and succeeded in transforming it into an exclusive private club; today, the luxury amenities and award-winning course (designed by architect Tom Fazio) make Trump National Golf Club, Philadelphia a destination that rivals its well-known neighbor, Pine Valley.
Trump, an avid golfer, has continued to improve his courses, meeting with the top names in course architecture and hospitality. "When I started developing golf courses, I worked with the course architects and learned as much as possible from them. In Scotland I met with geomorphology experts to learn about sand dunes and their movement patterns," he says.
In the works at the Pine Hill-based club, a multi-million dollar pool project will include a bistro and members' locker rooms. The following season will finalize plans for overnight accommodations and golf villas for both members and guests, says Trump. "They will be fantastic," says Trump. "We are excited to be moving forward with these improvements. In my opinion, Trump National Golf Club, Philadelphia is equal to or better than the great Pine Valley as a golf course."
Best advice you ever received? The best advice I ever received was from my father. He told me "Know everything you can about what you're doing," which means being thorough and comprehensive when approaching any project, which he was….My father also had a four step formula for success which has helped me gain the reputation for getting things done and quickly: 'Get in, Get it done, Get it done right and Get out.' It works.
HQ: Pine Hill
Year founded: 2009
No. of Employees: Trump National Golf Club, Philadelphia employs 115 at peak season. The Trump Organization employs 20,000+.
Website: TrumpNationalPhiladelphia.com
Ray and Tony Rastelli
Founders, Rastelli Foods Group
As a young husband and father, Ray Rastelli was just trying to make ends meet when he took a leap of faith, renting a small storefront in his hometown to sell top cuts of meat. The fledgling business, The Meat Shop, was eventually joined by Ray's brother Tony Rastelli and the pair soon expanded to a second location where they could continue to service regular customers in addition to supplying area restaurants with their premium meats. Together, they grew that ambitious storefront into a nearly $1 billion global food distribution business while maintaining a "family-oriented, small business feel."
The business is now a premier worldwide provider of food products to a variety of commercial clients, including hotels, restaurants and retail markets, with separate divisions for seafood, global and Caribbean food products and distribution.
In 2002, Rastelli Foods Group started exporting food to the U.S. military operations overseas and in just one year became the largest food provider for the U.S. forces in Iraq and Afghanistan. As sales began to climb, the company branched out, acquiring Black Tiger Seafood to launch Rastelli Seafood and moving into a 110,000 square-foot facility in Swedesboro.
The Rastelli brothers have made it easy to enjoy 5-star restaurant-quality steaks or the famous Tony Luke's cheesesteaks, thanks to two-year-old national home delivery program, Rastelli Direct. Roughly 20 full-time employees run the program that allows individual consumers to order at-home delivery for more than 200 gourmet products, from partners like Sweet Street Desserts, Uno's Chicago Grill, Severino's Homemade Pasta, and The Cheesecake Factory.
From humble beginnings on Main Street to a place in the international market, Rastelli Foods Group has grown immensely thanks to the entrepreneurial spirit of Ray and Tony Rastelli.
HQ: Swedesboro
Year founded: 1976, with the opening of The Meat Shop
No. of Employees: 500+
Website: RastelliFoodsGroup.com
Key to your success?
Having great foresight and vision for the future in my industry and dedicating 100% of my efforts and focus to accomplish the job.
RR: Knowing when to delegate and when to handle something personally. I have a family business and I have surrounded myself with an amazing and trustworthy team, but you can never stray too far from what you are building. You have to be hands on.
Biggest risk?
Ray Rastelli: Opening the first store at 19 years old. I recognized the need for a quality meat provider in the area, but I didn't know how the community would receive it. I had a family to support. It had to work and more than 35 years later, I'd say we did alright!
Tony Rastelli: The biggest risk I have taken is putting all of my personal belongings on the line to grow a Multi Million dollar business around the world. Having the confidence and belief that what I envisioned would come true with hard work, good business ethics and passion.
Best advice you ever received?
RR: Put great people around you because you are only as good as your weakest link.
TR: Work smarter not harder And your actions will follow you around the world.
What's your mantra?
TR: If you talk the talk, you'd better walk the walk!
RR: As far as business is concerned, it would be "If I wouldn't serve it to my family, I certainly wouldn't serve it to yours." The quality that I expect for myself and my family is the same that I deliver to every client.
What's next?
RR: Direct is the next evolution of Rastelli Foods Group, but it is also a sense of homecoming. We started with a direct to consumer sales model in our stores. As that grew, we expanded to commercial and chain accounts. Now we have returned to the direct consumer with much more technology and experience to facilitate the sale. Rastelli Direct provides the same gourmet food that we offer to the top chefs, restaurants and hotels worldwide, with the added convenience of online shopping and home delivery.
First job?
RR: I was planning to be a musician, but the responsibilities of family inspired me to get a 9 to 5 job!
TR: Sweeping the floors & painting at my fathers' friend's sausage factory. I think I was about 11 years old.
What's the best part of your job?
TR: Watching members of my family grow within our family business.
RR: Creating the next best solution for our customers
Little known hobbies:
RR: Playing piano
TR: I love to go fishing in the canyons on the weekends out of my house in Ocean City NJ. I've always been a farmer at heart and it was my dream to have my own tractor. I recently purchased a John Deere tractor and have been roto-tilling and landscaping at my son's house with it. It's really cool!
Proudest career moment:
RR: When I realized that I would be able to support my family while doing something that I love and believe in. I've never had to compromise my standards to put food on the table, so to speak!
Emily Vu
Founder, TTK & Associates
After overcoming a series harrowing obstacles early on in life – fleeing from Vietnam as a child with her family and experiencing the hardships of a Malaysian refugee camp – Emily Vu came to America, learned English and began her long educational journey, which resulted in both her CPA and MBA at the age of 25. Now she serves as an assistant professor of accounting at Lincoln University and founded her own accounting and consulting firm, TTK & Associates, two years ago. The company serves small businesses and individuals with a range of accounting services.
The Egg Harbor resident exemplifies the spirit of perseverance. Born and raised in Vietnam, Emily experienced "all the worst of an impoverished life" in her early childhood and spent several years trying to flee the country with her mother, being imprisoned twice for their attempts before making it to America. Although she was forced to drop out of grade school, once she settled in New Jersey Vu enrolled in Monmouth Regional High School, graduated a year later, and never looked back. Armed with a bachelor's degree from Stockton State College, she learned to work as an internal auditor for the Atlantic City casino industry and later oversaw a budget of more than $60 million as a senior accountant for the Atlantic County Utilities Authority.
After trying her hand at a home-based accounting practice in 2009, Vu expanded her efforts and reached out to a wider client base with the opening of TTK & Associates in 2010. The swiftly growing company – now with two additional branches joining its Pleasantville headquarters – is a hands-on firm providing a full range of accounting services from tax preparation to payroll to succession planning. Client testimonials rave about Vu and her associates saving up to $50,000 during the resolution of tax problems and coming up with "cutting edge solutions" to address businesses' needs.
Business Location/HQ: Pleasantville
Year founded: 2010
No. of Employees: 4
Website: TKKAssociates.com
Chris DeYoung
Founder, DeYoung Financial
As the guiding force behind Cherry Hill-based DeYoung Financial Group, Christopher DeYoung knows how to pick a team. His group of financial specialists draws from a deep bank of knowledge and experience in order to address the aspects of clients' wealth protection and management strategies that matter most. Their comprehensive knowledge, experience and talent, meld to create the best possible strategies for accumulating, conserving and preserving wealth.
DeYoung's practice launched in 2002 and has continued to grow ever since, with a 70% increase in new sales over the past year and a 20% growth over the past four years. Their headquarters in Cherry Hill are complimented by satellite offices in Manasquan and Manhattan.
The busy entrepreneur also owns a real estate company with his wife Paige. He is active in the Moorestown community through volunteer work and a board membership for the Camden County YMCA.
The key to his success? "Having great mentors and being able to learn from people who are at the pinnacle of success in my industry," DeYoung says. "I try to surround myself with like-minded people who have attributes that I admire or aspire to have myself. My business enables me to constantly be around successful, driven, and disciplined professionals. Being around great entrepreneurs motivates me to want to work harder and reach higher levels of success."
As a Widener University alumnus, DeYoung was recently asked to contribute to the curriculum development for a new financial planning major, and will continue to give back to the next generation by participating in guest lectures, case study development and more. "It's very exciting to…be involved with helping to shape how the students will learn to be successful in their future businesses," he says.
HQ: Cherry Hill
Year founded: 2002
No. of Employees: 3
Website: DeYoungFinancial.com
Inspiration? I've watched very successful families completely unravel, even though they thought they were "taken care of." We provide the best knowledge we can find because I want to be a difference maker...to help change lives. It drives me every day to know that my work will impact so many lives and families for generations.
Best advice? No matter what you're doing, or want to do, find the person out there who is the best at it and learn as much as you can as to how they get their results. If they can do it, so can you.
What's your mantra? Actions = Results. Every day you should do actions that bring you closer to or help you achieve your goals.
First job? Stocking shelves at a SuperFresh in Marlton.
Best part of your job? Every day I get to go out and talk with very successful business owners and executives about how to maximize their wealth potential and minimize their risk. I learn that there are so many different ways to be successful and I love that I get to associate with so many great entrepreneurs. I love what I do!
Little known hobbies: I love to cook and one of my favorite things is to make homemade pizza for groups of family and friends. I've been working on my dough recipe for about 5 years now and finally think I've got it perfect. Pizza is something that everyone eats and has opinions about, so it's very gratifying when someone tells you that you made the best they've ever eaten. In the future, my wife and I think it would be very fun to open up a gourmet pizza and bake shop.
Proudest career moment: A client of mine died at 42 last year and the look on her husband's face when I delivered him a 1 million dollar check from the insurance company will stay with me for the rest of my life. He told me that I saved him and his children.
Amit Chhabra
Founder, TranSEND IT
When most consumers swipe a credit card to make a payment, their thoughts about the transaction typically end there. But not for Amit Chhabra, founder of Mount Laurel based company TranSEND IT. Chhabra developed integrated transaction software for terminal-based technology network solutions -- i.e. the software inside the terminal when you process a payment.
TranSEND IT provides "integrated transaction processing solutions" with a focus on terminal-based technologies that process credit, debit, gift and loyalty card transactions, and more, Chhabra says.
The company offers a suite of technologies and systems to assist businesses across major industries. For example, OneTouchPOS is a web-based point-of-sale management system that provides information services, data gathering and administrative control for transaction management systems. Says three-year customer CardSmith, a university campus card solutions company, "Gone are the days of capital investment, complex system management, lengthy go-to-market cycle times and exhaustive user training. OneTouch levels the playing field so that a company of any size can self-manage terminal services with the same or better sophistication as the biggest players."
When TranSEND IT launched in 2005, it had just two employees. Now they support eight full-time employees and generate more than $1.2 million worth of revenue a year. Their strategic partners now include VeriFone, Equinox Payments and transaction processor First Data.
"We are in the payments technology business…This industry is involving, and based on this we have taking strategic decisions about where and how to steer the companies investments to create new products. The biggest risk is being wrong about the direction in which the payments industry is headed," says Chhabra.
But that's not stopping his growth: Chhabra says TranSEND IT is preparing for the launch of their next generation product next year.
HQ: Mount Laurel
Year founded: 2003
No. of Employees: 8
Website: TranSENDIt.com
Inspiration? My parents, who sacrificed so much so I would have the opportunities that I had. I want to be able to make the most of these opportunities so my kids and family has more than I had.
Key to success? Persistence and staying focused on the goal.
Best advice? Do one thing and do it well. Better than anyone else.
Unexpected song on your iPod? "Wild Ones" by Sia and Flo-Rida
Best part of your job? Watching others use, describe and praise our products.
Jennifer R. Thesing-Sauder
Founder, The Thesing Companies, LLC
Thesing-Sauder is a fan of hard work. In her own words, the key to success is knowing that "no one owes you anything in this life" and if you want something then the only way to achieve that goal is by hard work.
Thesing-Sauder embodied that virtue when she founded her own property services and power street sweeping company more than 16 years ago, steadily growing as her business offered specialized services to commercial and industrial businesses, home builders and construction contractors across the region. She now owns a fleet of 17 top-quality street sweeping machines and has earned a spot as one of the Delaware Valley's largest service contractors, with locations in Sewell, Deptford and Downingtown, Penn. Under the umbrella of the Thesing Companies, Power Sweeping INC and Property Services LLC provide high-quality power sweeping, power washing and landscape maintenance, along with snow and ice management during the winter months.
Thesing-Sauder is also the vice president of associate affairs for the Builders League of South Jersey, using her experience to exemplify their motto to create "a better business and regulatory environment in order to provide quality, socially responsible and affordable housing."
But it's her own higher standards that have really contributed to the company's success; for instance, the Thesing sweepers adhere to five critical values, including maintaining a professional image and ensuring dirt isn't tracked all over a development during a job. Thesing Power Sweeping is also certified as a Women Business Enterprise through the state – a program that encourages and helps foster the start-up and growth of women-owned ventures.
"I'm proud every moment, of every day," she says. "I am amazed at what we have achieved because we never gave up, and we never let go of the dream."
Locations: Sewell; Deptford; Downingtown, PA
Year founded: 1988
No. of Employees: 22
Website: ThesingCompanies.com
Inspiration? The love of my family.
Biggest risk? Leaving my 9-5 job to be an entrepreneur. Eventually my husband left his stable, well-paid accounting career…to become a street sweeper with me.
Best advice? Never give up and don't ever surrender, and never ever burn any bridges in this industry.
What's an unexpected song on your iPod? Elvis Presley's "The Wonder of You," dedicated to my husband Doug.
First job? Racehorse groomer at Brandywine Racetrack
What's the best part of your job? Watching my employees and their families prosper.
Little known hobbies: Rabbit hunting…just don't tell my kids.
Jeff Botbyl
Provonix
For this entrepreneur, business is personal. Botbyl created his contracted research company after watching his late mother battle breast cancer. Using research and clinical trials, Provonix provides detailed and legally adherent pharmaceutical and biotechnological results to its clients, and gives medical experts a safe choice in medicine.
"The inspiration for my career came from watching my mom battle breast cancer and win for a while. Unfortunately, after being in remission for a couple of years, it came back and she could not win the second battle. So, I continue the battle for her," he says.
"I love going to work every morning knowing that something that I do each day has the potential to turn a sick child's frown upside down or give hope to a mother or father who is battling cancer and just wants to stay alive long enough to walk their daughter down the aisle or dance with their son at his wedding," Botbyl says.
Botbyl has held a management career within similar environments- working for GlaxoSmithKline, ICON and University of Pennsylvania in the past- so the leap into CEO of his own company made sense. Still, he says forming his startup was the biggest risk he's faced to date. "[I left] a stable management position with a large contract research organization to support my wife and three little girls on the trust of some friends and colleagues in the industry who told me that I had what it took to build a business," he says.
His risk has paid off, with the company continuing to grow and expand throughout the country, all out of the South Jersey Technology Park's Business Incubator. Their mission is to "fit in and stand out," providing a familiar service to companies while bringing new knowledge and research to the market.
HQ: Mullica Hill (Business Incubator at the Rohrer College of Business at the South Jersey Technology Park)
Year founded: 2008
No. of Employees: 10
Website: Provonix.com
Biggest source of inspiration? My daily inspiration comes from watching my beautiful, giving, selfless, hard-working wife take care of our three little girls. Her loving touch and hard work inspire me to continue the pursuit of success. I tell everyone that she works 10 times harder than I do.
Key to success? Our focus as a company will always be on relationship building with people, whether it be customers, vendors, partners, or employees. We find that treating people with respect and dignity and doing business with integrity goes a long way.
Best advice you ever received? What I have seen during my time on earth is that there is one common desire among all people and that is that everyone, people of all races, religions, sexuality, social status, etc., desire to be loved and accepted. So, I choose to live by the words of Jesus in Matthew 22: 39, "A second (commandment) is equally important: 'Love your neighbor as yourself.'" I don't always succeed in this, but everyday I set out to live this out. For me, everything begins with learning to love one another.
What's next? Our goal is to double the size of our revenue stream coming in from small to mid-size biotechnology and pharmaceutical companies. I've also developed a web-based software platform that will help patients take better care of themselves, communicate more efficiently with their doctors, and streamline the interaction between family doctors, specialists, labs and pharmacies. I'm hoping to spin this project off as a separate company, but first I need investors.
Little known hobbies: I began brewing beer about a year ago and have really enjoyed the mix of creativity and science that is required to make a great tasting beer.
Emily Gottschalk
Founder/CEO, The Garr Group and TGG Direct
It's a digital world. Just ask Emily Gottschalk, the face behind one of South Jersey's biggest digital marketing firms. Gottschalk founded The Garr Group 14 years ago, a marketing firm focused on providing clients with appropriate and popular digital content to catch the attention of desired consumers.
The Garr Group uses social media, mobile and web marketing, combined with content promotions through videos, pictures, games and apps, to reach out to national clients like Kelloggs and the NFL. And so far it's payed off, with projected revenue for this year more than tripling that of last year's intake. Gottschalk draws from a career of marketing experience with past companies such as Marriott and Four Seasons Hotels and as the Marketing Director of Zany Brainy, a nationally-recognized children's toy and learning chain.
Most recently, Gottschalk and her team have introduced TGG Direct, a company that packages DVD and audio CDs for national retailers like Target and Walmart. It seems as though Gottschalk's companies are expanding every day, and not without the creativity and passion she credits for her success. "We tend to develop creative ideas that are different from those of our competitors, helping us win business and see through any challenge that presents itself," she says.
HQ: Cherry Hill for TGG Direct, and Mullica Hill (Business Incubator at the Rohrer College of Business at the South Jersey Technology Park)
Year founded: TGG Direct was founded in 2003; The Garr Group was founded in 1998
No. of Employees: 15
Website: TheGarrGroup.com/Direct
Proudest career moment? I would say that one of my proudest career moments has been forging a close relationship with Wal-Mart and being given the creative platform to bring new and exciting ideas to that company - as well as their acceptance of those ideas.
Business mantra? My business mantra is "Failure is not an option."
What's next? Next up for TGG Direct is expansion into new products, new distribution channels and new ways of creating consumer excitement.
Best advice you've received? "Exceed expectations, deliver on your promises and do it with a smile." This advice has taught me the value and significance of positive energy and enthusiasm and how these two traits have a direct correlation to career success.
Julie Morris
President, FotoBridge
Some may consider FotoBridge a relatively young company- in its first five years of foundation- but Morris and husband Ed O'Boyle are proving that they have staying power. The duo has brought classic photos into an easy-to-use and digital form, modernizing classic memories with the help of technology. Clients mail printed images to the West Berlin location to be scanned and digitized to DVD. The result? A backup collection of precious images that could get lost through moving or weathering.
Of course even the most convenient of ideas have setbacks, even in a start-up like Morris'. "During the early days of launching FotoBridge we had the chicken-and-egg problem. We needed to attract a sufficient number of customers in order to build out and fund the resources and technical infrastructure to service those customers," explains Morris. "It was a huge timing and balancing exercise, and we didn't always get it right because there were too many unknowns. What would sales look like next month? What size would those orders be? How productively could operations execute? What technical issues would we face? We succeeded by realizing and anticipating the difficulties upfront, remaining flexible, reaching deep for any lessons we could draw from prior experiences, getting creative, celebrating the small victories, and learning from mistakes while working our butts off."
This isn't Morris' first venture into accessible Internet business. Just check out her other start-up, ExamBuilder, an online, cloud-based program that designs certification and training tests for companies. Businesses can transfer test results and statistics through the program using a log-in system, and view individual results at any location. We anticipate more growth from this entrepreneur, who has taken the worlds most valuable asset- the Internet- to all new heights for her business.
HQ: West Berlin
Year founded: 2007
No. of Employees: 17
Recognition: Named "Best Photo Digitizer" by New York Magazine (Best of New York 2011)
Images Delivered: Over 25 million
Clients: Indianapolis Colts, Smithsonian, NBCUniversal, USA Hockey, The J. Peterman Company, UPenn, Johns Hopkins U, Georigia Tech, Academy Award-winning producer Jon Landau
Website: FotoBridge.com
Biggest inspiration? Inspiration is all around us, I think you just need to find what resonates with your dreams and ambitions. For me, I'm inspired by people defining their own success and going for it with a unique personal style. My family and friends are a huge inspiration to me when I realize how lucky I am to have them and how precious our lives, experiences and relationships are - perhaps that's one reason I was drawn to the memories preservation field.
Key to success? I think of success as following your dreams in a way that keeps you growing, learning and surrounded by the people you love. And, by those criteria, I think being open to new experiences and a willingness to take a risk - even when it's far beyond your comfort zone - is useful for achieving success over a lifetime.
Unexpected song on your iPod? "Dressed in Black" by Smash Palace. That song was my son's favorite at 6-years-old, when we saw the band perform live as a family at the Ritz in Haddon Township.
First job? I was a life guard in Huntington New York on Long Island, where I grew up.
Amit Shah
Founder, South Jersey Techies, LLC
Shah first had visions of starting his own business during his formative years in high school and college. After graduating and finding a career in information technology, Shah would dedicate his personal down time to a longtime hobby—developing and designing websites. While he started out assisting family and friends, soon word spread and businesses were approaching him for advice and support. That's when the proverbial light bulb clicked and he created South Jersey Techies, a technology team that offers everything from network consulting and support to computer repair, data recovery and even cloud-based solutions.
The company was established in 2004 and operating full time four years later. Since then, like many other business leaders, Shah has been faced with the challenges of a slumping economy. "Getting a business up and running in a down economy has its challenges, but by providing a proactive cost of effective solutions as well as providing expert and timely responses, we have been able to streamline a number of business support processes that allow staff and systems to run effectively and efficiently," he says.
Understanding client needs is crucial to Shah's success, not to mention being able to break down the technology jargon into simplistic terms his customers can comprehend. Now with seven employees, Shah is continually looking to grow his business carefully and strategically living by one particular mantra: "Average people allow time to impose its will on them; remarkable people impose their will on their time."
HQ: Marlton
Year founded: 2004
2011 Revenue: Proprietary
2012 Projected Revenue: Proprietary
No. of Employees: 7
Website: SJTechies.com
First job: Paper boy
Biggest risk: Deciding to quit my full-time job to focus and grow our business in a down economy.
Little known hobbies: Coin collecting
Proudest career moment: Moving out of our home office into our first commercial office
Unexpected song on your iPod: Miley Cyrus' "Party in the U.S.A."
Brian Ruiz
CEO, founder of Strategic Billing Enterprises LLC
CEO, founder of BRADM Technologies
While studying economics at Rowan University, Ruiz began to research the financial sustainability of the Emergency Medical Service industry. After several years of evaluating and putting "puzzle pieces" together, Ruiz was able to identify a market opportunity that would create jobs, lower EMS cost, and infuse the latest technologies that would drive the industries cost down.
That led to the creation of Strategic Billing Enterprises, a company that provides customized EMS billing services. By acting as a liaison between the EMS crews and Medicare, Medicaid and insurance providers, SBE allows these emergency responders to focus on the job at hand. BRADM serves as SBE's technological arm, specializing in websites, web and software applications. Together, the two companies strive to maximize profits, reduce overhead all while maintaining compliance in an ever-changing industry.
This combined effort has paid dividends for Ruiz, who cites honesty as the main ingredient to his sustained success. "Honesty with clients builds trust and strengthens the relationship. They know that I can deliver the easy news such as we are meeting goals and surpassing expectation, but they also know that when there is a bump in the road, I am there as a strategic partner to look you in the eye and present solutions to overcome the challenge," says Ruiz.
Location/HQ: Mullica Hill
Year founded: 2008
No. of Employees: 7
Website: StrategicBilling.net
Best advice you ever received: Ask for help.
First job: My unofficial first job was grass cutter along with snow removal for a couple of neighbors. Officially, a bank teller at Commerce Bank.
Little known hobby: Though I spend most of my free time keeping up with my 3-year-old son, I hope one day to devote some time to star gazing and learning about space and the universe.
What's next: To continue to push forward and expand.
Richard Rothstein
Owner, Richard Rothstein & Co.
Not everyone will personally hire hand weavers in the Caucasus—a well-known region for rug weaving at the border of Europe and Asia—when they can't find any Oriental rugs they like in local stores. But then again, not everyone is Richard Rothstein.
The fact that he had to go such great lengths to style his home served as Rothstein's inspiration to start his self-named company some 12 years ago, which has grown into a 5,000-square-foot Mount Laurel showroom and drawn the attention of local and national celebrities seeking the real deal when it comes to antique furnishings.
And though Rothstein says one of his greatest challenges is "letting the marketplace know that, even though we are based in Mount Laurel, we are a global company with clients worldwide," his clients range from the Flyers' Chris Pronger to Buckingham Palace architect John Simpson. So the message is getting out there.
He's also worked with Michael Smith, the personal designer for the White House, and of course, the First Family—another notable addition to the clientele.
Rothstein's original antique Orientals date back to the 19th century. There are also upscale re-creations available, which Rothstein acquires straight from weavers in Azerbaijan.
But Rothstein, who developed his love for antiques from his father, is more than an antique rug dealer. The expansive collection in his showroom includes needlepoint pillows, antique furniture and wall décor.
He's certainly come a long way from his first jobs as an ice cream scooper at Baskin-Robbins and a "petroleum pumper"—as he calls it—at Gulf.
Location/HQ: Mount Laurel
Year founded: 2000
No. of Employees: "Small," in his words
Website: RichardRothstein.com
Biggest source of inspiration? 6 a.m.
Key to your success? A lot of help from a lot of people.
Best advice you ever received? What you want to be eventually, that you must be every day.
What's next? Taking a year off to travel around the world.
What's an unexpected song on your iPod? "Time" by Culture Club
What's the best part of your job? I don't have a boss.
Little known hobbies: Making homemade breads and pizzas; hustling pool.
Tim Jennings
President and Founder of Telecorp Inc.
While taking part in a high school fundraiser to sell candy, Tim Jennings was immediately struck by opportunity. It wasn't long after the fundraiser ended that Jennings started his first unofficial business, biding his time in between classes by selling candy out of his backpack to eager classmates. Eventually, his peers would line up the stairwell to purchase something from the "Candyman," giving Jennings his first taste of entrepreneurship.
Growing up in what he describes as a modest household, Jennings found inspiration in the work ethic his father, Frank Sr., put forth, and from the time he was 10 years old Jennings was a fixture around his National Park neighborhood where he would take on odd jobs like washing cars, mowing lawns—anything to make a buck. As high school came to a close, college was not a realistic financial option, so Jennings began to work with his brother, Frank Jr., in the HVAC industry, though his first love was the somewhat successful band he performed with in Philadelphia and the surrounding area.
Once the rock star dreams began to fade, Jennings found himself working in sales for the first time, where he excelled almost immediately. After giving himself to other companies for years, Jennings quit a job at an inopportune time; just after having his first child. He toiled around in the HVAC industry again until he decided to pursue a dream of starting his own business by scraping up whatever spare cash he could. "I was scared to death, but at the same time I was fearless," he recalls, before adding, "There was no brick wall I wouldn't run through."
The leap of faith resulted in the creation of Telecorp Inc., a business communications outfit that specializes in the needs of small-to medium-sized companies. Whether it's phone systems, IT services, carrier services, even surveillance, Telecorp prides itself on providing cutting-edge technology along with topnotch service. While the products may initially attract clients, it's the relationships he builds that have created sustained success and its all part of the work ethic that was instilled in Jennings as a youngster. "Anyone that had me work for them, whatever I did, I did to the nth degree," he says.
HQ: Woodbury
Year founded: 1998
No. of Employees: 9
Website: TelecorpInc.com
What is your mantra? Don't let the urgent outweigh the important.
Key to success: Surround yourself with smart people and always look forward.
Best advice ever received: Don't look back, blaze a trail.
First-ever job: First paycheck job was at Burger King when I was 15.
Robert Platzer
CEO/President, PJW Restaurant Group
Moving up through the ranks from the dish washer at the old Holly House restaurant in Pennsauken at the age of 14 to the owner of now 15 restaurants, Platzer has helped define the South Jersey dining scene.
The centerpiece of PJW Restaurant Group, P.J. Whelihan's, is now up to a dozen locations in South Jersey and Pennsylvania after starting off with the first location in Lehighton, Pa., in 1983. It was a gamble Platzer took, "after scraping $70,000 together," to branch out on his own. But the result has turned into a staple of the South Jersey community.
Operating several restaurants with a small staff in the early years of the business, working 24/7 with his wife, combined with navigating through two recessions, has been his biggest challenge, he says. But with the addition of Gibbsboro's The ChopHouse, along with The Pour House and Treno's Pizza Bar in Westmont, the company has only grown in what's become a thriving industry here in recent years.
Helping to maintain their presence is their partnership with Comcast-Spectacor, owners of the Wachovia Center, that allows for two P.J.'s venue locations off the main concourse of the 21,000-seat arena and further strengthens the connection between the PJW Restaurant Group and the area's sports fans.
"Now the challenge is the constant surge of competition everywhere," Platzer says. "South Jersey, over the last four years, has grown over 8-10,000 new restaurant seats in our immediate area, and more are coming. Every day is a challenge in this business, so the key is, as Paul Simon sang, 'Keep the customer satisfied.'"
HQ: Haddonfield
Founded: 1983
No. of Employees: 1,100
Website: PJsPub.com
Biggest source of inspiration? Warren Buffet. He is down to earth, and I actually met him once in New York City. I told him I don't invest much in the stock market but I follow his advice of "Do what you know." When I said that, he gave me a pat on the back and said "That's the way kiddo!"
Key to your success? Without a doubt, our staff. We would not be this successful if not for them. Another has been our senior management team of very talented individuals who make me look smart. Last but not least, a very supportive family.
What is your mantra? If you do what you love for a living, you will never work a day in your life. I would say I've been lucky enough to live that dream.
Alex Markowits
Founder, President/CEO, Spring Hills Senior Communities
Alex Markowits started out younger than most, securing a position as a nursing home administrator at just 25. So he admits it took a while for people to take him seriously, but 14 years later, that's far from being a lingering issue.
In a year's time, he helped turn around the financially struggling facility, but was caught off guard when the owners ordered him to lay off staff to ease their transition to a new building. He refused. Instead, he raised enough money to purchase and take over the property and convert it into an assisted living facility—the first Spring Hills Senior Communities location.
Now with eight luxury senior living communities to their name in New Jersey, Florida, Ohio and Virginia—the most recent being the transformation of the old Inn at Cherry Hill on Route 70 into their Spring Hills Cherry Hill that added more than 100 jobs to the area—the organization is helping to change the image of assisted living in South Jersey by including upscale accommodations and fine dining options, as well as a personalized focus on health and wellness.
Markowits, with the hard-earned reputation of being able to turn around troubled senior communities, serves on the executive committee for the Health Care Association of New Jersey, which represents more than 350 nursing, sub-acute care, assisted living, adult day health care, comprehensive personal care and residential care facilities. He also serves on the board of directors and is treasurer for HealthCorps, a nonprofit organization founded and chaired by Dr. Mehmet Oz.
HQ: Edison; South Jersey location in Cherry Hill Founded: 2001
No. of Locations: Eight assisted living facilities, three home care communities
No. of Employees: 1,000+
No. of Residents: 651 in assisted living companywide
Website: Spring-Hills.com
Biggest source of inspiration? My grandparents.
Biggest risk? Starting so young.
Key to your success? Tenacity; don't give up, don't quit.
Best advice you ever received? Always follow your dreams; always stay true to yourself.
What's your mantra? Caring with a commitment to quality
What's next? To continue to innovate and transform long-term care as we know it.
What was your first-ever job? My internship in a nursing home
What's the best part of your job? Helping people. vProudest career moment: Saving jobs in Morristown.
Published (and copyrighted) in South Jersey Biz, Volume 2, Issue 9 (September, 2012).
For more info on South Jersey Biz, click here.
To subscribe to South Jersey Biz, click here.
To advertise in South Jersey Biz, click here.