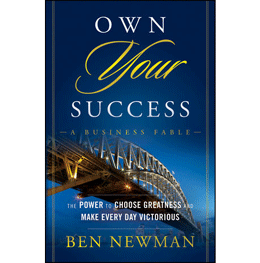 Office Space: September, 2012
On The Books: Non-Stop Success
This month, take the power back and stay ahead of the rest with these new releases, all providing valuable insights on the ability to stay in control of your life.
Inspired & Unstoppable: Wildly Succeeding in Your Life's Work!
Author Tama Kieves takes her lessons from her national mentoring conferences to her newest book, helping you discover your greatest strengths and become an unstoppable force in your career. (Tarcher, Aug. 2012, $24.95)
Outside In: The Power of Putting Your Customers at the Center of Your Business
In any business, the customer is the key to success, but satisfying every customer isn't always easy. Authors Harley Manning and Kerry Bodine examine the customer-company dynamic, and offer insights on landing a happy client. (New Harvest, Aug. 2012, $25)
Own YOUR Success: The Power to Choose Greatness and Make Every Day Victorious
Ben Newman's Own YOUR Success program has caught the attention of people across the nation, and his new book teaches readers how to hold onto the power and the drive that forms a thriving professional. (Wiley, Sept. 2012, $22.95)
Office Supplies: Speak Up
In today's fast-paced world, the phone stands as one of the most important tools of contact. Phone calls can decide deals, settle contracts and help secure a big sale. So give your landline a boost with these top-notch office phones, designed to make those long conversations and conference calls a little bit easier.
On the Go
When it comes down to crunch time, you can't always be expected to be at your desk. Luckily, this desk phone goes mobile, with a Syn-J system that allows for 10 wireless handsets along with four additional lines. (AT&T SB67138 DECT6 Phone/Ans. System, $349.95)
So Long, Rolodex
Ditch the stack of business cards scattered in your drawer in exchange for the impressive memory system built into this phone. It stores 200 phone book entries directly into its system, so your contacts are on hand whenever you need them. (Panasonic KX-TS4300B Integrated Phone System, $179.94)
Expandable
This RCA phone is built to cater to the demands of your growing office, with a four-line option that reaches out to a total of 16 other base stations through one desktop set. It also accommodates to fit a headset, so you'll always have a free hand. (RCA ViSYS 25424RE1, $129.98)
Crunching the Numbers
35%: Businesses that plan to hire within the next six months, according to a local survey conducted by Alloy, Silverstein, Shapiro, Adams, Mulford, Cicalese, Wilson & Co.
48%: Have no plans to hire within six months
11%: Won't hire, but may during the following six months
$172,134: Federal funds awarded to Atlantic County in August under Phase 30 of the Emergency Food and Shelter National Board Program
$44,000: Amount Glassboro and Rowan University will each pay as part of a shared services agreement to add eight part-time police officers to patrol the streets this fall
21.7 percent: Projected employment growth for Web developers through 2020, according to the Bureau of Labor Statistics
Published (and copyrighted) in South Jersey Biz, Volume 2, Issue 9 (September, 2012).
For more info on South Jersey Biz, click here.
To subscribe to South Jersey Biz, click here.
To advertise in South Jersey Biz, click here.