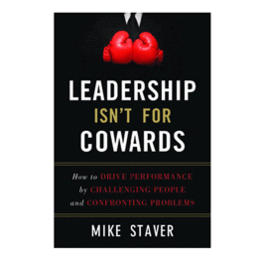 Office Space: August, 2012
On The Books: Stay Connected
Insight on social media, leadership and marketing
Leadership Isn't for Cowards: How to Drive Performance by Challenging People and Confronting Problems Business coach Mike Staver believes courageous leadership is the most effective, so he offers six steps that management veterans or leadership rookies alike can use to cultivate a challenging environment where success and business will thrive. (Wiley, June 2012, $24.95)
LinkedIn for Business: How Advertisers, Marketers and Salespeople Get Leads, Sales and Profits from LinkedIn If you think this social network is limited, Internet marketer Brian Carter proves through case studies the extensive possibilities, from building sales to jumpstarting new advertising strategies. (Que, August 2012, $24.99)
Branding Yourself: How to Use Social Media to Invent or Reinvent Yourself (2nd Ed.) Whether looking to find a new career or bolster your business, authors Erik Deckers and Kyle Lacy demonstrate how to find new opportunities, exhibit your leadership, and maximize your online network. (Que, July 2012, $24.99)
Office Supplies: Break Time
Energy is crucial to any successful business, and employees often look to get that boost through a favorite beverage. Whether you are looking to start the day with a morning java or need a three o'clock pick-me-up, this list of brewing systems will make the break room a great place to refuel and will keep the office running all day.
All in one. Embrace your drink options and impress guests with their favorite beverages with this sleek machine by Keurig. With four cup sizes and a touch screen to control temperature, coffee, teas, hot chocolates and iced beverages can be made in less than one minute. Keurig OfficePro Brewing System, $249.95
Coffee Space. A traditional coffee pot is an office institution, but the bitter stale taste no longer has to be with this brew system that combines freshly ground beans with optimally hot filtered water. A built-in bean hopper and integrated grinder keep things fresh as you brew up to 12 cups. Breville BDC600XL YouBrew Drip Coffee Maker, $350
Extra Energy. For those days when regular coffee won't do the trick, some froth in the form of espresso or cappuccino might. It's like having a coffee shop in the office with this single serve automatic maker, which will make milk- or water-based beverages at the touch of a button. Nespresso CitiZ Automatic Espresso Maker and Milk Frother, $349.99
Crunching the Numbers
$240,000: Awarded to South Jersey Hospital, Inc. to develop a new Family Success Center, as part of the $1.67 million the New Jersey Department of Children and Families will distribute to six counties throughout New Jersey this year.
$3000: Amount Sustainable Cherry Hill will receive from the Darden Foundation's inaugural Restaurant Community Grant Program for encouraging energy conservation to children in the community.
$530,000: Capital Bank of New Jersey's record quarterly profit. The Vineland-based bank has increased its assets by $11 million since Dec. 31. They're the only South Jersey-based bank to earn an "Outstanding" CRA rating.
FIVE: South Jersey high school students who won new Kindle Fire tablets at "BizEd: Building a Better 'You' for Business," a competitive summer camp for high school students studying business. The annual camp selects just 25 students from the state to attend, where they gain lessons on product development, marketing, time management and branding.
$599,000: Selling price for a 6.13-acre pet cemetery along Route 73 in Berlin. The owner claims she can't keep up with rising costs, including a $25,000 annual property tax bill.
Published (and copyrighted) in South Jersey Biz, Volume 2, Issue 8 (August, 2012).
For more info on South Jersey Biz, click here.
To subscribe to South Jersey Biz, click here.
To advertise in South Jersey Biz, click here.