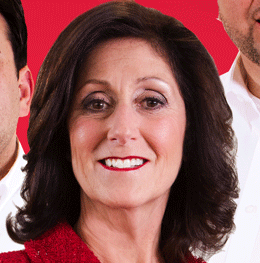 The Corner Office: Alexander J. Hatala
Alexander J. Hatala
President/CEO,
Lourdes Health System
In 2011, Lourdes Health System acquired two of the area's largest cardiology groups—Cardiovascular Associates and the South Jersey Heart Group—and just recently, it announced a new partnership with Franklin Cardiovascular. According to Alexander J. Hatala, president/CEO, Lourdes has long been known for our excellence in heart care. "However, as health care has evolved and with anticipated changes brought on by health care reform, we think the best way to improve quality for our patients is for the hospital and the physicians to work as one unified team."
You recently were the keynote speaker at the MedAxiom conference and talked about the importance of hospital-physician partnerships. Do you see that as the future of health care?
Yes. With increased regulation, billing issues, need for IT infrastructure and other demands of a practice, physicians are finding it harder to manage. … By being employed by a hospital system, physicians can utilize the resources and expertise we have in the business end of health care. This frees physicians up to focus on caring for patients and finding ways to constantly improve our care to patients. Our model was created to allow physicians to get back to the business of being doctors.
What can you tell us about the new ambulatory care center in Cherry Hill scheduled to open next year?
We're happy that the township planning board has approved this project and work has already begun for this site. This is a very exciting project for us and has generated a lot of interest from our own associates, physicians and the community. We are taking an existing site that has long needed attention and turning it into what we know will be a beautiful site for many of our practices.
What benefit will that have on the community?
It allows us to grow our physician practices, but also serves our goal to be a convenient provider of health care. The ability for our physicians to work in collaboration is greatly enhanced. … We know that patients often need specialists across several disciplines and Brace Road allows them to better plan their appointments, with the ability to get radiology studies, like MRI, right in one central spot.
As CEO, what's your typical day like?
The CEO of a health care system is required to deal with constant and profound change and issues which are varied and complex. Most issues in health care are best dealt with in a team environment, hence my interactions are constant strategy and problem-solving sessions with people. I work on building relationships that are enduring. I focus on strategy and building a high performing organization through our leaders, clinicians and associates.
Where did your path to leadership begin?
While I began my career in Chicago, I was happy to return to my roots in South Jersey when the position of COO for Our Lady of Lourdes became available. I recall my meeting with then President of Lourdes, Sr. Elizabeth Corey, for my interview. … She taught me the value of the great gift that lay before me in my career—making a meaningful difference in the service to others. She also taught me that as a values-based health care institution, we had a moral obligation to "do it better than anyone else because the dignity of the people we serve demands it." She was an inspirational leader and I learned quite a bit from her example.
What's the best business advice you could give to others?
From a leadership perspective: Organizations are organic and relationships are built on trust and integrity, so hold yourself accountable to your commitments because, in the end, your word is your mark. From a business strategy perspective: Execution eats the lunch of elegant strategy every day.
If you had to give one key to success, what would it be?
Tenacity.
Describe the corporate culture in your workplace.
Our mission actually refers to "joy" and we really believe it. We want to be a transforming healing presence and I am proud that our associates exemplify that, from the top down.
What do you like to do to unwind at the end of the day?
Time with the family, reading, biking, golf, fishing and friends.
Do you have any little known hobbies?
Playing trumpet and playing hockey.
Favorite movies?
Field of Dreams and To Kill a Mockingbird.
Published (and copyrighted) in South Jersey Biz, Volume 2, Issue 5 (May, 2012).
For more info on South Jersey Biz, click here.
To subscribe to South Jersey Biz, click here.
To advertise in South Jersey Biz, click here.