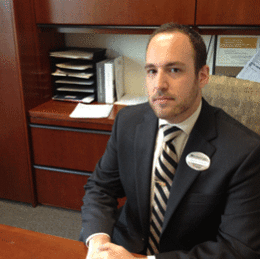 The Corner Office: Reynold Cicalese
Reynold Cicalese
Managing Shareholder with Alloy, Silverstein, Shapiro, Adams, Mulford, Cicalese, Wilson & Co.
Reynold Cicalese has been with the accounting firm of Alloy, Silverstein, Shapiro, Adams, Mulford, Cicalese, Wilson & Co., of Cherry Hill and Hammonton, for 32 years. As a managing shareholder, he earned his partnership in one of South Jersey's premier accounting firms 26 years ago, and has been working tirelessly ever since.
"I have full client responsibility and I run all three of our companies. I work a lot of hours," Cicalese says. "We have a full-service accounting firm, a financial services firm and a payroll company. I'm usually dealing with client issues, tax planning mergers, forecasting projections. I'm very active with my client base."
Cicalese found time while preparing for tax season to talk with South Jersey Biz about the business of accounting, and where he sees his firm moving in the new year.
When approaching any case, what are the first steps you take in moving in a successful direction?
I really try to find out where the client is. Sometimes what the client thinks the problem is might not be the actual problem. I go through the solutions to get to the right point and solve the right crisis.
How have you seen your firm grow in the time that you have been there?
When I came here, we [had] about 18 people. We're at about 65 to 70 now. … Our industry is kind of getting old, where probably 50 to 60 percent of our [shareholders] are in their 60s.
Do you see a growth in accounting majors leaving universities in the area?
Even though there's an increase in accounting majors, there isn't enough in dealing with the retirements of the baby boomers. A lot of firms are out there panicking because they don't have the people behind them, especially in South Jersey where some of the firms out of the Philly and New York market are coming in and trying to take over.
Is it hard dealing with competition with a city as close as Philadelphia?
I grew up in South Jersey, and people from South Jersey want to do work with people that are from and based in the area. We made a decision that we are going to stay a South Jersey firm and be a dominant South Jersey firm. We have a pretty strong presence in South Jersey and we have a really strong South Jersey internship program from Rutgers-Camden and Rowan [universities].
Your 2012 outlook?
The firm looks good. We had a strong finish in 2011 with our marketing efforts, my associate partners, my partners and me. We picked up some good accounts because we got out there and tried to meet some new people. We are looking forward to 2012.
What are you strongly focused on this year?
The concern I have for my clients is financing; that's always the issue. Clients are struggling with that. I want to try and get clients into stronger financial situations so the banks will loan them more money.
How are you preparing for the upcoming tax season?
This is my 35th tax season. The goal of the tax season is to get through it.
How do you plan to move your firm forward?
If we continue the growth that we've had for the last six months, I can see myself adding five to six people. We're in talks of merging with a couple of firms, so there's a real possibility that we can go from a 70-man firm to a 100-man firm. … The aging of the accounting profession is really something that most firms don't plan for, but we have planned for that. We're making decisions and I see other firms running scared because they've ignored the issue for a long period of time. … We're growing because our clients know we're not going anywhere.
What are your plans after tax season?
Definitely golf. I play a lot of golf at Medford Village. I am also a Phillies fanatic; I've been a Phillies fan forever. I've been to a lot of World Series games.
Did you have a dream job growing up?
I originally went to school to be a sports writer and play professional baseball. I went to college and found out the first week I didn't like the school's coach and I couldn't write.
What gadget can you not live without?
According to my wife and everyone around me, it's my iPhone.
Published (and copyrighted) in South Jersey Biz, Volume 2, Issue 1 (January, 2012).
For more info on South Jersey Biz, click here.
To subscribe to South Jersey Biz, click here.
To advertise in South Jersey Biz, click here.