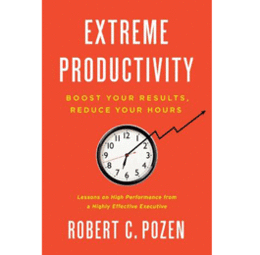 Office Space: January, 2012
On The Books: Moving Forward
It's officially 2012. This could be your year to gain some valuable new tips and techniques to move your business plans in an even more successful direction. Check out some of these new releases to boost your brain power and get you on the right path to some new initiatives.
7 Money Rules for Life: How to Take Care of Your Financial Future
Author Mary Hunt offers seven valuable money rules to stick to when getting your finances in order. Avoid debt and prepare for a future of savings and success. (Baker Publishing Group, Jan. 2012, $17.99)
Taking People with You: The Only Way to Make Big Things Happen
David Novak has been perfecting his "Taking People with You" program for more than 15 years while leading a professional team of his own, and now he is passing his tips along to readers. (Portfolio Hardcover, Jan. 2012, $25.95)
Share, Retweet, Repeat: Get Your Message Read and Spread
John Hlinko teaches his readers how to use the ever-expanding social media market to spread ideas and campaigns, and get noticed in a technology-driven world. (Prentice Hall Press, Jan. 2012, $18.95)
Office Supplies: Style To Go
A full week at work doesn't always equate to a full week actually spent in the office. There are always meetings to attend, clients to visit and obligations to fulfill. Load up your working gear and step out in style with these top-notch bags, guaranteed to impress at your next out-of-office appointment.
Ladies' Choice Ditch the stuffy old briefcase for a newer, chicer look. The Kristin Leather Flap Satchel by Coach has plenty of space for a laptop, tablet or portfolio, with a look that can go from the office to a night out with friends. $398
Men on the Move This leather doctor's satchel by Kenneth Cole combines sophistication with simplicity. The slick black front masks a variety of pockets and compartments inside to hold anything you might need when away from your desk. $165
The Artsy Associate (pictured) Puma's Mirage Reporter Bag comes in two bright styles. With a waterproof fabric and comfortable padded strap that can stand up to harsh conditions, this bag is designed for the creative commuter. $65
Crunching The Numbers
100 TO 120: Amount of Kmart and Sears stores the company plans to close. Locations in South Jersey were spared on the list of 79 confirmed locations released so far.
738 megawatts: Energy to be produced by a natural gas-fired power plant in West Deptford, which will soon have an official groundbreaking.
650: Construction jobs created by the West Deptford Energy, LLC project.
$450,000: Donation made by Townsend Press, of West Berlin, to fund the Camden Literacy Project, which will provide free books to kindergarten through third-grade students in selected Camden schools as well as training and development opportunities for teachers and parents.
$2.6 million: Customized training grant awarded to Revel Entertainment casino and resort in Atlantic City.
26%: Amount of small business owners that would like to spend more time on sales and marketing in 2012, according to a recent TD Bank survey. Following that No. 1 resolution is eliminating debt (13 percent) and giving out raises or bonuses (11 percent).
FOUR: Number of South Jersey-based breweries, with the recent opening of the Tuckahoe Brewing Company in Cape May County.
266,989: Record vehicle sales in 2011 by Cherry Hill-based Subaru, making it the only manufacturer in the U.S. to post record sales four years in a row.
$1.25: Raise in minimum wage Assembly Speaker Sheila Oliver wants to see approved this year, upping the minimum wage to $8.50.
27: Number of Genuardi's stores in Pennsylvania and New Jersey, including two in the tri-county area, that will close or be sold, as parent company Safeway, Inc. exits the Philadelphia market.
Published (and copyrighted) in South Jersey Biz, Volume 2, Issue 1 (January, 2012).
For more info on South Jersey Biz, click here.
To subscribe to South Jersey Biz, click here.
To advertise in South Jersey Biz, click here.